A Calgary radio station sets the standard for community fundraising
This story was funded by the J-Source Patreon campaign
When Chad Saunders was a volunteer and show host for University of Calgary radio station CJSW during its 1991 funding drive, he had nothing to give his program's top donor. A colleague scrounged up an autographed Dead Milkmen photo, the donor came in and picked it up, and that was that.
Until that donor came back into the station over a decade later to pledge again and show Saunders, who had since risen to station manager, the signed photo that had cemented his loyalty to CJSW.
The station's enormous growth was fuelled largely by listeners like that one: broke students who supported the campus station with $20 bills in the '90s and later pledged hundreds as well-employed adults in the 2000s.
"If people feel that they're part of the station, then you've done your job as a station to share that love back and forth," said Saunders, who still has a show at the station after ending his 12-year run as manager in 2012.
But if it was that simple, everyone would do it. Instead, CJSW pulls in yearly totals that are five, 10, even 20 times those of the other campus nonprofit radio stations in the country. Its latest drive raised $230,000 as of its Oct. 26th count. Station drives in the next tier down included Carleton's CKCU exceeding its stretch goal to hit $137,276 in 2018, the University of Alberta's CJSR securing $116,211, and University of Victoria's CFUV making $37,407.
To most outside the country's fourth-largest metro area, CJSW is a meaningless sequence of four consonants, but the University of Calgary's campus-community radio station has one of the most successful independent media crowdfunding campaigns in the country. On top of the $10 levy it collects from U of C's 30,000 students, CJSW consistently raises a quarter of a million dollars from the community every year. That almost matches well-known crowdfunder Canadaland's $290,500-a-year Patreon.
Saunders admitted that being in the right place at the right time is part of it.
"I lucked out a little bit in the '00s," he says. "As the station grew through the 2000s, we grew with the city."

Calgary's population has doubled since the fundraiser began in 1985 with a $15,000 total, going from over 600,000 in the 1986 Statistics Canada census to 1.2 million in 2016. That turn-of-the-millennium population surge accompanied an economic surge, although Saunders feels that the station didn't see much oil and gas money coming its way due to its base in the independent arts scene and its broadcast of programs such as Democracy Now that were often critical of the province's industries.
He attributed the station's rise to a mix of Calgary's favourable conditions and its own effective tactics. The key to big revenue jumps was giving the hosts and the donors tangible outcomes to rally around.
"I shaved an eyebrow one time when I was young and stupid trying to raise money," he said. "For every hundred dollars I'd shave a centimetre off."
"But other times there were more sincere pledges where it was like 'look eh, we're so close to breaking a particular milestone of the station — come be a part of that.'"
During his tenure as manager, the station had several surges of support for major projects. First, fundraising to extend signal range by moving the station's transmitter to a new interim location, and then to the CBC tower in 2003, which brought totals up to $155,000 and $170,000 respectively. Then a 2005 effort to build a new studio location in U of C's MacEwan building brought the drive up to the $200,000 mark. (Construction was later delayed to 2008 as a result of disputes with the students' union, and donations plateaued at that level).
But even before  those large projects, Saunders said what worked for the station was its ability to show listeners their support had tangible impacts. It was a simple message: "by pledging, you can hear your money work." Individual donations would be tied to individual small upgrades. A $30 pledge could give the station another new headset or record needle.
Soul of the city
"Calgary likes to support Calgary," current CJSW program director Marta Ligocki said, citing the outpouring of support after the 2008 recession and 2013 floods as examples.
This support was connected to CJSW's content. Many CJSW shows tapped into existing communities, giving them representation. The station provided Calgary's resettled Vietnamese refugees with a platform, and as they became more established in the city, they grew to be a major contributor base. German program Bunte Welle carried the '90s drives with $5 to $10,000 in pledges –– some received while on the air on Saturday mornings, but plenty more in the hours afterward when host Karen Schmitt would head to European food hub Edelweiss and patrons would write her cheques in person.
Other shows created communities around themselves. Road Pops — one of CJSW's longest-running programs, co-hosted by a former station manager — hosts yearly events that range from simple pub crawls to group ski trips. Another program organizes a bocce tournament. The station has been encouraging more hosts to foster those relationships going forward by reaching out to donors personally after the drive. The importance of personal thank-yous and invites down to the station was a lesson Saunders said came from smaller stations that adopted and built on the CJSW model.
CJSW gets almost all of its drive money from individual donors. But its relationships with local businesses are still key to the campaign: the most famous perk it offers donors is the 30-year-old Friends Card program, which now features deals and discounts from almost 200 businesses.
CJSW held another volunteer production workshop today to create PSAs for next month's production theme: being kind to the environment!

If you'd like to get involved with CJSW, visit https://t.co/wdRyeWXtHC pic.twitter.com/hzlpmt5NZU

— CJSW Radio (@CJSW) March 16, 2019
Some businesses also sponsor individual programs, giving them access to the limited 4.5 minutes of daily ad time that CJSW's CRTC campus-community license allows for, which the station mostly allocates to promoting local arts. Several of the handful of businesses that contribute to the drive itself are a host's day-job employer.
But the station is exploring ramping up business sponsorship as Victoria's CFUV did three years ago to noticeable success, an approach mostly involving converting existing supporters' in-kind donations to monetary pledges. Another improvement to the campaign will be the overdue introduction of electronic Shopify forms to record pledges.

"For the longest time it's been written forms, which is just a nightmare because you're deciphering a hundred different handwritings and plunking it in and making typos into a database," Ligocki says.
Meanwhile, other campus stations struggles
These improvements seem simple and universally applicable, but it's rare that stations have the luxury of focusing their attention and budget on this type of tinkering.

"Speaking to other stations at the national conference, (I've learned) they're so susceptible to the slings and arrows of the school schedule," Ligocki notes. At smaller stations, the exodus of students for summer break can massively downsize content and operations for a third of the year.
The CJSW system is much larger and more established than its campus radio peers — students start off-mic because there are roles where they can learn and contribute without the station's programming hinging on a new student nailing it on air from Day 1. By Ligocki's count, only six of the hundred-plus on-air hosts last year were current U of A undergrads. But 75 per cent had been students at one point. The number of shows and roles also translates to a broader network of people who know someone involved with the station — a plus for drawing in donations to keep that large system running.
Having a longstanding structure and network makes a big difference for fundraising. As a bilingual campus station launched on FM in 1991, University of Ottawa's CHUO finds itself far less able to fundraise than Carleton's more community-integrated CKCU (an established pillar of Ottawa since the mid-'70s that sets $130,000 goals.) In 2017, CHUO only made one tenth of that number.
"We have a young volunteer base, so it's hard for someone who's 17 to have already developed a strong deep-rooted relationship with the community to get larger donations," says Erin Flynn, CHUO's station manager.
Yet, following the announcement of some impending changes to Ontario's student fee structures, the future of CKCU is less certain still. With Doug Ford's Progressive Conservative government about to make the ancillary fees that support campus initiatives such as LGBTQ+ supports, student unions and campus journalism optional, community media like CKCU are calling on their representatives to "oppose the Student Choice Initiative and support vital student-focused organizations like CKCU that contribute to the social fabric of our community."
"The Ontario Government's Student Choice Initiative will harm CKCU," writes station manager Matthew Crosier on its website in a call for listeners to write their MPPs, Premier Ford and Minister of Training, Colleges and Universities Merrilee Fullerton in opposition to the proposed policy. "This initiative will destroy student groups by inviting students to opt out of student fees. The station relies on the generosity of Carleton students who democratically established a student levy that supports the station along with listener pledges.
NEWS: Campus radio stations across Ontario, including @CKCUFM are petitioning the provincial government to make the fees that fund them mandatory as "the SCI is not democratic" says Mathew Crosier, CKCU's station manager. pic.twitter.com/m4p6bbZnnc

— The Charlatan (@CharlatanLive) March 16, 2019
While some stations struggle with the limitations of being tied to a campus, others are limited by not being on campus enough. Nanaimo's CHLY lacks space on Vancouver Island University's grounds due to a decades-old conflict with the students' union, which delayed securing a student levy and made it harder for student volunteers to get and stay involved. CHLY is ramping up its personnel and services using grant funding to hire, but executive co-ordinator Jesse Woodward said its lack of charitable status (which Victoria's CFUV has but CJSW does not) is a barrier to both grant eligibility and optimized fundraising.
Limitations in campus-community broadcasting tend to compound and self-perpetuate. No levy means less money and presence to attract students and donors. For CHLY, no presence on campus has meant fewer partnerships with classes to supply volunteers and programming that satisfies the educational service work that gets stations charitable status. Without money already invested in one area, you're capped in the money and reach you can generate from that area and others.
"All fundraising requires investment and testing," said Vancouver Co-Op radio executive director Bryan McKinnon. "Sometimes you have to take your time to get that return right, and so sometimes when you don't have the budget … it's hard to invest in the tools that will actually translate into dollars down the line"
"I think it's a bit of a chicken and the egg, especially when it comes to broadcast (power)," Ligocki said. CJSW's 18,000-watt radio signal broadcasts stronger, clearer, and further than a typical campus station. CJSR's signal is a mere 900 watts, and CFUV's is 2,290. That range gives CJSW access to listeners (and potential donors) across the metro areas, into the bordering cities.
But CJSW's greatest infrastructure advantage may be its online broadcasting, with a website capable of recording live radio into archived episodes in real time. It provides the 12 latest episodes of all programs, displays the playlists of the songs featured, and embeds an iTunes subscription button. CJSW raised the $100,000 to build the website over two years after listeners consistently requested its key features.
For campus-community stations, a higher funding drive isn't about profitability on its own terms. It's the ability to execute your and your audience's vision for what a functioning station should be — and to do it now, rather than years from now. Now that CJSW has a site with the capabilities a station needs, it can focus on optimizing it.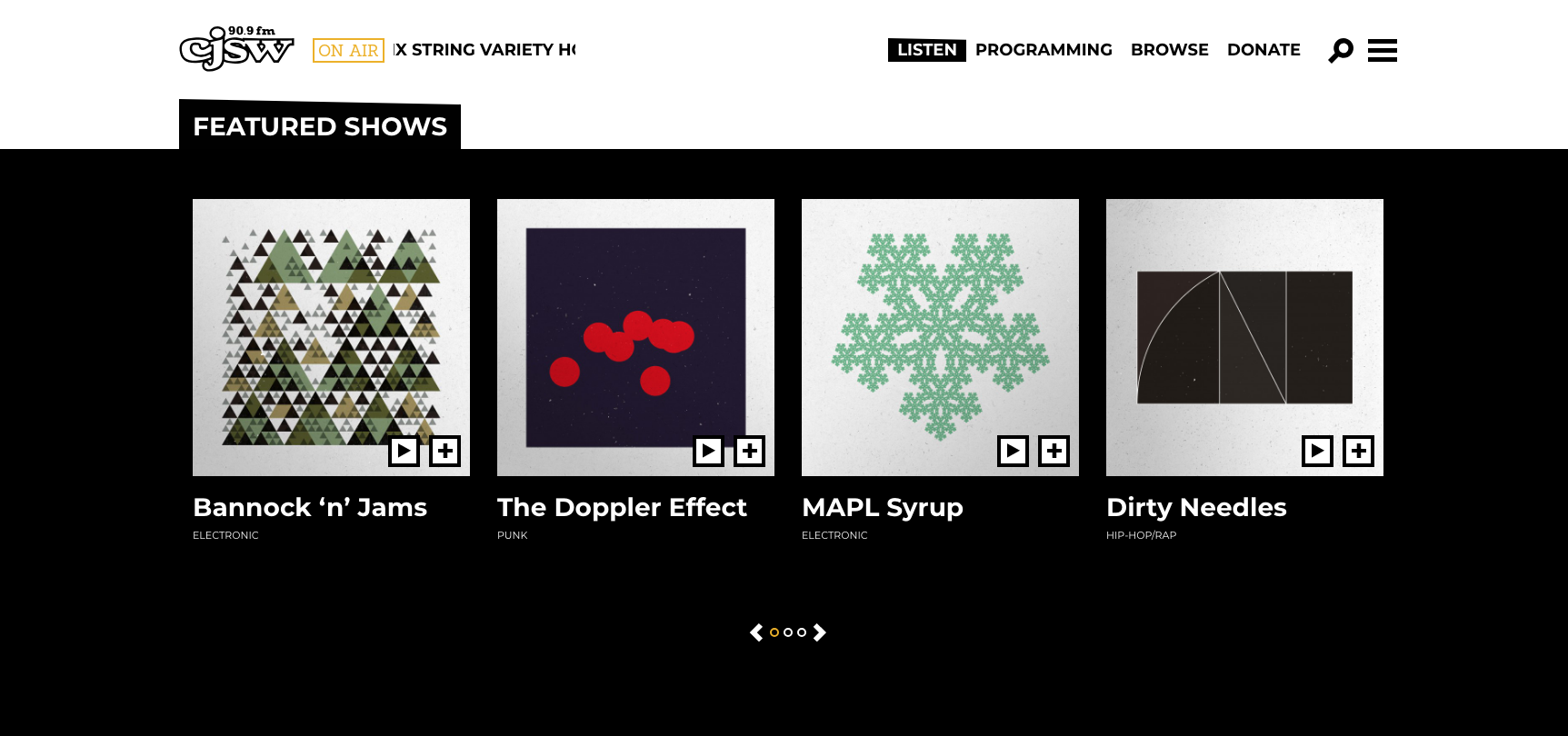 CHUO was able to put together a site with similar features for $15,000 using customized WordPress template and plugins that are enough for its more modest output. But it did so in 2017 — years after CJSW's launched — once more plugins were widely available. By that point, its funding drive revenue had declined massively. From 2012 to 2017, its raised totals dropped from $45,000 (13 per cent of its budget) to $13,000.
CHUO still has a healthy base of grants and has since incorporated fundraising ideas such as a deals card, but Flynn believes the station's young audience makes an on-air fundraiser obsolete.
"Who calls people?" she said, arguing that good fundraising involves "meeting people where they are." Where they are is online, and so CHUO's prominently displays and promotes its GoFundMe page.  
Competing with the internet
That pressure to meet listeners online affects even the top traditional fundraiser. Ligocki feels that CJSW's competition isn't the other stations in the area. It's the streaming services that are an alternative to radio altogether.
"Say you're totally addicted to ambient music — what's stopping you from hopping on Spotify and having all that to your heart's content, versus turning on the radio and maybe it's a rock show?"
The rise of podcasts and of streaming services' curated playlists speaks to the enduring appeal of things radio does. Ligocki believes the selling points of community radio over online music are the savvy curation, the personal connection with someone on the other side and the knowledge base of the hosts to contextualize songs and feed your curiosity about them.

CJSW has a stronger podcast presence than Canada's other campus stations, and Ligocki is looking into boosting the amount and type of web content by using the site to isolate specific segments of shows and combine them into playlists. When a musician dies, CJSW's various tributes across programs could be quickly combined into a CJSW tribute show.
She's betting that listening to real people picking music for you will make CJSW-voiced collections more appealing than an algorithmic greatest-hits playlist, and that the station's connection with the community will always be more important to them and to their listeners than most online music options.

"That will always be the case: local first, radio first, and then podcasts in conjunction with that."

Better to give than to receive
That emphasis on "local first" indicates how other stations can match CJSW's success qualitatively, if not quantitatively. The goal for campus-community stations is to serve their campus and community, and donations are only one measure. The CJSW model isn't necessarily reproducible on a mass scale.  (Saunders recalled a former staff member who stumbled trying to export it to Brock University, ordering far more pledge reward T-shirts than needed and being stuck with them for years.) But the connection CJSW forged with Calgary can be created between other stations and their own cities. Even if other stations' donor bases don't accumulate wealth the way CJSW's did, those stations will still have the desire (and CRTC mandate) to serve those groups.
The gap between commitment to a community and the community's ability to give money is starkest at Vancouver Co-op Radio (CFRO). It's located in social housing on the Downtown Eastside.
"We're in the middle of one of the poorest postal codes in the country," executive director Bryan McKinnon said.
With no campus affiliation or student levy, the co-operative is funded mainly by grants and a listener drive along with sponsorships and paid services. Most of CFRO's programming is dedicated to representing a specific social issue or underrepresented group, and many shows sponsored by a "values-aligned" partner: for example, addiction treatment nonprofit Last Door Recovery Centre sponsors Talk Recovery. The station's programming committees review the programs to verify that they are accurate and there is no skewing or conflict of interest due to the sponsor.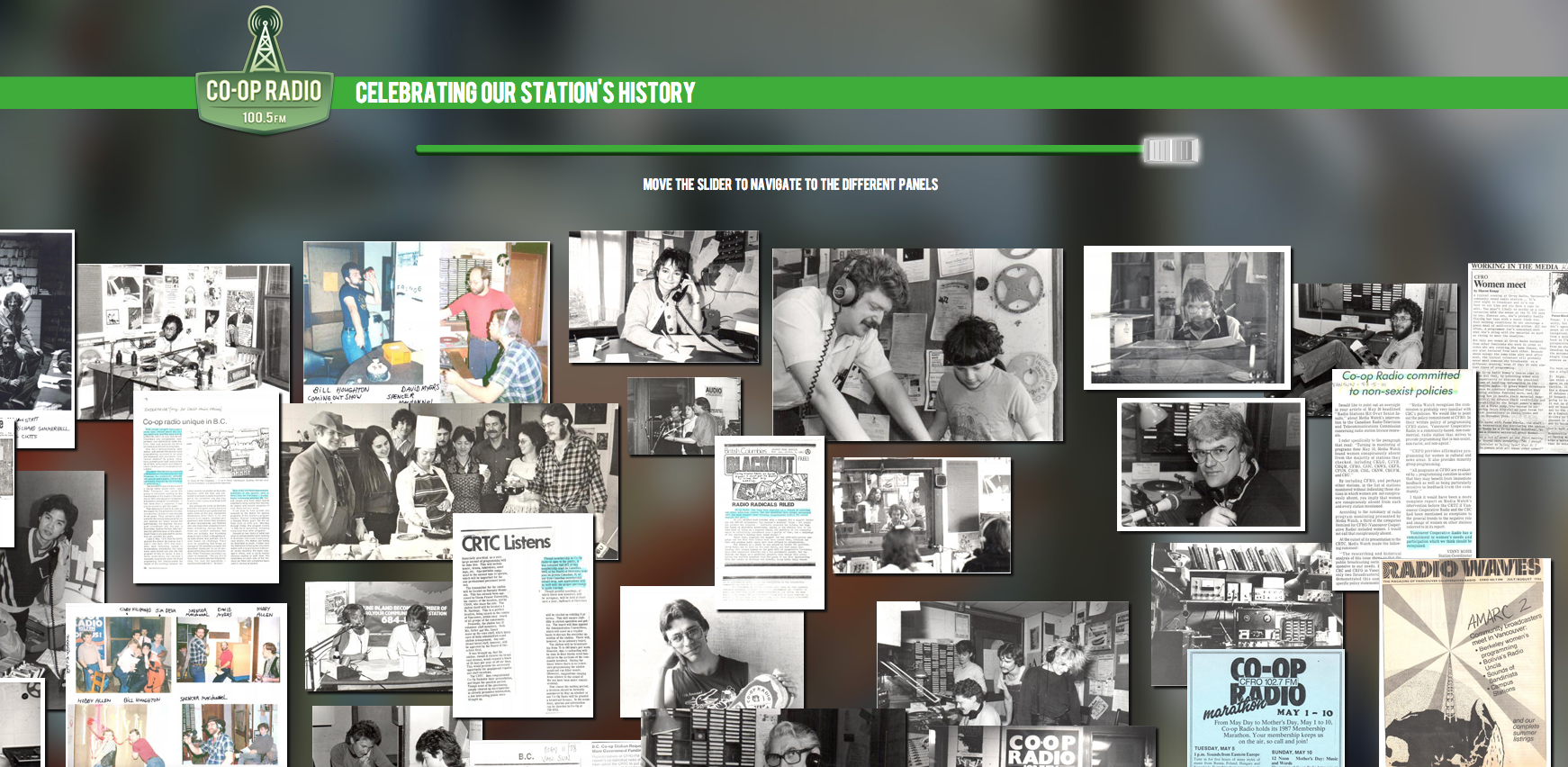 CFRO operates as a "community recording studio" and service as well as a station. It produces podcasts and recording albums for clients ranging from government departments to travelling theatre companies. Those carrying out this service are primarily local marginalized youth that the station is teaching radio and recording skills to so that they can earn income and build a career in the industry. The full-priced recordings also subsidize discounted sliding-scale sessions for artists and organizations that couldn't otherwise afford to record.
The website hasn't been cutting-edge for almost a decade, but the programming slate is healthy (one show is syndicated into over 100 markets) and the station is helping and platforming the people it set out to help and platform. McKinnon is proud to see the station function as an "audio community centre" for different cultural groups in the city, who use its minority-language programming not only to come together but also to teach younger members and help integrate newly-arrived immigrants and refugees.
Although CHUO has given up hope of achieving the super-lucrative funding drive of the CJSW model, it's leaning toward the social enterprise model of Vancouver Co-Op as a way to stay viable. The station is looking at ways to make revenue through additional training services, and is already prioritizing a more accessible setup for content creators. What it calls "flexible radio" moves away from constant and regular on-air hosting and toward letting volunteers record and broadcast at times that work for them.
Other stations may never hit the quarter-million annual mark that CJSW boasts. But an intense commitment to providing volunteers and listeners with an empowering platform can achieve the level of deep community connection that CJSW's financial success grew from.
One program is hosting a celebration of a decade on air. Another, the Charmer's Almanac, was saying goodbye after six years – but capped off its run with co-host Kate van Fraassen getting engaged on air in the final episode.
The best measure of CJSW's success may not be the benchmarks its fundraiser hit in October ($20,000 over its goal of $200,000) but those milestones its programs and their creators hit at year's end.


Cam Welch is a writer, designer, and housing activist living in Victoria, B.C.