A generation of journalists are struggling
Over the last three years, I've had some version of this conversation with countless young Canadian journalists. "I'm so anxious right now." "My work laid off 15 per cent of the staff and I'm really scared I'm next." "I'm pretty sure I'm not good enough to be here." The journalists I have had these conversations…
Over the last three years, I've had some version of this conversation with countless young Canadian journalists.
"I'm so anxious right now."
"My work laid off 15 per cent of the staff and I'm really scared I'm next."
"I'm pretty sure I'm not good enough to be here."
The journalists I have had these conversations are both nominees and winners of top awards in our industry. They have worked for newsrooms others would give their eye teeth to get into. They have bylines in amazing publications. They've done work that has changed people's lives and held the powerful to account.
And yet, today, they are all scared, anxious and depressed.
This is not some millenial ennui. There's no mystery, at least to me, why a generation of reporters and editors are struggling daily with mental health issues. During my three years as managing editor of J-Source, I have documented a Canadian journalism industry that is dying by a thousand cuts.
It was once possible to join a newsroom and stay there for years. At the Toronto Star or the Globe and Mail, a reporter who joined the newsroom prior to 2016 could expect to be making at least $90,000 a year by their sixth year of employment.
But how many people have actually been hired in full-time positions at any newsroom in Canada? The real story is how many people have left. Canada's media unions estimate that 12,000 positions have been lost over the past few decades — 1,000 in the last year alone. Chad Skelton, a former Vancouver Sun data reporter and an instructor at Kwantlen Polytechnic University, dug into Statistics Canada employment data and found that while there are still many people calling themselves journalists — enough not to record a huge drop in the number of us in Canada — we are far outnumbered by those becoming PR pros.
For most of us, our career paths are a patchwork of contracts, freelance work and side hustles to supplement what we really want to do — journalism.
It's hard to know how many journalists currently working in Canada would be considered precarious workers. "Canada does not have a formal definition of precarious work and no targeted data that distinguish these workers," noted Francis Fong, the chief economist for the Chartered Professional Accountants of Canada, in a Policy Options article earlier this year. My guess, from three years of writing about it, would be a lot, especially among young journalists. What data we do have is disturbing.
Nicole Cohen, a professor at University of Toronto and former J-Source labour editor, surveyed 200 freelance journalists in a study that was released last year. "The results paint a bleak picture of life on the freelance front lines," wrote Amanda Pope in a story about the survey for the Ryerson Journalism Research Centre. "The survey revealed that 55 per cent of respondents had intense workloads upward of 50 hours a week, only 20 per cent are able to set their own rates of pay, and that female freelancers are generally paid less than their male counterparts."
A recent report done by McMaster University and Poverty and Employment Precarity in Southern Ontario found that 48 per cent of millenials in unstable jobs "reported being depressed or anxious as a result of working conditions, compared to 11 per cent of those in secure positions," according to a Toronto Star story on the study.
Look around your newsroom and count how many staff are part-time, casual, contract, freelancers … whatever you call it in your workplace. Do the math.
Precarity is only one part of the picture, however. The people who are getting those precious few media jobs still look like the people who were getting them 10 years ago, and the 10 years before that. Last year, I looked at the historical winners of the National Newspaper Awards. They were overwhelmingly white and male, with men totally overrepresented the awards for news photo, editorial cartooning or news feature photo. In fact, no woman has ever won an award for editorial cartooning since the award was established in 1949.
I don't think anyone will soon forget many prominent newsroom managers piping late one night on Twitter to throw their support in for an "appropriation prize" — an act that reverberated through the industry.
https://twitter.com/Scaachi/status/862892060801683456
"But we know this is how white editors sometimes talk about us, that we're aggressive, or irrational, that we ask for too much or we're SJWs trying to maintain PC cultures. (Mostly a lot of acronyms, I guess.)," wrote BuzzFeed writer Scaachi Koul in the days after the incident. "This Twitter thread, though possibly glib, told all of us that we were right the whole time: They do talk about us like this when we're not listening. They don't give a shit. They'll ask about how to hire diverse voices all the time, they'll jump on one of the very few black columnists in the country when he becomes available for freelance work, but when you're not looking, they'll put you last — and fall over themselves to fund a cultural appropriation prize. What do they say when we can't see them?"
In October, Sunny Dhillon, a reporter at the Globe and Mail, announced via Medium that he was resigning after a his bureau chief asked him to focus a story about lack of diversity on Vancouver's city council instead on the fact the more women were elected to council — all of them white. "I decided to leave The Globe and Mail because that final conversation inside the bureau chief's office crystallized what I had felt: What I brought to the newsroom did not matter. And it was at that moment that being a person of colour at a paper and in an industry that does not have enough of us — particularly at the top — felt more futile than ever before," he wrote.
Dhillon had been with the paper since 2010. He'd written extensively on municipal politics and local policing, as well as the issue of solitary confinements in prisons. In his resignation, the Globe and Mail loses a serious, dogged journalist.
In November, the federal government announced a refundable tax credit meant to address labour costs in the industry as part of a $595-million incentive package aimed at boosting Canada's struggling media industry. But it remains to be seen whether that will really result in more journalists hired to permanent positions – meanwhile, some top newspaper executives are still getting their bonuses, with or without tax breaks.
We have, in the last few years, become more concerned about the impact on local democracy as the Canadian news media landscape shrinks. But much less has been said about the impact on a generation of journalists. How many voices have already been lost because they couldn't face a precarious future? How many great journalists have left newsrooms because they could no longer bear the brunt of prejudice?
I am buoyed, in many ways, by those who are fighting to make this industry better for all of us. In the last five years unions have made great strides in protecting the rights of precarious workers; new media outlets, like The Discourse or Vocal Fry, have sprung up with the express purpose of creating space for voices historically excluded from the news media. Employees across North America have organized, and at places like the Intercept, are introducing contract clauses to ensure equity in their workforces. A conversation about mental health, trauma and journalists has slowly grown louder to the point that newsroom leaders are beginning to recognize they need to provide better mental health support.
But in so many newsrooms — large and small, newspaper and digital, TV and radio — there is still much that needs to change. There is venom that needs to be sucked out.
Six years ago, when I decided I would not pursue the legal career I had been training for and instead enter a profession I felt called to, I thought I would be alone in this — I was, in fact, embarrassed to admit I had graduated law school only to leave it behind. But through my journalism career, I have heard some version of my own story told back to me many times. I have met journalists who have bucked familial expectations; lucrative careers; far away homes and loved ones to do this work. But there is only so much we can ask of any one person.
Journalism is, in many ways, inherently stressful and that will never change. But what should be stressful — getting the right source, or hitting your deadline — has been supplanted by stressors that are deeply disturbing. Choosing journalism shouldn't mean going hungry or putting up with prejudice from colleagues or managers. That's no choice at all.
This is why it is so crucial that we make newsrooms better. That we fight for stable work, and for safe, inclusive workplaces. Because if we lose these passionate people — and we have already lost so many — the journalism leftover won't be worth paying for. And it won't do what journalism is intended to: speak truth to power.
What we do is hard work, no doubts there. Doing good work makes it worthwhile.
During my own dark nights of the soul, usually after weeks of reporting layoff after layoff, I often thought of a speech about working in public service by my own fictional A-Type idol, Leslie Knope, the lead character of Parks and Recreation. She was updating a quote from Teddy Roosevelt, and so, I'll make one slight adjustment to hers:
"Not to say (journalism) isn't sexy, because it definitely is. But that's not why we do it. We do it because we get the chance to work hard at work worth doing, alongside a team of people who we love."
Let's build that future.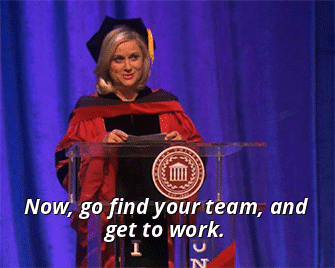 H.G. Watson was J-Source's managing editor from 2015 to 2018. She is a journalist based in Toronto. You can learn more about her at hgwatson.com.