After public turmoil, what comes next for Canadian Journalists for Free Expression?
Canadian Journalists for Free Expression has been thrown into tumult after an employee wrote a release on the organization's website expressing concerns about reports that Israel Defense Forces was targeting journalists and protesters at a recent demonstration. The release raised criticisms that the organization stepped outside the bounds of its mandate by calling on the Canadian government to take a position on Israel.
Since then the post on the CJFE website has been removed. But the employee publicly aired some of the issues facing CJFE in a Facebook post — including that the organization may be facing semi-permanent closure, and that both the executive director and chair of the CJFE's board of directors resigned, along with several members of CJFE's gala organizing committee.
While a current CJFE board member has denied or clarified many of these allegations, they do not deny that the organization is in dire financial straits.
Furthermore, there remain questions of what kind of organization CJFE should be.
—
Kevin Metcalf is CJFE's promotions and communications coordinator. As part of his job, he regularly writes media blasts about national and international press freedom issues. On April 2, 2018, he wrote a press release about March of Return, a protest where Palestinians attempt to "cross the border fence and return to their lands" which have been claimed by Israel, according to CNN. According to reports, at least seven people were killed, and among the over 1,000 injured were journalists.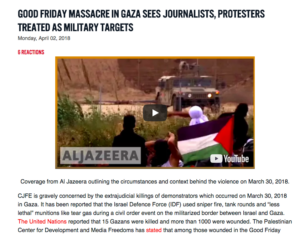 "CJFE is gravely concerned by the extrajudicial killings of demonstrators which occurred on March 30, 2018 in Gaza," the release stated. "It has been reported that the Israel Defence Force (IDF) used sniper fire, tank rounds and 'less lethal munitions like tear gas during a civil order event on the militarized border between Israel and Gaza. The United Nations reported that 15 Gazans were killed and more than 1000 were wounded. The Palestinian Center for Development and Media Freedoms has stated that among those wounded in the Good Friday massacre are many journalists."
It ended with a call for the Government of Canada to condemn "the one-sided use of military force against civilian demonstrators and media in Gaza, must immediately call for a cessation of these brutal practices, and must use all available diplomatic, political and economic channels to pressure Israel to initiate a fulsome and transparent inquiry into the circumstances surrounding the massacre, which left 15 dead, and more than 1,000 wounded." It was passed to the co-executive director, Duncan Pike, who made factual edits but didn't change the tone of the piece, according to Metcalf. The release was then sent to CJFE's press list.
CJFE has issued other condemnations regarding international press freedom issues over the years. Just a few months ago, it published a piece outlining how Iranian authorities have blocked protesters access to digital and mobile communication networks. (This piece was not written by Metcalf). A petition hosted on the CJFE website calls on Prime Minister Justin Trudeau to speak out for freedom of expression rights in Iran.
Other free expression organizations had also specifically highlighted violence in Gaza as an free expression issue. On April 7, Reporters Without Borders published a call for investigation into the death of Yaser Murtaja, a Palestinian reporter who was killed at the March of Return a few days after CJFE published their statement. The RSF statement specifically mentions in their call the injuries sustained by other reporters at the March just a few days earlier — the same injuries condemned in CJFE's statement. A Committee to Protect Journalists post on April 2 called on Israel to investigate "reports that Israeli security forces injured journalists covering protests in the Gaza Strip on March 30, 2018." Another post on April 9 called on authorities to hold to account anyone who shot journalists with live ammunition" during the protests. These posts specifically highlight violence directed at journalists.
On Twitter, several high profile journalists had strong reactions to the CJFE statement. Doug Saunders, the Globe and Mail's international-affairs columnist, asked if he was the only one "deeply disturbed" that CJFE was asking the Canadian government to take a position on Israel. He noted in response to Twitter questions that he would welcome CJFE condemning the murder of journalists, but that's not "what the letter was doing." Canadaland founder Jesse Brown also said Metcalf voiced his personal opinions in CJFE's name.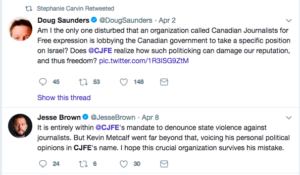 Metcalf told J-Source that he does not believe himself to have an implicitly anti-Israeli bias, but that he does believe its government's actions were misguided. He admits that the tone of the post could have been moderated better — but Metcalf doesn't believe that's the main issue. "Wait a second, this is controversial now?" he asked. "I mean they shot journalists. If we can't call that out, we can't do anything."
There was also a strong reaction behind the scenes at the CJFE. As a result of the release, Carol Off, the host of CBC's As It Happens, resigned as co-chair of the organization's gala committee. "Neither I nor anyone else at CBC expressed any view on the content of that release, either pro or con," she said in a statement emailed to J-Source. "Mr. Metcalf took a political position on events in Gaza. I am covering events in Gaza. He put me in a conflict of interest and I resigned."
Off also said this wasn't the first time she has raised concerns about campaigns announced by CJFE in the last few months. "The CJFE had been taking a turn in recent months and I had expressed my concern to the board about that," Off wrote. "It seems to me that it was becoming more activist than advocate, often for causes that had little to do with journalism."
In January 2018, CJFE came under fire for another campaign — a petition asking Prime Minister Justin Trudeau to revoke Donald Trump's invitation to the G7 Summit in June. According to iPolitics, after outcry from many journalists who pointed out that barring a world leader from an important political event wasn't exactly in the best interest of free speech, the petition and posts promoting it were removed.
Off cites this incident as one of the ones that made her start to question the direction of CJFE in recent months.
—
Some of these tensions may have remained behind the scenes for a while longer. But on April 8, Metcalf published a long, public Facebook post on his personal profile claiming: that he was going to be terminated from the organization; that the organization was in danger of being semi-permanently closed; that the executive director, president of the board, and several members of the gala and fundraising committees had resigned; and that management at CBC had put pressure on CBC employees involved in the organization to leave.
Off was clear in her statement to J-Source that she made the decision to resign on her own, with no input from CBC management. Furthermore, CBC spokesperson Chuck Thompson told J-Source that any CBC employee who resigned from CJFE did so of their own accord.
Tom Henheffer, the former executive director of the organization and current board member, did confirm that Pike and Alice Klein, president of the board, did resign their positions. However, Henheffer said that Pike resigned before Metcalf made his Facebook post. "He wasn't resigning out of any ill will or anything like that," said Henheffer. "He was stepping aside because he felt that was in the best interest of the organization, and the board asked him to stay but he decided (not to)." Pike directed J-Source's inquiries to Henheffer. (Megan Drysdale, the CJFE co-executive director, is on leave). Henheffer added in a follow-up inquiry that Pike will stay on until April 20. There will be another board meeting next week to discuss the structure of the organization after he leaves.
Klein remains a member of the board, but decided to relinquish the presidency because, as publisher of Now Magazine, she didn't have the time to devote to the position, according to Henheffer. Philip Tunley, a partner at St. Lawrence Barristers, is currently acting president.
The remaining question appears to be Metcalf's employment status. Metcalf said that discussions with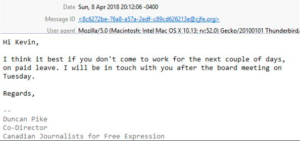 Pike led him to believe his firing was imminent. He provided J-Source with an email from Pike, in which he tells Metcalf not to come into work for the next few days, on paid leave, and that he would be in touch after a board meeting on April 10.
Henheffer said the matter is currently under review by the board of directors.
—
It's no secret that CJFE has faced serious financial woes. In December 2017, a fundraising campaign was launched that made it clear: CJFE needed to raise $200,000 to continue operations to the end of 2018. "We have a small staff in a cramped office and nominal overhead beyond the costs of campaigning, but we still have an impact well above our visible size," stated a post on its fundraising page. At press time, the campaign had raised just over $30,000.
There is a very real danger that @CJFE will not exist in 2018. It's not difficult to predict the future in a world without press freedom advocacy. Make a tax deductible contribution to our urgent appeal crowdfund here: https://t.co/tIA8Llbv8y pic.twitter.com/8S42fIJEQo

— CJFE (@CJFE) December 19, 2017
"CJFE is in a really tight spot," said Henheffer. He noted that fundraising has become increasingly difficult over the last few years, as media companies shrink and the corporate social responsibility strategies of larger corporations have shifted to favour international charitable projects over domestic ones.
But the polarization of political discourse has also played a role. "There's such a quagmire outside that everything you are doing has such an enormous reaction," Henheffer said. "I'm not talking about the most recent things. I'm talking about dealing with the alt-right. Over the past two years, everything has gotten so extreme it makes it very difficult to put your message out there without the waters being seriously muddied. That really harms fundraising efforts." And CJFE has a history of taking stances that could be considered controversial: it actively campaigned against Bill C-51, has taken strong stances on Canada's access to information legislation, and has spoken out about numerous free speech violations across the world.
Henheffer doesn't view CJFE as an organization that is just for journalists. Yes, it was founded by journalists — but according to Henheffer, CJFE exists to protect all people. "I would never call us political — we're a human rights organization that advocates for free expression rights." The organization's mission statement says as much: "CJFE monitors, defends and reports on free expression and access to information in Canada and abroad. Rooted in the field of journalism, we promote a free media as essential to a fair and open society."
But as the release about violence in Gaza made clear, not everyone views the role of CJFE the same way.
—
On April 10, CJFE held an emergency board meeting — the earliest they could meet. The next day, the organization released a statement about what has happened over the last week. In it, it explained that the press release condemning attacks on protesters and journalists by the IDF wasn't vetted by the board. "We decided that the statement was overreaching," the statement reads. "As a result of this event, the Board decided to amend its communications policy. All public statements will now require approval from a volunteer panel of Board members to ensure they are consistent with our mandate."
However, the board did reiterate its condemnation of IDF's "use of deadly force on journalists and protesters."
"We call on the government of Israel for a full, transparent, independent investigation into what happened on Friday March 30th, and into the death of photographer Yasser Murtaja and the wounding of six other journalists on April 6th. We also ask the Canadian government to echo this call," the statement read.
Here is the statement from @CJFE's board. We have strayed from our mandate in recent months, and are working to correct it. We still condemn the use of deadly force by the IDF against journalists and protesters. https://t.co/M9jF5RlMxN

— Tom Henheffer🏳️‍🌈 (@Henheffer) April 11, 2018
The release adds that board members are thinking deeply about the organization's long-term future, stating that "we will take the next few months to review, refocus, and ensure CJFE is an organization that continues long into the future." It also mentions it needs to focus efforts on its core focus.
Off echoed that view in her own statement, not ruling out an eventual return to participating in the organization. "The organisation is too valuable to lose," she said. "I suspect it will make a full recovery and resume its role."
H.G. Watson was J-Source's managing editor from 2015 to 2018. She is a journalist based in Toronto. You can learn more about her at hgwatson.com.