Cabin Radio is building an army of northern broadcasters
Yellowknife elected a new mayor on Oct. 15. When candidate Adrian Bell announced he was conceding, he didn't tell CBC, or the local newspaper, or mainstream FM station. He told Shannon Moore.
On election night, Moore was the only reporter hanging around city hall when Bell strolled by. Moore was reporting for Cabin Radio, an online radio station based in the territory. Most of its team are volunteers, including Moore. By day, she's a communications specialist at the Independent Environmental Monitoring Agency, the public watchdog of Ekati Diamond Mine. On election night, she was covering city hall.
"I hadn't taken my coat off. I was planning on seeing what was happening and going," she said, when Bell walked into the council chambers, where she and a few city staffers were watching the election results roll in. After a few minutes of checking his cellphone, he asked her if she wanted an interview. In the quiet of the lobby of city hall, Moore recorded a voice memo on her phone of Bell telling her he'd called his opponent, Rebecca Alty, to congratulate her.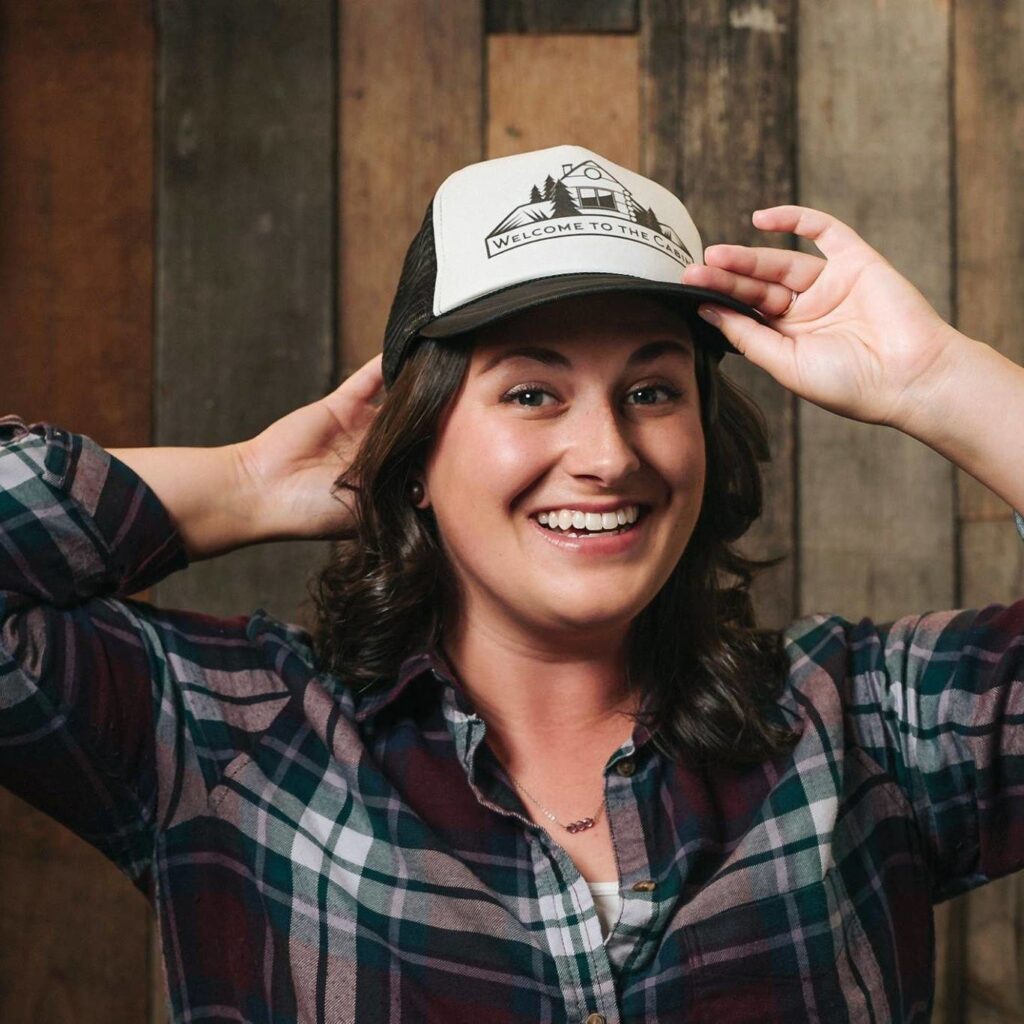 That recording went live on air, directly from the Cabin Radio Facebook group chat. Ollie Williams, head of programming and news at Cabin Radio, heard it from the bar where he'd gathered with other media and candidates.
"There was a CBC crew next to me, who also heard that play out. And grabbed their camera gear and booked it in the general direction of city hall, about 15 seconds after that went to air," he said.
Eight months earlier, in March 2018, Cabin Radio launched an online livestream, funded by donations, a couple of loans and the founder's pockets. Recently, they've applied for their FM license but for now, they're broadcasting strictly online (with programming carefully calibrated so as to not max out northern internet caps). People tune in through their app or on their website to their broadcasts, just like turning on a radio, and they also produce short videos and print news content on their site.
It's a Tuesday afternoon and Williams is hunched in a battered brown armchair held together with red duct tape in the Cabin Radio studio, a former diamond mine headquarters in downtown Yellowknife. He's glued to a laptop. He's been there since around 4:30 a.m. and claims he physically cannot vacate the chair — but he did turn the volume down on the broadcast playing in the background.
"The things I do for this interview," he joked.
He's got one of the most recognizable voices in town, not just because he's on the radio but because of his British accent. He's a BBC veteran who moved to the North for a job at Moose FM, one of the few commercial stations in Yellowknife. That's where he, Adam Vivian, Jesse Wheeler, Scott Letkeman and Andrew Goodwin first started talking about branching out on their own. Moore was William's neighbour in a town of around 20,000 that often feels much smaller.
"It's a Yellowknife thing where there are a lot of people you just know," said Moore.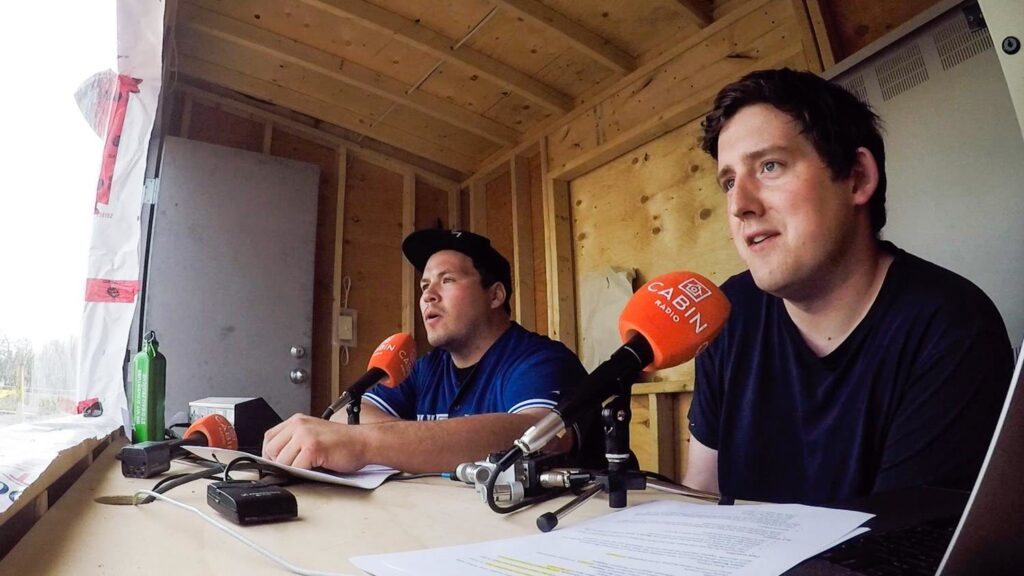 Cabin Radio is local – very local. It live broadcasts trick-or-treating. Moore spearheaded their Turtle Watch 2018, a series of videos about the hunt for a turtle who escaped the SPCA and went rogue (there are no turtles in the Northwest Territories). The team spends hours fighting off mosquitoes digging trenches to lay cables so it can broadcast from the Folk on the Rocks music festival. And its staff write jocular headlines about how aghast Yellowknifers refuse to start their day when it snows in May. In addition to its news coverage, the station has 23 shows on the air, and Williams said he's got another 35 pitches to get through.
I have been blown away by the quality of the volunteer broadcasts. I am subjected to this radio station for like 15 hours a day and yet I still go home on the weekends and listen to this thing.
"It's not that the station said 'this is what we want to do, who is going to do it,' it was 'what do you people in this community want to have on radio?,'" said Moore. The shows run the gamut: from country music and a program with East Coasters living in the North telling their life stories between sea shanties to the Subarctic Sex Show, an anonymous Q&A, and everything in between. Including a show out of Inuvik that blends local news with heavy metal every Thursday.
"We have no right to be broadcasting a heavy metal and Inuvik affairs show, but we are doing it," said Williams. "I have been blown away by the quality of the volunteer broadcasts. I am subjected to this radio station for like 15 hours a day and yet I still go home on the weekends and listen to this thing."
Williams calls Moore the unofficial sixth member of the management team, after she went from pitching an hour-long, weekly show to doing an afternoon broadcast, five days a week. "Where else am I going to be like 'hey I like music' and someone hands me the microphone and the keys to the studio? Yellowknife," she said. "People who listen to Cabin Radio feel like it's partially theirs."
Teaching people to do radio is a big part of what Cabin Radio is about: it has led training sessions across the territory, particularly working with youth to get them involved in telling their own stories. Patreon donations pay for a journalist in Fort Smith, the only journalist in that community from any outlet.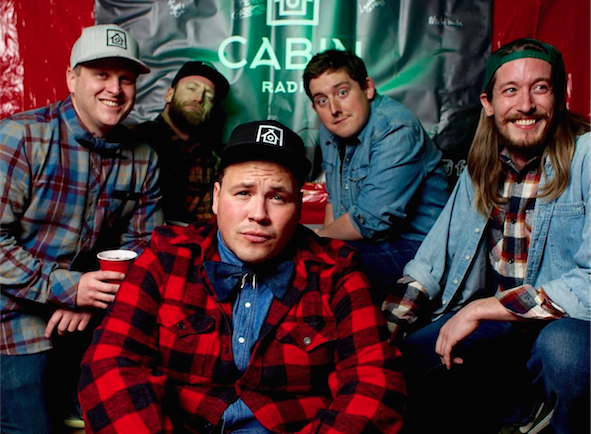 Most stories about the media landscape in Canada aren't like this. From the Postmedia Network Canada Corp. and Torstar Corp. swap of 41 small newspapers, many of which shut their doors for good, to Bell Media slashing jobs at CTV (Postmedia has been cutting jobs as well, trying to reduce their staff costs by 10 per cent this year), it's been a bleak few years. But even as media across the country is shrinking and retreating to major centres, the Cabin Radio team believe enough in the power of local journalism to risk launching a new, commercial station, that covers 1.3 million square kilometres.
With fewer and fewer local news sources, Williams believes the day is coming when the pendulum will start to swing the other way, with listeners, readers and viewers wanting more than national coverage, and beginning to place value back into journalists still working in small, local newsrooms.
"Now, who the hell knows if I'm right," he said. "But I firmly believe that this community appreciates the value of good local journalism. And I think the fewer sources there are for that, the more we can take advantage of that."
He pops the top off a can of Diet Coke as he's asked if he's quietly building an army of northern broadcasters.
"Well someone should," he said. "No one else is. How do you train to be a journalist in the north? You don't, you go south."
He wants to help build systems that produce home-grown northern journalists and broadcasters. He'll consider his mission complete when he hears a host on CBC who started out at Cabin Radio.
"I know it's rich coming from a guy with a British accent who arrived a few years ago, but I will be really glad to hand over to a next generation of Cabin Radio journalists as soon as I can find them, and train them, and pay them."

So is Cabin Radio a success? Williams is reluctant to say so, yet. Currently, only Williams and Letkeman take a salary, and neither are exactly ready to retire. He's not claiming the station has figured out a formula no one else has. But the team must be doing something right — in October Cabin Radio took home the Breakout New Business award from the Yellowknife Chamber of Commerce. And on election night? Williams had to scramble to keep their site live, as it was overloaded with listeners trying to tune in.
"I think it can be done. I would gladly go back to the '70s or the '80s in terms of having well-funded, relatively stable media organizations. But we can't do that," said Williams.
"I think in 10 years I will just be happy if I can still say we're at the heart of the communities that we serve and that we produce news and journalism that has integrity and heart and connects to its audience and that people enjoy having us around. And honest to God, I frankly don't much care what the rest of it looks like as long as that remains true."

Jessica Davey-Quantick is a former editor at Up Here magazine. She's a graduate of the University of King's College and was previously the editor of Qatar Happening, Time Out Doha, and the city hall and business reporter for the Yellowknifer.