Can women's media ever be "authentically" feminist?
In January 2017, prompted by the inauguration of President Donald Trump, women across the United States marched together, pink pussy hats on and signs in hand, in protest and in protection of their rights. 
Activist Gloria Steinem stood at the March on Washington podium with a battle cry: "When we elect a possible president, we too often go home. We've elected an impossible president, we're never going home. We're staying together. And we're taking over." 
In October 2017, actress Alyssa Milano tweeted #MeToo, reigniting a decade-long movement started by activist Tarana Burke, and encouraging an avalanche of people to speak out in support of survivors of sexual assault. 
Here in Canada, a change had been brewing since at least 2016, linked to the sexual assault charges and subsequent acquittal of CBC's Jian Ghomeshi. Women were pushing back against systemic inequalities. They were angry. Feminine rage was quickly becoming a stimulating and defining societal force. 
Simultaneously, there was seemingly a shift in the content geared towards women, defined by a similar force. 
When I first started doing research into women's media for my Ryerson Review of Journalism feature, it was with an entirely different angle in mind. The October 2018 launch of Refinery29 in Canada had caught my attention. Helmed by former Chatelaine editor-in-chief Carley Fortune, the decision to bring a new journalistic venture into Canadian media — on the heels of a year that saw the closure and scaling back of newspapers across the country — seemed surprising. 
Further, as a lover of women's media, and having noticed a change in the types of articles I was seeing on the pages of my favourite women's magazines, I decided to pursue the story of how the content changed from being strictly fashion and lifestyle to smart, politically minded think pieces on non-conforming sexual experiences, presidential gaslighting and domestic abuse. I was specifically interested in the ways in which these publications were tapping into the current zeitgeist to speak to their readers. Women's magazines seemed to be more woke, and I wanted to know why.
Sitting down with journalists in women's media, it became clear what the current behind the zeitgeist is: Feminism. It was inescapable. Feminism and women's media are intertwined. And we shouldn't really be surprised, because the role of women's media is to speak to the interests of their audience — and meet them where they are, and more importantly, where their wallets are.
And as I learned, this isn't anything new. As I found through my reporting, and interviews with feminist Michele Landsberg and Susan McMaster, the founder of Edmonton-based '60s feminist magazine Branching Out, women's magazines have always taken the zeitgeist off the streets and onto the page, often reporting on topics that mainstream newspapers are afraid to tackle.
Feminism has always been a part of these publications, it's just the degree to which that has ebbed and flowed, based largely on how popular — and thus sellable to advertisers and readers — it is.
Once I realized that feminism was inevitably going to be a large part of the story, the angle for the feature changed. Looking at the ways in which women's magazines were adapting to draw in readers evolved into looking at how authentic the ways in which they use feminism are, finally ending in an exploration of the limits of how feminist these mainstream women's media publications can be, beholden to advertisers and the desires of the audience.
In a way, examining the limits of feminism in women's media was a way of examining the limits — or the downfalls — of the type of feminism we're currently seeing in society, a sort of "feminism-lite," as F Bomb: Dispatched from the war on feminism author Lauren McKeon described it, characterized by hashtag activism and feminist merchandise, but with little of the substance of the second wave feminism we saw in the '60s and '70s. 
And while people shouldn't be criticized for purchasing a T-shirt or sharing a tweet, the issue, as McKeon told me, comes from people thinking that's all they need to do.  
While my feature looks at the types of feminism utilized in women's magazines, it is, more broadly, an analysis and critique of the current wave of feminism overall — my own feminism included.  
Read the Empress's New Clothes on the Ryerson Review of Journalism website.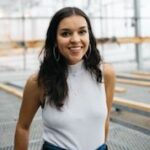 Katherine Singh is the 2018-2019 online managing editor for the Ryerson Review of Journalism. You can follow her work at @katherineesingh.