Deaf and hard of hearing journalists need support from their newsrooms
This story was funded by the J-Source Patreon campaign
In 2016, I was covering a student council meeting at McGill University for The McGill Tribune. It was just two days after after the American presidential election. That council meeting itself was not incredibly noisy, but next door, the socialist club had a meeting on plans for resisting the Trump presidency, and they created a lot of background noise.
For many journalists, this wouldn't be a big issue. But I was born with a mild to moderate hearing loss, so I do not know what life would be like with perfect hearing. I have trouble hearing from a distance, whispers and when there is substantial background noise.
The background noise affected my recording, and I was unable to differentiate between what the councillors had said and yelling in the background at times. I had to follow up with councillors via email to confirm what they said and needed additional time to complete my story. I felt extremely frustrated that my disability was getting in the way of my work and defeated. Most of the time, I do not bring up my hearing loss in context of journalism, but I felt like I had to to explain why I struggled to understand that audio.
As a student journalist and freelance writer with hearing loss myself, I face challenges that my counterparts without hearing loss do not face — ones that are rarely acknowledged in newsrooms.
Working journalists with hearing loss, have, however, been able to take advantage of modern technology to make their jobs doable.  
Kit Englard, a DeafBlind journalist and assistive technology specialist, uses adaptive technology to conduct interviews, and recommends that journalists with dual sensory loss find different ways to do tasks like interviewing. "I don't know if I'll be able to see or hear on any given day, as both my vision and hearing are unstable," Englard said. "So being able to seamlessly move between tactile work, braille; audio, VoiceOver; and visual, Zoom; is really important to keeping up in the fast-paced world of tech journalism."
Unfortunately, many tech conferences' recordings are not accessible to Englard's technology.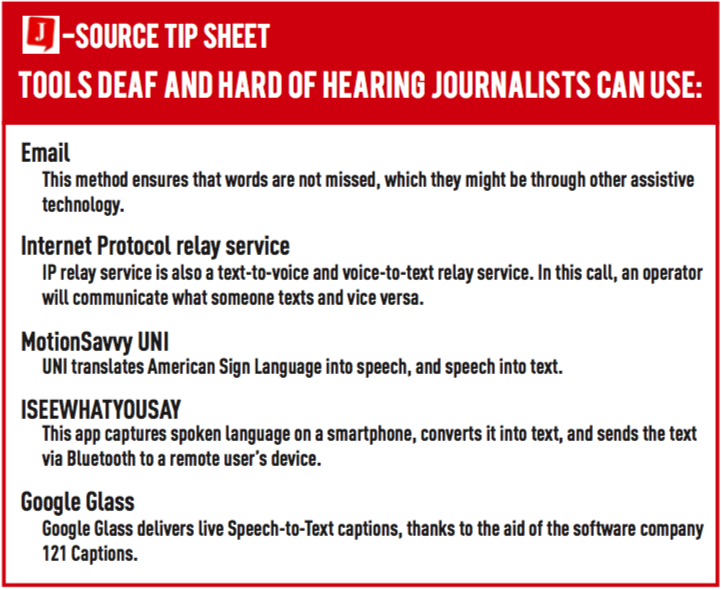 According to Englard, many videos from tech conferences are not captioned and do not respond to assistive technology; and written material, like press releases, can be hard to access.
It is disappointing that, while there are technological advancements in general, there are not enough which support people with hearing loss. I know that I will not be able to be a reporter who covers protests until I have access to better technology, which would allow me to listen to recordings without any background noise. There are ways to remove background noise from recordings, like through Audacity — but that needs to be explained to journalists early in their careers, and they then need to be trained to use audio editing software. That's an extra step that many journalists would never even think about having to take when transcribing interviews.  
Although there are barriers for journalists with hearing loss, there are advantages as well.
Lisa Goldstein is a deaf freelance journalist. Goldstein notes skills that she learned as someone who was born deaf has been applicable to reporting. "I also type over 160 words per minute because I grew up having to type when using the phone," Goldstein said. "I'm also a fast reader, which I attribute to growing up with captions. Put those together, and I'm able to write quick, quality copy."
According to Englard, her biggest advantage is that her disabilities make her memorable to people that she meets at tech events. "There aren't a lot of DeafBlind people in the world, and even fewer are out working in the tech journalism field," Englard said. "So when you're wandering around a site using (tactile American Sign Language) with your assistant, people notice. Also people really like my guide dog."
What reporters with hearing loss — or any disability — need the most is support from the journalism industry. While in recent years there have been efforts made at improving the diversity of the media industry, I have rarely heard of efforts to support young journalists with hearing loss — not just in news media but across all industries. However, the inclusion and promotion of some of these technologies in newsrooms would make it much easier for us to do our jobs.
Journalism on its own seems daunting enough because of its competitive nature. As a person with with hearing loss, I worry about whether I understand what a person is saying in the moment My first concern is valid, and I know many other aspiring journalists feel the same way. However, I should never accept that accessibility issues are the norm in the journalism industry because accessibility, through technology and awareness, can and should improve.
On the other side, the news media industry loses when they do not make their industry accessible to reporters with hearing loss and reporters with other disabilities. Our opinions on how stories pertaining to disability should be reported are crucial.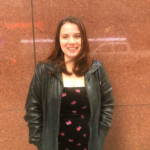 Julia Métraux is a writer, dog person, and student at The New School. Her work has appeared in The Tempest, Alma, BUST, Briarpatch and more. She's the editorial assistant at Narratively.