Do oil and paper mix on B.C.'s northwest coast?
This series was funded by readers like you through donations to the J-Source Patreon and FutureFunder at Carleton University.
In the summer of 2018, Angela Long embarked on a 22,000-kilometre journey, traversing eight provinces and a territory – from Dawson City, Yukon, to Cape Breton, N.S. – to learn from residents, reporters and experts about journalism's importance in rural markets. In this series, she tells the stories of local news survivors and the roles they play in bolstering their communities.
Opening night of the summer season is just a few weeks away and Jeff King, head chef at Dining with the Kings, is planning the menu. Zucchini fritters, Haida Wild halibut with parsley sauce, lemon tart. It's been four years since King sold the Haida Gwaii Observer to Black Press Media and opened an in-home fine dining establishment with his wife Diane. Now, perched on a hill overlooking the ocean, where humps of islands rise against a vista of snow-capped peaks, he rarely looks back.
"I gave journalism 40 of the best years of my life, and I'm retired, and I did the best I could over that time and I just like to make soufflés now," he says, pouring a cup of herbal tea in his front garden. Once in a while, as King reminisces about his 29-year career as a publisher, editor and reporter on this island archipelago of 4,500 residents on British Columbia's northwest coast, a raven caws from the heights of the forest.
Although King is proficient at mincing onions these days, he doesn't mince words when it comes to the new owners of the Observer.
"In my view, Black Press did not do a very good job of running the Observer after they bought it and they continue to not do a very good job to this day," he says. People in the community approach him on a regular basis, he says, to complain. "But rarely," he adds, "do people ever come up to you and say 'good job' in the journalism business."
The sale of the Observer to Black Press in 2014 has caused a stir on Haida Gwaii. Locally owned since the presses started rolling in 1969 in a place where the majority of businesses are locally owned, the paper will celebrate its 50th anniversary as the property of a company that currently holds 137 publications across North America, including 62 per cent of the community newspapers in B.C. (based on an analysis of data from News Media Canada and Black Press Media), 10 per cent in Alberta, and dozens throughout the United States.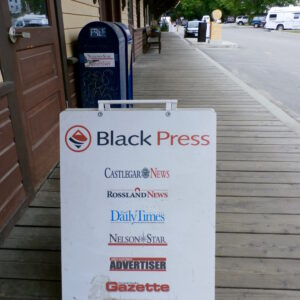 For islanders "Go Local" isn't just a catchphrase. It's how you survive.
With the mainland at least a seven-hour ferry ride away and Vancouver a two-hour flight – and gale-force winds and eight-metre high seas regularly impeding both these services – things like milk become a hot commodity. In a place surrounded by thousands of square kilometres of forest and ocean, a place that's been called "the Galapagos of the North," people know the difference between a maul and an axe. They know where to find a huckleberry bush and a patch of chanterelles. They know how to read a tide table and skin a deer.
In such a setting, the local paper isn't just a source of news – it's a reflection of islanders' values forged by isolation and the elements. The sale of their newspaper to a chain, with its head office  nearly 2,000 kilometres away in Surrey, B.C., has caused residents to re-evaluate their news sources and seek local alternatives.
Just a few kilometres from the Kings', the street signs change from English to Haida, and the occasional bald eagle surveys the calm expanse of Hecate Strait. At the Skidegate Band Council Office, Simon Davies, then-communications director for the Council of the Haida Nation   and managing editor of its quarterly publication Haida Laas, sits beside a poster of a clear-cut, a Shakespeare quote filling the grey sky: Pardon me thou bleeding piece of earth that I am meek and gentle with these butchers.
After moving to the islands in 1975, Davies worked alongside the Haida from 1996 to 2006 with the Gowgaia Institute until officially beginning the 12-year Council of the Haida Nation position he retired from in late 2018.
For Davies, the Haida Laas embodies the value of patience, of taking the time to understand the complexity of millennia-old issues.
The ownership of the once-local Observer, however, has been ruffling a few feathers within the Haida Nation.
It's not just the location of Black Press's head office that's at issue. It's the company's non-media business ventures. Black Press's owner, 72-year old David H. Black, plans to build a $22 billion refinery in nearby Kitimat.
A company with connections to the oil and gas industry is "a troublesome organization certainly from a Haida point of view," says Davies, and at odds with the interests of the Haida Nation.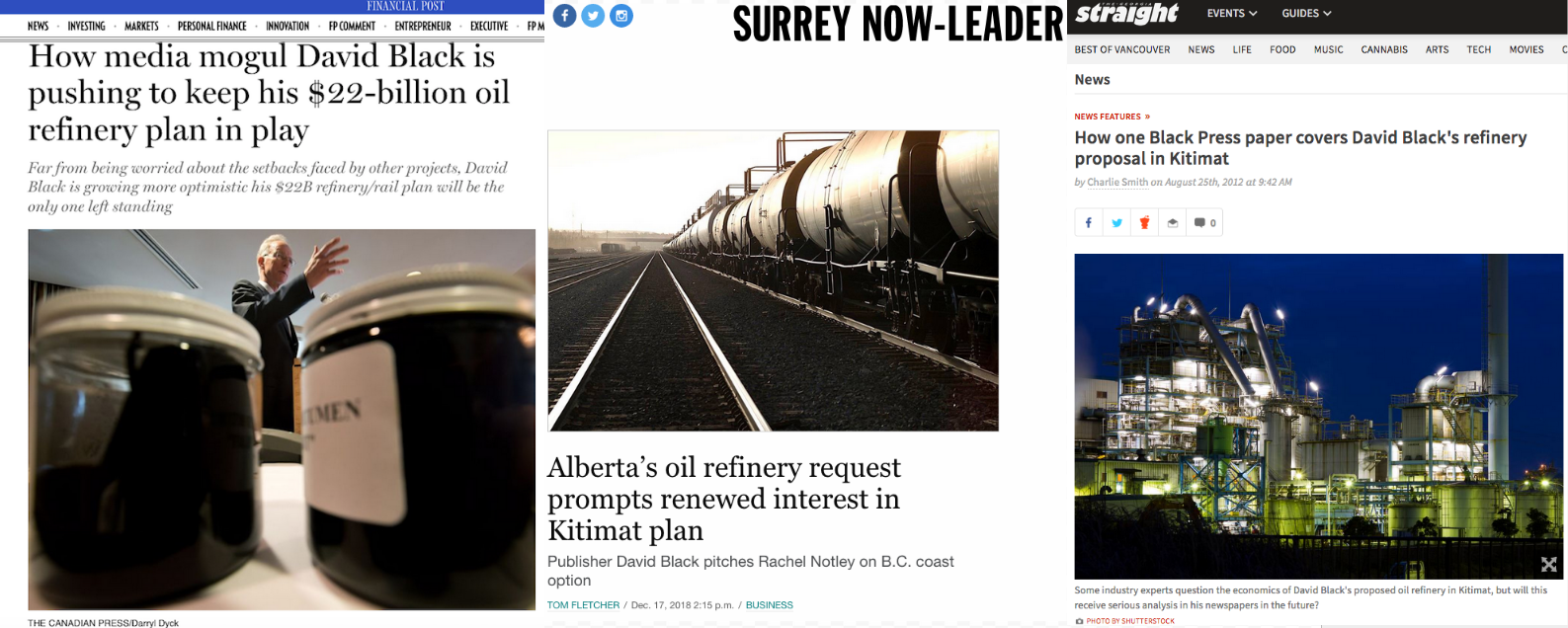 A 41-page journal called "A Resounding Voice," which Davies helped produce in 2013, summarizes the Haida Nation's opposition to the Enbridge Northern Gateway project, a proposal to build a pipeline from Alberta to Kitimat and ship bitumen in super tankers along the waters of Haida Gwaii to U.S. and Asian markets. "500 Ways to Say 'No'" reads the title of one the journal's stories containing oral evidence hearings from Haida citizens, "500 More Ways to say 'No'" reads another.
Haida opposition to Northern Gateway swiftly became an island-wide movement, where blue and white "United Against Enbridge" signs cropped up on fishing lodges, supermarkets, beach houses, chicken coops. "Even chickens are United Against Enbridge," reads a TreeHugger post from 2015.
While the project was cancelled, many of the signs, though battered by wind and rain, still stand.
Black remembers those "no tankers" signs. In a January phone interview from Victoria, B.C., he recalls his 2015 sailing trip to Haida Gwaii. He says he's "surprised" to learn the locals don't think his company shares their values.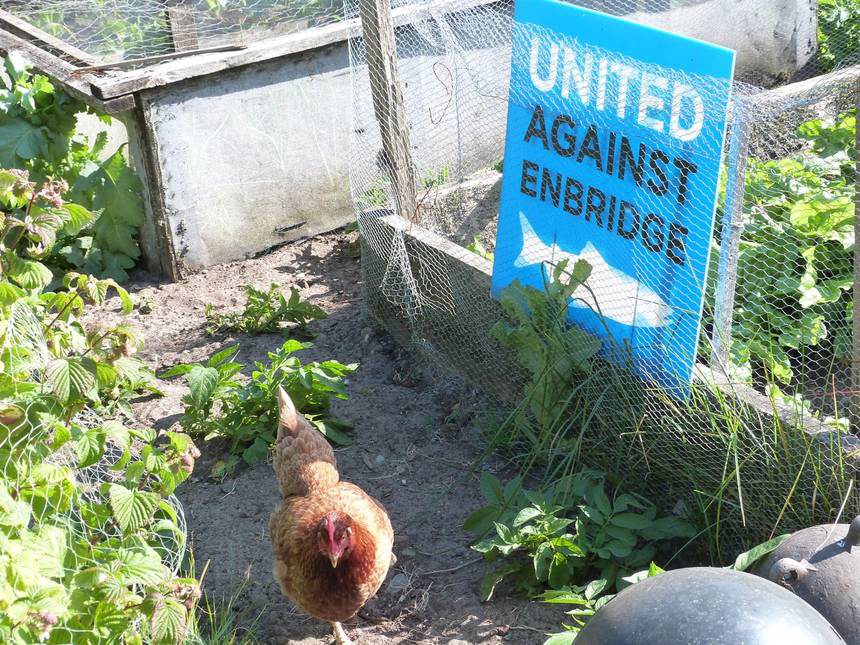 "I don't know what their values are exactly," he says, but he is also against oil tankers loaded with crude oil plying Haida Gwaii's pristine waters. His refinery, one that will cost billions extra to design as the "greenest in the world," would eliminate the risk of a catastrophic oil spill, he says.
When he talked to chiefs and other senior-level people during his visit, he says he thought their concerns were primarily with oil tankers, not those carrying the products of his proposed refinery: gasoline, jet fuel and diesel.
The matter of pipelines, ever fraught, resulted in the removal of two hereditary chief's titles after it was learned in June 2016 that they, along with six others, had secretly signed a letter to the National Energy Board in support of Northern Gateway, and possibly received payment in exchange.
"I could use the papers if I wanted to really get the message across," Black says, "but I'm not sure I should." In the past five or six years he's been featured in two or three articles about his project. "Maybe I should be doing more because we all should be on the same side here."
In the end, Black would rather keep business separate from journalism. It's easier, he says "when you focus on journalism on one side, business on the other."
But, for some elected leaders on Haida Gwaii, business has everything to do with journalism.
Former Council of the Haida Nation president Peter Lantin made this clear in an Aug. 7, 2015, interview on CBC's Radio West where he accused oil companies of buying the local paper. Thereafter, he was swiftly rebuked by then-Observer publisher Quinn Bender who called  Lantin's remarks "libellous" and "offensive," insisting Black's activities had "absolutely no effect on the Observer's reporting."
Three years later, however, Lantin's sentiments still echo in the Village of Masset's council chambers. There are three core values held by those who have settled on Haida Gwaii, says Andrew Merilees: reconciliation with the Haida people, sustainable use of resources and a shift away from oil.
Merilees, who was elected mayor in 2011 and served through November 2018, says his 793 constituents are "totally" opposed to oil and gas exploration. "It drives us crazy to see editorials of support from outsiders in our community newspaper," he says.
In a May 2018 letter to the editor, Tow Hill Community resident Chris Ashurst reacts to one such editorial. After more than 15 years of subscribing, Ashurst writes, "I'm seriously considering canceling my subscription and washing my hands of the Observer due to the infuriating use of editorial space by Tom Fletcher as a soapbox for his ham-fisted, generalizing, condescending, one-sided, and patronizing viewpoints." Ashurst goes on to say Fletcher – a B.C. legislative reporter and Black Press columnist based in Victoria –  is "out of touch" with the values of the islanders and the Observer is "monopolized by the philosophy of the paper's ownership."
What was once "our paper," says Merilees, when he arrived here in 1999, with locals writing all the editorials and articles, has become "just another advertising device."
For 15 years, Merilees supported Jeff King as a small publisher and business owner, but he doesn't feel as though he needs to support Black Press. Shortly after Black Press took over, Merilees cancelled his subscription.
He wasn't alone. According to News Media Canada records, the year Black Press acquired the Observer, total circulation dropped from 818 in 2014 to 609 in 2015. Numbers of paid subscribers and newsstand sales have continued to decline, sinking to 360 in 2018. While, in general, print-based revenue is declining throughout the industry, not all circulation numbers have dropped so precipitously. At the Rocky Mountain Goat News, for example – an independently owned paper based in Valemount, B.C. – numbers have remained relatively stable, at 556 in 2014 and 600 in 2018.
Merilees flips through the latest Village of Masset copy of the 12-page Observer, pointing out some of the paper's shortcomings. Less content. An editorial written by some guy in a town in the Okanagan Valley. The community classifieds are gone, replaced by a confusing mix of local and provincial ads. "Look," he says, "Houston. What good is that to me?" he asks of the B.C town that would take a day and a half to get to via ferry and car.
Locals don't put classified ads in the Observer anymore, he says. They go straight to the Trader. "That's the local place to go," says Merilees.
The bright green cover of the May/June issue of the Haida Gwaii Trader is hard to miss. A face imprinted by leaves peers out of cedar fronds and salal leaves. What began as an online Buy and Sell in 2010, has transformed into a 56-page, full colour magazine containing 20 pages of classifieds, four features, columns by local writers, and advertising from dozens of local businesses.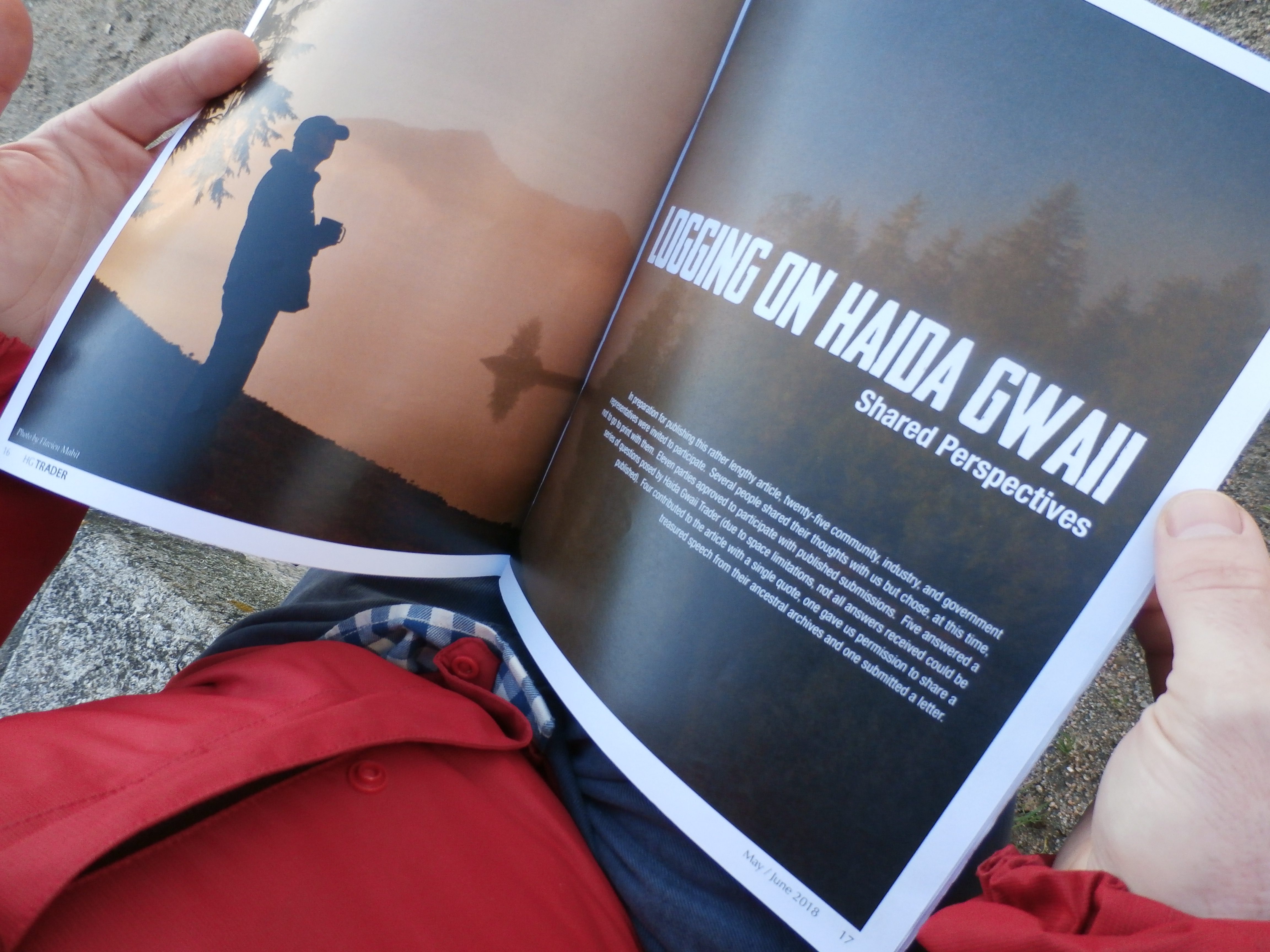 Shellene Van der Beke, who owns the Trader, arrived here 11 years ago by sailboat. She explains how important community classifieds are in giving islanders more opportunities to support the local economy rather than go off-island to purchase goods. According to recent 2019 Trader listings, such goods could include a 2007 Jeep Liberty, an acrylic bath tub, a 1500 watt generator.
Sitting at the table in the lounge of the Port Clements Firehall, just down the hall from her office, she leafs through her magazine, marvelling that it even exists. "I have no formal training in this," she says. "I'm a gardener."
Nevertheless, the $5 publication often sells out at island outlets and nearly every single one of her advertisers, who get full colour ads both online and in print for $30 to $700 a year, has been with her since "day one."
One 2018 issue, featuring a nine-page spread called "Logging on Haida Gwaii: Shared Perspectives," contains input from a range of voices, including a Haida chief, an MP, and forestry expert.
Reflecting community values, she says, is her niche. The magazine's tagline – "Homegrown. United. Better for All" –  infuses every story, every photo, even the glossy full-colour pages ("because we get a lot of grey skies here," she says).
Rather than become the "next Observer," as some readers have suggested would be a good thing, Van der Beke believes in the power of working together. "As much as my customers want me to say that I hate the Observer, I do not hate the Observer!" she exclaims.
"I think Andrew does a fantastic job," she says of the Observer's Andrew Hudson, who was, until resigning on Jan. 22, 2019, the only full-time paid journalist working on the island. "He's everywhere. I don't have the budget to be everywhere."
"Let's share the workload," she says. "Let's share our connection to this amazing place."
Back at the Skidegate Band Council Office, Davies looks out his office window toward Hecate Strait, where, for today, the ocean shimmers in the morning sunlight.
Reporting on a community that has endured what the Haida have endured requires a particular set of values, he says. The pre-contact 1860s population was reduced from at least 10,000 to under 600 by 1915. After subsequent decades of cultural annihilation and resource extraction, awareness and sensitivity are an essential component of everything they do at the Haida Laas. "It's a daily practice," he says.
"Our publication is about a reflection of identity, a reflection back to people that what they're thinking, believing and feeling is true, or accurate, or at least there's a sense of that. There's a sense of reinforcement of identity."

"We're not looking for scoops," he says. "That's how we differ from a newspaper."
Davies cites examples of the types of stories they cover in Haida Laas, from "cute stuff like baby banquettes" to profiling role models within the community, such as Haida animator Joshua Samuels from the blockbuster hit Black Panther, or strong women, such as traditional food gatherer and elder Margaret Edgars.
Even though the 2,200-copy Haida Laas stands apart from the islands' other publications, a change in ownership at the Observer – where new, off-island reporters can find themselves in a place where nearly 50 per cent of the population is Haida – has presented new opportunities to reflect upon traditional journalism models.
Journalism, says Davies, regardless of who's running the show, often focuses on conflict, and can be "divisive" in communities such as Haida Gwaii. This is especially true when journalists don't fully understand centuries of history and, as a result, says Davies, "stomp around on top of material, certainly cultural and community material within the Nation, that just don't know the situation, don't know the complexity, don't know the families, don't know the strife within the families."
What's important in terms of reconciliation, he says, is reporting that is conscious of "the reality of lives people are living," that, rather than looking at events from the outside, views them in the context of the community at large. "The event is 'us,' " says Davies. "It's 'ours' and not some third-person entity's."
Local media outlets have started to do this, he says. Van Der Beke is "trying to run that middle ground between the settler culture and the Haida culture, and not commodifying Haida culture for her business."
And Hudson, who moved to the island in 2016, "is starting to get it," says Davies, reporting with greater and greater sensitivity.
For now, the Observer –  which won silver in the Ma Murray Community Newspaper Awards for overall newspaper excellence in 2017, has 4,004 Facebook followers as of February 2019 and attracts thousands of unique views per month on its website – is the residents' only option for regular local news.
Even those who threaten to cancel subscriptions, such as Chris Ashurst, might not do so in the end. Ultimately, Ashurst "believes in the importance of the local press," and believes in paying for it, he told J-Source in a Facebook messenger interview. While every island community has a Facebook group, these can quickly become "echo chambers," he says.
The Observer's publisher refused to permit Hudson to be interviewed. But now, since his departure from the paper in January and beginning a new position with the Misty Isles Economic Development Society, he's free to talk. He says he was aware of all the politics about the paper's ownership, but "the much bigger question is what business model is going to help the news outlets of the future thrive. Not only just limp along, but actually thrive," he says in a February telephone interview from Masset.
"I think people should grade newspapers by how many news stories they broke in a year rather than the politics of their columnists or their owner," says the 37-year-old Hudson, who previously worked for Toronto's Beach Metro Community News and Houston Today. "That's the really valuable thing: How much news did you uncover and was it interesting?"
On a late spring day in 2018, the contents of Hudson's office hint at a reporter digging beneath the surface of his community: topographical maps, phone books, tide table charts. The office is unmarked, accessed by walking past the boxes of car batteries and spark plugs of Masset's TLC Automotive Services Ltd. and up a flight of stairs. "If his little red car isn't parked out front," says TLC owner Kirk Thorgeirson, "he isn't there."
After driving past TLC on numerous occasions, the red car is never there. Since starting at the paper in January 2016, Hudson has posted nearly 700 articles to the Observer site. These range from stories about the Gwaii Razor Clams roller derby team to critical orca habitats to efforts to restore the Haida language. To cover such stories on Graham Island, the largest island of the archipelago where 95 per cent of residents live, requires driving back and forth along the 140 kilometre-long stretch of Yellowhead Highway, dodging a very active population of deer. Jeff King had three reporters (including himself) to do the same thing.
Finally, after waiting two weeks for a glimpse of Hudson, he appears. It's May 20, Masset's annual Harbour Days  weekend. Mayor Merilees stands in line for a chicken kebab. A Haida woman sells huckleberry pies with star cutouts on top. Hudson cycles through the crowds, reporter's notebook tucked into his back pocket. The sky is grey, the chill of the north lingers. Hudson stops to chat with the guys who are always hanging out in front of Mile Zero Pub. He smiles, gets out his pen, and takes notes.
Editor's note: this story was updated on Feb. 9, 2019 at 8:50 p.m. ET to clarify who was consulted in the production of the Haida Gwaii Trader's "Logging on Haida Gwaii" feature, which appeared in the May/June issue and Shellene Van der Beke's comments regarding the benefit of community classifieds. 

Angela Long is a freelance journalist based in Toronto currently working on a book about rural journalism in Canada.