Have an event you'd like to have appear on our events calendar? Please fill out the event form.
All events will be reviewed by an administrator before appearing on the calendar.

2021 National Magazine Awards Celebration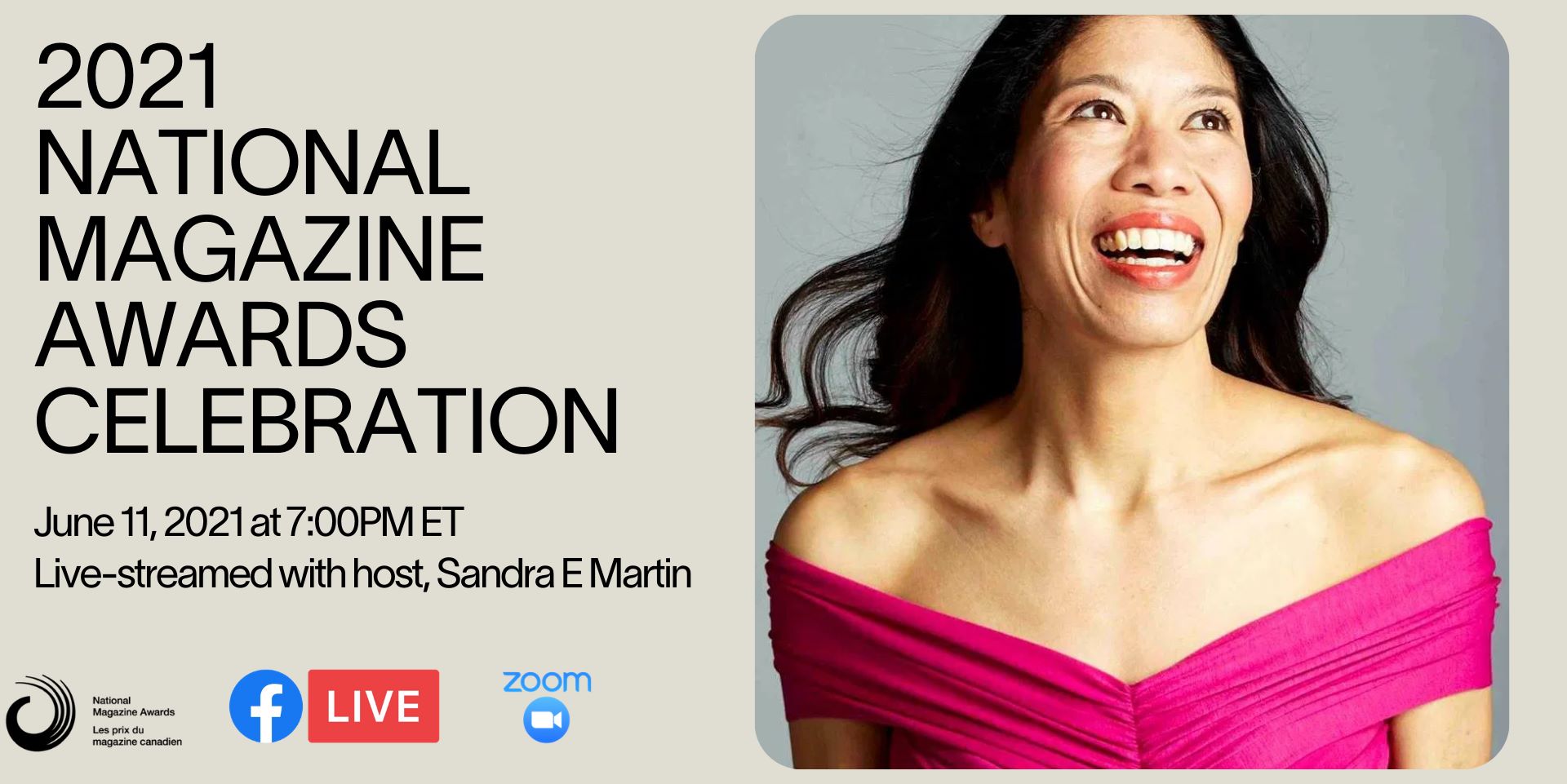 Join us on June 11, 2021 at 7PM ET for the National Magazine Awards
Join our Facebook Event here for a reminder on Facebook or sign up for our e-newsletter here to stay in the loop and to get reminders about the 2021 NMA Winners Celebration.
Last year, for the first time since its debut in 1977, the National Magazine Awards was held as a virtual broadcast through digital channels. This year, as the COVID-19 pandemic continues, we will once again be revealing the winners by way of a virtual broadcast, hosted by Sandra E. Martin!
Creators, storytellers, editors, publishers and all magazine stakeholders from coast to coast to coast are invited to join the live, interactive Winners Celebration on Facebook, which will be hosted by award-winning writer, editor, content strategist and journalism instructor, Sandra Martin.
The event will be hosted live with the same high-quality multimedia, music and special guests that attendees have come to expect. Winners will also have the opportunity to deliver a short acceptance speech (details below). There's a $1000 cash prize for Gold winners in writing & visual award categories, and certificates for Gold, Silver and Honourable Mention winners in all categories. Cheques and certificates will be mailed this summer.
As acceptance speeches are the highlight of any awards show, we encourage all nominees to take part by using one of the three options. Your acceptance speech should be around 30 seconds long, but aside from that, the stage is yours, so have fun!
To help bring this year's celebration to the industry across the country, the Foundation is requesting a pay-what-you-can donation (we suggest $25) in lieu of ticket costs. As a small charitable organization, these donations are vital to the Foundation's ability to honour this year's winners and nominees through this virtual gala.
The NMA Gala, which celebrates journalists, writers, photographers, illustrators, and other professionals of the press who inform, educate and inspire Canadians at home and around the world, is the magazine industry's most cherished annual event. With your help, the Foundation is committed to keeping this 44-year long tradition alive.
You can help by donating now through CanadaHelps. Donations are easy to make, and you will receive a tax receipt for any donation of $3 or more. We are grateful to everyone who donates to help us support our vital industry.