Have an event you'd like to have appear on our events calendar? Please fill out the event form.
All events will be reviewed by an administrator before appearing on the calendar.

Industry Secrets for PR & Media Professionals
March 10, 2020 @ 5:30 pm

-

9:00 pm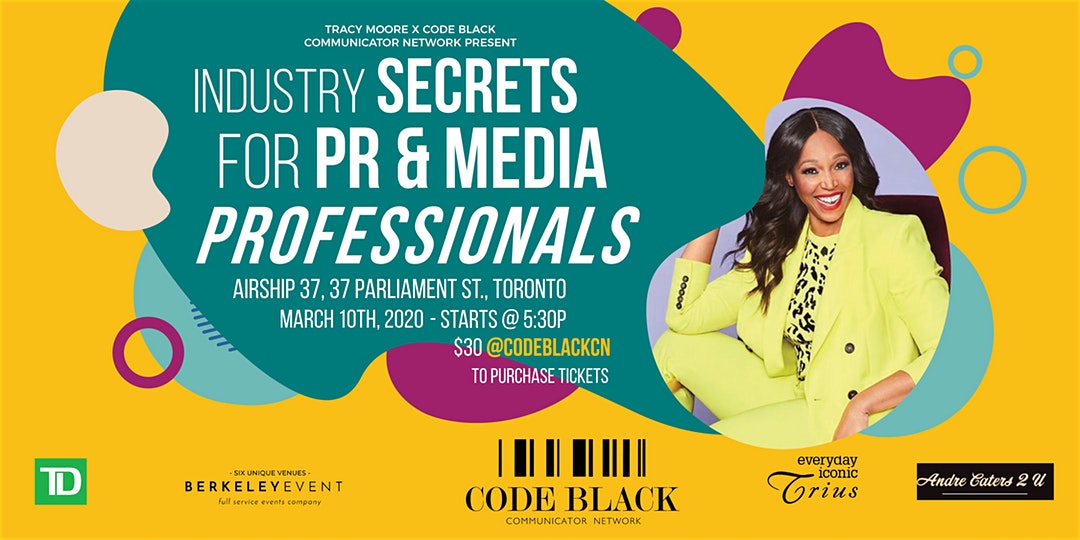 Evening of discussion, mentorship and learning for Black media and PR professionals
About this Event
On March 10, Code Black is hosting a mentoring session and panel discussion at Airship 37 in the Distillery District. The theme, "Industry Secrets for PR & Media Professionals," will examine topics such as contract negotiations, career transitions, and bringing your "Black'"to work. Prior to confirming the theme and format of this event, Code Black conducted a survey to gather insights from the community on what they need most and how we can best empower them. There was an exceptional response and an overwhelming desire for meaningful networking opportunities and the provision of actionable advice or resources. We've created this event with that in mind. The evening will include:
Section 1: Panel on Industry Secrets with panelists Dalton Higgins, Kathleen Newman-Bremang and Marci Ien
Moderated by: Tracy Moore
About Marci Ien (panelist) – For over 15 years, Canadians from coast to coast woke up every morning to Marci Ien's as the co-host and news anchor of the national morning program, Canada AM. Today, Marci is seen across the country as a co-host of one of Canada's most popular daytime programs, @TheSocialctv. On-stage, Marci also shines as an emcee, interviewer, moderator, and speaker. She has also committed to using her platform and her voice to speak on racial profiling, mental health, bullying, and community advocacy. In addition to her broadcasting work, Marci is a former distinguished visiting professor at Ryerson University's Radio and Television Arts (RTA) program. She now sits on the university's Board of Governors. In 2014, the program gave her the distinction of an award co-named in her honour. The Marci Ien and Dwight Drummond Award celebrates students from under-represented and marginalized communities who show great potential in any three of the school's programs. In 2013, Marci was inducted into the RTA's Wall of Fame for her significant contributions to the field of media. Marci's career in television spans over three decades, and has taken her from Halifax, where she joined CTV National News as a reporter in 1997, to Vancouver, where she was the News Anchor for CTV's Olympic Morning at the 2010 Winter Olympic Games. Deeply committed to humanitarian causes, Marci travelled to Sierra Leone on behalf of Journalists for Human Rights, where she met with reporters and led training workshops.She was honoured by the Black Business and Professional Association with a Harry Jerome Award. In 2019, she received an Honorary Bachelor Degree in Applied Studies from Humber College Institute of Technology and Applied Learning.
About Dalton Higgins (panelist) – It's a hip hop world and you're just living in it, so says Dalton Higgins, PR strategist and publicist, author of six books, festival and music concert producer, National Magazine Award-winning journalist, TV/radio broadcaster and blogger. ?????? As a publicist, Dalton has represented clients who have won a wide range of awards and accolades including: BET Awards (USA), Mercury Prize (UK), Emmy Awards (USA), Juno Awards (Canada), in addition to Grammy Award (USA) and Polaris Prize (Canada) nominees. Dalton has worked with and/or consulted on a vast number of hip hop web-based initiatives throughout the USA and Canada including Urban Box Office (NYC) and Shine.com (NYC/Toronto) and has developed a strong interest in promoting diversity (as a current member of the Canada Council for the Arts Racial Equity Advisory Committee) and in supporting literacy initiatives having conducted workshops with everyone from the NBA's Toronto Raptors to the Toronto Public Library.
About Kathleen Newman-Bremang (panelist) – A writer and producer, Kathleen has a knack for telling stories that spark deep discussion and reflection. You might remember her recent (exceptional!) articles she penned, as a senior writer, for Refinery 29 "Why is Canadian Television So White?", "The Oscars Used Black People As Props & It's Not What We're Here For", and "The Incredible Black Canadian Women You Should Know". She has contributed to many publications, including Lainey Gossip, Cosmo, Elle Canada, Corduroy Magazine, and The Kit. She says, "I am proud to use my voice to write about diversity and inclusion in Hollywood. As someone who has worked in the entertainment industry for 10 years, I have a unique skill set and perspective." That she does! As deftly as she can write an engaging film or television review, she also sharply tackles topics such as colourism, cultural appropriation, and giving credit where it's due (i.e. "Shouldn't Michael B. Jordan Have An Oscar Nomination By Now?" I mean, shouldn't he?!). She has written profiles on up-and-comers and bona fide superstars such as Storm Reid, Maitreyi Ramakrishnan, Elaine Welteroth, Kerry Washington, Nina Dobrev (Kathleen worked with her at Hollister), Vanessa Hudgens, Lena Waithe, Melina Matsoukas, JLo and many more. In addition, she reports on everything from inspiring Canadian women changing the game in their industries, to the changing face of fashion week, to the latest in Canadian politics. A graduate of Ryerson University's journalism program, she has worked for some of the biggest media networks in North America — including MTV, MuchMusic, and CTV — and was the celebrity and entertainment producer on The Social for six seasons. She co-wrote the 2018 iHeartRadio MMVAs and was part of the producing team for the 2018 eTalk: Live at the Oscars TV special.
Section 2: Small group mentoring session
Mᴇɴᴛᴏʀ ᴅᴇᴛɪᴀʟs
Kayla Grey is an anchor and reporter for SPORTSCENTRE. She also makes frequent appearances on TSN Radio 1050 in Toronto and TSN Radio 1150 in Hamilton covering the Toronto Raptors, and contributes regular sports updates to CTV's YOUR MORNING. In 2019, she reported on the Toronto Raptors' historic NBA championship run for TSN. She also joined CTV's fan-favourite reality series THE AMAZING RACE CANADA as an official race correspondent for THE AMAZING RACE CANADA: RIDE ALONG.
Nam Kiwanuka is a multi-platform journalist, host, and producer. Nam is the co-host of The Agenda with Steve Paikin, Ontario's leading daily primetime current affairs show, and host of The Agenda in the Summer on TVO. She has hosted magazine shows for the NBA and CFL and was a MuchMusic VJ and Videographer. She has worked with CNN and BET and was a columnist for the BBC's Focus on Africa magazine.
Ainka Jess is the CEO and Founder of She's4Sports. She is passionate about communications and empowering women and girls. She combined her love of sport and over 12 years of communications and media relations experience to launch She's4Sports – an organization that gives women a larger voice in sports through digital content and events.
Renee Duncan is Senior Account Director, MSL Group. She is a strategic communications leader with 14 years of experience in PR, influencer relations, social media and content development in the areas of sports, media, finance, entertainment and consumer packaged goods. She is a co-founder of Code Black Communicator Network. ?
Takara Small is the technology columnist for CBC's Metro Morning and on-air expert who appears on CBC News, The National and more. She was previously the contributing editor for Fortune magazine and host/producer for the Globe and Mail podcast "I'll Go First", which was rated the #1 technology podcast in Canada by Apple Canada. Over the years her award-winning work has appeared in numerous outlets, which include the BBC, Toronto Star, Refinery29, Flare magazine, Mic, Chatelaine and more.
Natasha Bruno is the Beauty Director at FASHION magazine (@fashioncanada). She was previously a managing editor at S/magazine (@smagazineofficial) and a beauty editor at The Kit (@thekitca). Natasha is passionate about telling stories with an intersectional and inclusive lens.
Stacey-Ann Munro is CP24's Breaking News and Live Television Producer, leading a team that brings breaking news to a daily viewership of 1.55 million in Canada's largest market.
Confirmed Mentors To Be Announced
Section 3: Networking session
Opportunity to network freely