Have an event you'd like to have appear on our events calendar? Please fill out the event form.
All events will be reviewed by an administrator before appearing on the calendar.

9/11: 20 Years On: Lessons Learned in Global Journalism
September 9, 2021 @ 1:00 pm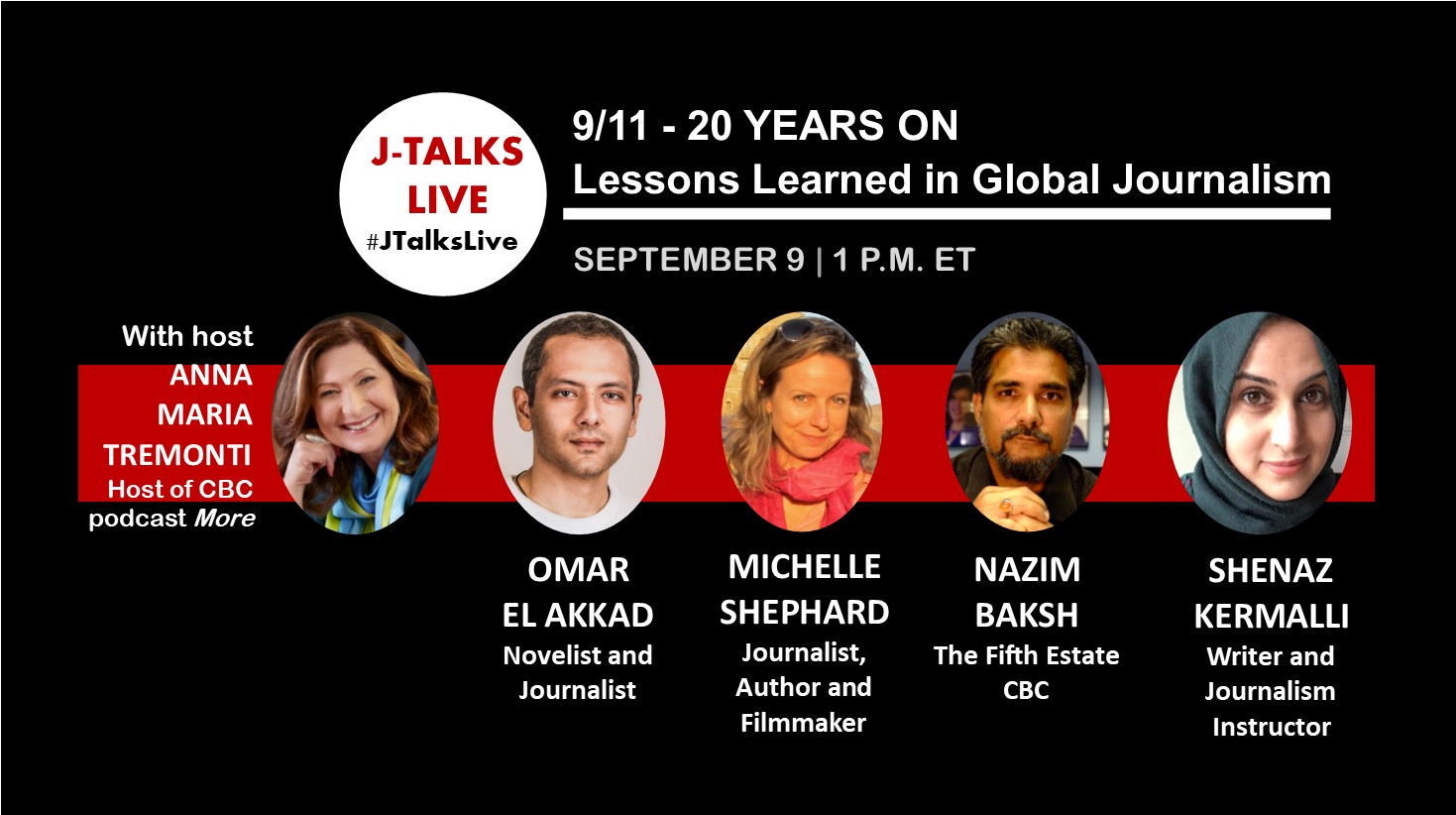 The 9/11 attacks compelled news organizations and journalists to rethink their coverage, from creating a security beat, to ethical questions of sending or using freelancers in danger zones, to how to cover those who were accused—just a few issues among many. Twenty years on, as the West makes its chaotic withdrawal from Afghanistan, what lessons shape today's coverage and what challenges still persist?
The featured speakers are Omar El Akkad, novelist and journalist whose career coincided with the war on terror; Michelle Shephard, journalist, author, podcaster and filmmaker who has covered issues of terrorism and civil rights since the 9/11 attacks; Nazim Baksh, a producer with CBC's The Fifth Estate who has worked extensively on issues of national security and violent religious extremism; and Shenaz Kermalli, a freelance writer who teaches journalism at Ryerson University and University of Toronto, in conversation with Anna Maria Tremonti, host of the CBC podcast More.
ABOUT THE SPEAKERS
Omar El Akkad is an author and journalist. He was born in Egypt, grew up in Qatar, moved to Canada as a teenager and now lives in the United States. The start of his journalism career coincided with the start of the war on terror, and over the following decade he reported from Afghanistan, Guantanamo Bay and many other locations around the world. His work earned a National Newspaper Award for Investigative Journalism and the Goff Penny Award for young journalists. His fiction and non-fiction writing has appeared in The New York Times, The Guardian, Le Monde, Guernica, GQ and many other newspapers and magazines. His debut novel, American War, is an international bestseller and has been translated into thirteen languages. His new novel, What Strange Paradise, was released in July, 2021. @omarelakkad
Michelle Shephard is an award-winning journalist, author and filmmaker who has covered issues of terrorism and civil rights since the 9/11 attacks. During her two decades at the Toronto Star, she reported from more than 20 countries, including Somalia, Yemen, Syria, Pakistan and the U.S. Naval prison in Guantanamo Bay. Among her films, Shephard was the co-director and producer of the Emmy-nominated documentary Guantanamo's Child, and her books include Decade of Fear: Reporting from Terrorism's Grey Zone. Shephard is also a podcast host and producer. Her next CBC series, The Accelerationists, will be released in October 2021 and investigate the rise of violent neo-Nazi groups hoping to spark a race war. @shephardm
Nazim Baksh is a producer with The Fifth Estate. He has won numerous awards over the years for his work on The National, The Fifth Estate, the CBC's documentary unit and Toronto News. Since 9/11, he has worked extensively on issues of national security and violent religious extremism. @NazimBaksh
Shenaz Kermalli is a freelance writer and former producer with BBC News, CBC News and Al Jazeera English. She teaches journalism at Ryerson University and University of Toronto and is a Director-at-Large of J-Schools Canada/ÉcolesJ. Her work has been published in The Globe and Mail, The Toronto Star, The Guardian, Global News, The Ottawa Citizen and Foreign Policy, among others. @ShenazKermalli
ABOUT THE HOST
Anna Maria Tremonti is the host of the CBC podcast More, a series of conversations with high-profile guests and rising stars from a variety of fields. The podcast represents a change, and a progression toward more immersive conversations following her success hosting the CBC Radio's The Current, the flagship current affairs program she helped create. Prior to that Tremonti was a co-host of CBC Television's investigative program the fifth estate and before that she was covering war, disaster, politics and society as a foreign correspondent for CBC's The National, with postings in Berlin, London, Jerusalem and Washington. @amtremonti #MorewithAMT