Have an event you'd like to have appear on our events calendar? Please fill out the event form.
All events will be reviewed by an administrator before appearing on the calendar.

Aclass: Asian Voices, a workshop for Asian creators looking to break into podcasting
January 27, 2021 @ 3:30 pm

-

6:30 pm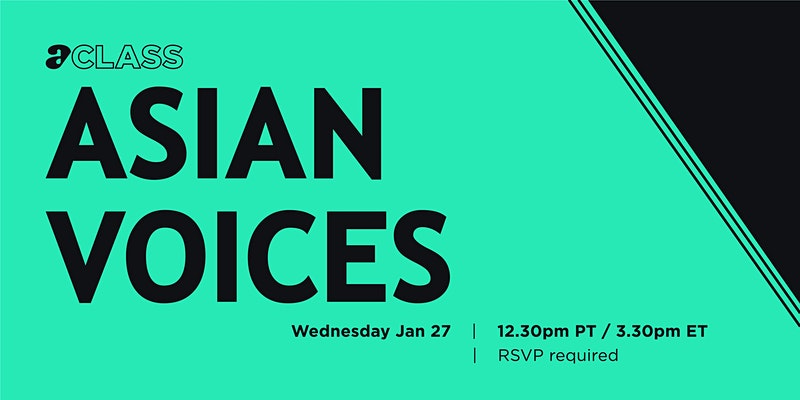 The path to podcasting looks different for everyone. How do you choose and hone your podcast idea? How much of yourself – and your identity – do you include? What challenges are unique to Asian individuals, of various intersecting identities and backgrounds, in trying to grow their audience? And what have the various experiences been like for established podcasters of diverse Asian identities?
Aclass: Asian Voices is part of a series of workshops hosted by podcast company Acast. The workshop is aimed at supporting new and aspiring podcasters from underrepresented communities, demystifying a medium with roots in independent creators and bolstering the next generation of podcasters.
You'll find two sections:
Asian Perspectives in Podcast Storytelling: How identity, content, and audience intersect
3:30-4:30 pm ET / 12:30-1:30 pm PT / 8:30-9:30 pm BST
A discussion with leading podcasters about developing shows from an Asian perspective, and how Asian identity influences podcasting. Speakers:
Lifting the Veil on Podcast Production: Asian creators talk all things development, tech, and monetization
4:30-5:30 pm ET / 1:30-2:30 pm PT / 9-10 pm BST
A discussion about the tactical how tos of developing, producing, and monetizing a podcast. Speakers:
Tiffany Lam, producer of the podcasts Canadaland Short Cuts and OPPO at Canadaland Media (PANELIST)
Freddie Wong, co-founder of RocketJump and co-host of Dungeons and Daddies (PANELIST)
Stephanie Kuo, host and producer of Racist Sandwich and senior manager of training at PRX (PANELIST)
Jerry Won, founder of Just Like Media and host of Dear Asian Americans (PANELIST)
Trace Gaynor, associate content partnerships manager at Acast (MODERATOR)
Narisa Ladak, content development manager at Acast (MODERATOR)
Feel free to submit any questions for the panelists in advance of the workshop. You'll have the opportunity to submit at "checkout" when you register.
Details:
Link: https://acast.zoom.us/j/93387125118?pwd=K0VZdTFLWEV3U0Z1SWs2Ti9rL3lKdz09