Have an event you'd like to have appear on our events calendar? Please fill out the event form.
All events will be reviewed by an administrator before appearing on the calendar.

Beyond "Police Say": Exploring the Media's Reliance on Official Accounts
October 14, 2021 @ 1:00 pm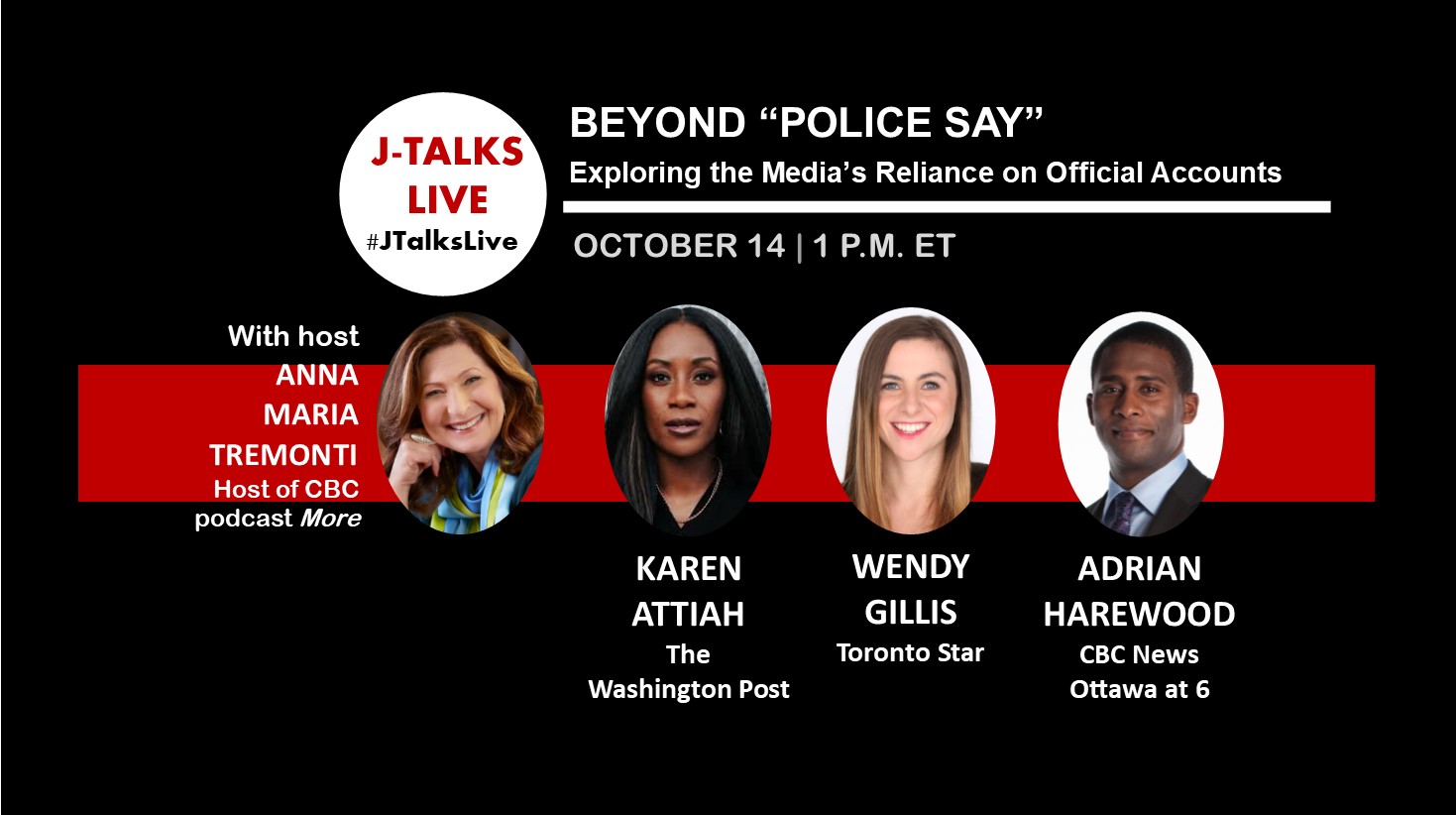 The death of George Floyd focused the world's attention on police brutality—and the problematic practice of relying on official accounts of events. But reporters have also long maintained police sources who provide information for their crime coverage. How has Floyd's death changed reporting on police and their activities?
Featured speakers Karen Attiah, columnist with The Washington Post, Wendy Gillis, crime and police reporter for the Toronto Star, and Adrian Harewood, host of CBC News Ottawa at 6, will be in conversation with Anna Maria Tremonti, host of the CBC podcast More.
ABOUT THE SPEAKERS
Karen Attiah is a columnist for The Washington Post. She joined The Post in 2014 as a digital producer in the Opinions section. Attiah often writes on issues relating to race, gender and international politics, with a special interest in Africa. Previously, she reported as a freelancer for the Associated Press while based in the Caribbean. Attiah was the winner of the 2019 George Polk Award and was the 2019 Journalist of the Year from the National Association of Black Journalists. @KarenAttiah
Wendy Gillis is the longtime crime and police reporter for the Toronto Star. Her beat coverage on police accountability and justice issues has earned her journalism awards and nominations, including being named the 2021 co-recipient of the Canadian Journalism Foundation's Landsberg Award for coverage of violence against women. Wendy has nominated for multiple National Newspaper Awards, including in 2020 for an investigation into police use of force and in 2018 as part of a team for the Star's coverage of the Yonge St. van attack. Wendy led a team nominated for the 2016 Governor General's Michener Award for coverage of Ontario police watchdog, the Special Investigations Unit, and was also part of a group nominated for a Canadian Hillman prize for the Star's work on the police practice of carding. In 2017, she was awarded a residency at the Banff Centre's Literary Journalism program, where she produced "Backfire," a long feature investigation into an Ontario police officer involved in three on-duty fatalities. @wendygillis
Adrian Harewood is the host of CBC News Ottawa at 6. Harewood attended elementary and high school at Ashbury College, and was involved in community radio at CKCU (Carleton University) and CHUO (University of Ottawa). He has been a guest host on national CBC programs such as As it Happens, Sounds Like Canada and The Current. Before coming to television, Harewood was the host of All In A Day on CBC Radio One in Ottawa.@CBCAdrianH
ABOUT THE HOST
Anna Maria Tremonti is the host of the CBC podcast More, a series of conversations with high-profile guests and rising stars from a variety of fields. The podcast represents a change, and a progression toward more immersive conversations following her success hosting the CBC Radio's The Current, the flagship current affairs program she helped create. Prior to that Tremonti was a co-host of CBC Television's investigative program the fifth estate and before that she was covering war, disaster, politics and society as a foreign correspondent for CBC's The National, with postings in Berlin, London, Jerusalem and Washington. @amtremonti #MorewithAMT