Have an event you'd like to have appear on our events calendar? Please fill out the event form.
All events will be reviewed by an administrator before appearing on the calendar.

Big Voices
October 28, 2021 @ 1:00 pm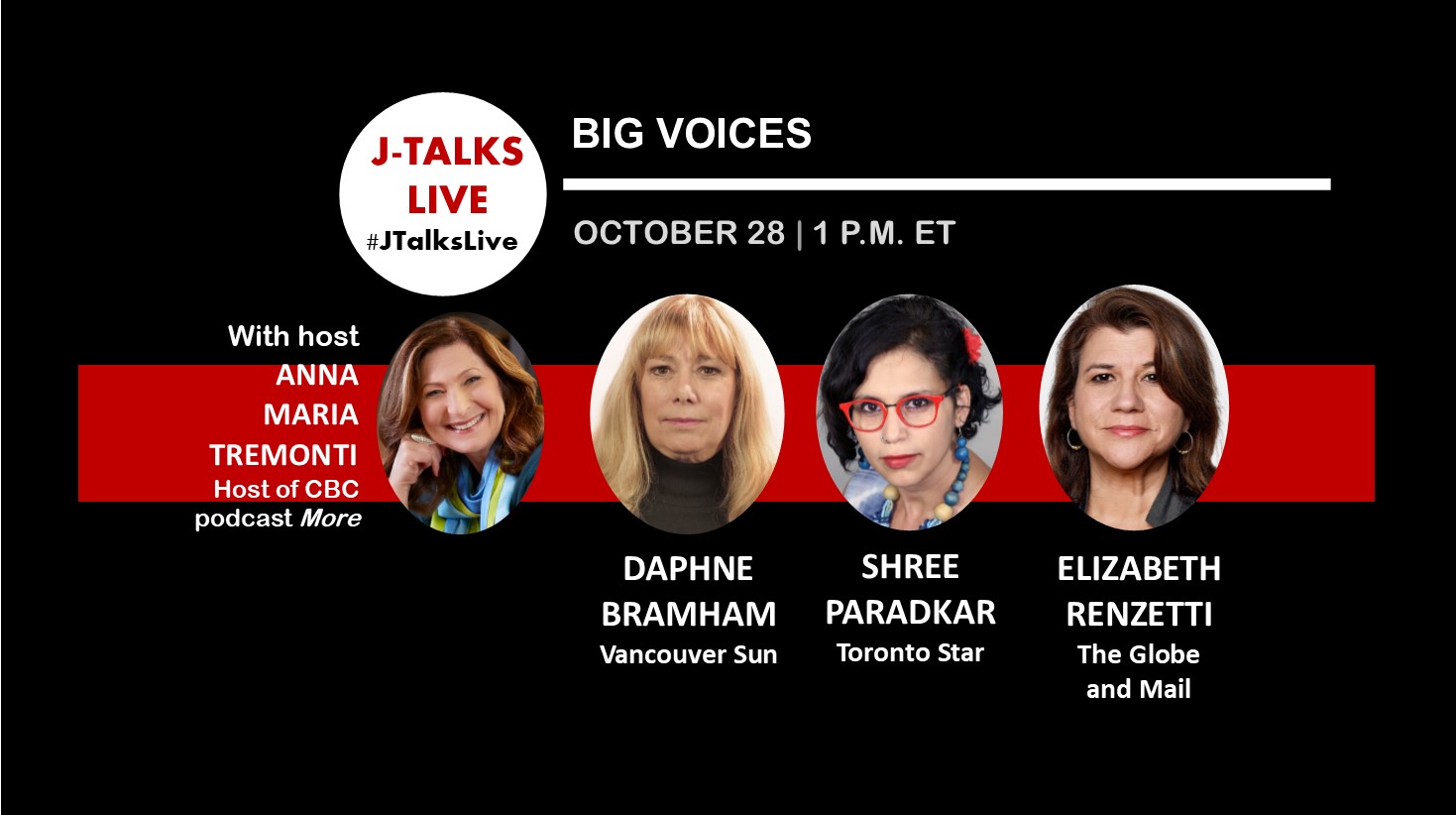 At a time when a range of voices and perspectives are available across multiple platforms, and a choice word or angle can be a landmine—setting off a barrage of online hate—what does it take to be a columnist and how has the role evolved in a fraught social media environment where attacks inordinately target women and racialized journalists?
Featured speakers are columnists Daphne Bramham, Vancouver Sun, Shree Paradkar, Toronto Star and Elizabeth Renzetti, The Globe and Mail, in conversation with Anna Maria Tremonti, host of the CBC podcast More.
ABOUT THE SPEAKERS
Daphne Bramham is a Vancouver-based journalist and author who has written extensively about children's rights, women's rights and animal rights. She has covered two Olympics, two elections in India, the handover of Hong Kong to Chinese control in 1997 and too many elections in Canada to count. A columnist for the Vancouver Sun since 2000, she was named Commentator of the Year by the Jack Webster Foundation in 2019, an award she had won previously. She has also received a National Award for column writing. She is a past recipient of the Rosemary Brown Award for women and in 2011 was named Champion of Child and Youth rights by the BC Child and Youth Advocacy Coalition. Her book, The Secret Lives of Saints: Child Brides and Lost Boys in Canada's Polygamous Mormon Sect, was published in 2008 and was a finalist for three national, non-fiction book awards. @bramham_daphne
Shree Paradkar is a Toronto Star columnist who writes on anti-oppression and social justice issues. She is also the Star's – and Canada's – first internal ombud, a position created to develop an anti-racist newsroom. She is the 2018-2019 recipient of the Atkinson Fellowship in Public Policy and winner of two Amnesty Awards for Human Rights reporting. Earlier this year Shree won the Racial Justice in Media award by the Urban Alliance of Race Relations. Shree is the author of Betrayed: My cousin's wrongful conviction for the murder of her daughter, Aarushi, and has been a journalist in Bangalore, Mumbai, Singapore and Toronto. @ShreeParadkar
Elizabeth Renzetti is a Canadian journalist and author. Her column runs weekly in the Globe and Mail, where she is also a feature writer. She is the author of two books, the essay collection Shrewed: A Wry and Closely Observed Look at the Lives of Women and Girls and the novel Based on a True Story. She has reported from London, Los Angeles and Berlin and was also the Globe and Mail's Arts and Books editor. In 2020 she won the Landsberg Award for her reporting on gender equality. @lizrenzetti
ABOUT THE HOST
Anna Maria Tremonti is the host of the CBC podcast More, a series of conversations with high-profile guests and rising stars from a variety of fields. The podcast represents a change, and a progression toward more immersive conversations following her success hosting the CBC Radio's The Current, the flagship current affairs program she helped create. Prior to that Tremonti was a co-host of CBC Television's investigative program the fifth estate and before that she was covering war, disaster, politics and society as a foreign correspondent for CBC's The National, with postings in Berlin, London, Jerusalem and Washington. @amtremonti #MorewithAMT