Have an event you'd like to have appear on our events calendar? Please fill out the event form.
All events will be reviewed by an administrator before appearing on the calendar.

Bots, analytics and other tech-tricks: How AI is impacting journalism
April 6, 2022 @ 10:00 am
Free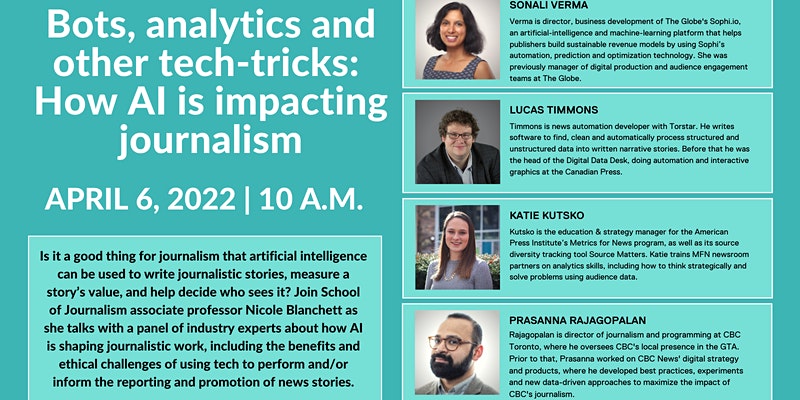 Is it a good thing for journalism that artificial intelligence can be used to write journalistic stories, measure a story's value, and help decide who sees it? Join Ryerson School of Journalism's associate professor Nicole Blanchett as she talks with a panel of industry experts about how AI is shaping journalistic work, including the benefits and ethical challenges of using tech to perform and/or inform the reporting and promotion of news stories. Panellists include Sonali Verma, manager of digital production and audience engagement teams at The Globe, who works with newsrooms all over the world to help them embrace a data-driven culture; Lucas Timmons, news automation developer with Torstar, who writes software to find, clean and automatically process structured and unstructured data into written narrative stories; Katie Kutsko, education and strategy manager for the American Press Institute's Metrics for News program, as well as its source diversity tracking tool Source Matters; and Prasanna Rajagopalan, director of journalism and programming at CBC Toronto, who oversees CBC's local presence in the GTA. Prior to that, he worked on CBC News' digital strategy and products, where he developed best practices, experiments and new data-driven approaches to maximize the impact of CBC's journalism.