Have an event you'd like to have appear on our events calendar? Please fill out the event form.
All events will be reviewed by an administrator before appearing on the calendar.

Diversity and the Future of Canadian Broadcasting Policy
March 2, 2021 @ 11:55 am

-

1:30 pm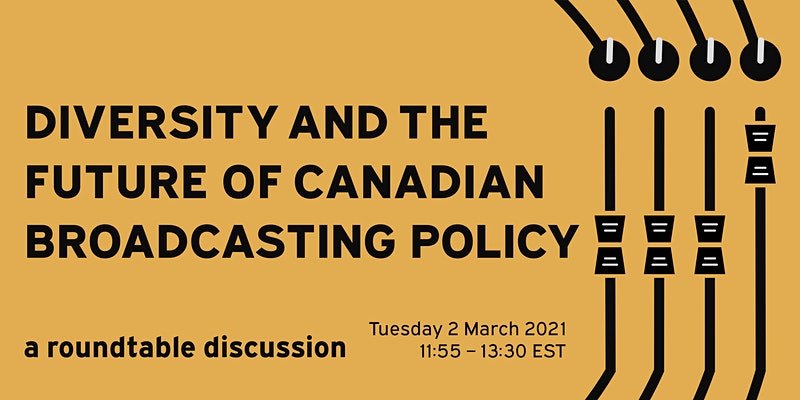 About this Event
A roundtable bringing together industry voices to discuss promoting cultural and linguistic diversity in Canadian broadcast policy.
In November, the federal government proposed amendments to the Canadian Broadcasting Act (Bill C-10) with the aim of modernizing how it regulates online media distribution. Much of the discussion about these changes focuses on how these changes will integrate the distribution of content by streaming services with the aim of supporting Canadian media producers as well as ensuring a broadcasting system that, in the words of the legislation,
Yet, despite this explicit mention of Indigenous persons and diverse ethnocultural backgrounds, there has been little discussion (and less detail) about the powers and mechanisms through which these voices and viewpoints will be protected and supported under the new legislation. This roundtable provides voices from across industry to discuss how they percieve the impact of the proposed bill, and what potential frameworks might be established to ensure that diversity and access are foundational to Canadian media now and in the future.
Participant Bios:
Aldo Di Felice was born in Argentina and has been a lifelong resident of Toronto since his family immigrated to Canada in the sixties. He graduated from the University of Toronto Faculty of Law and started his career as a corporate-commercial lawyer at a leading Canadian law firm, Blake Cassels & Graydon. In 1993 he joined then leading Canadian TV producer- distributor Sullivan Entertainment, becoming Chief Operating Officer. In 1998, Aldo joined Telelatino Network (TLN). As TLN president over the past 23 years, Aldo he has led an expansion strategy, launched new digital TV channels in Italian, Spanish and English, improved content production, established new domestic and international programming relationships, expanded community-oriented partnerships and live events activities. More recently, in 2019 Aldo and the three longstanding community shareholder families of TLN arranged to buy back the 50.5% interest in TLN previously held by Corus Entertainment. Thus, the renamed TLN Media Group became a fully independent ethnic owned and focused company.
Monika Ille is a member of the Abenaki First Nation of Odanak. She has built a rich and diverse portfolio over the course of nearly 30 years in the broadcasting industry. After graduating with distinction from the Université du Québec à Montréal, she entered the industry by working for the Société Radio-Canada and then, for the National Film Board (NFB). During her time at the NFB, she was instrumental in the development of a new training program for Indigenous filmmakers. This experience introduced her to the world of film production, eventually inspiring her to film her first documentary, French Man, Native Son. She has also worked with Quebec Native Women in Montréal and the Assembly of First Nations in Ottawa. Monika brought her strong creative vision to APTN in 2003. She joined the team as the Quebec liaison officer before moving into the programming department. Most recently, she served as the executive director of programming and scheduling. Her accomplishments at the network led to her appointment as chief executive officer of APTN on Dec. 16, 2019.
Monika sits on the Boards of Youth Media Alliance, MediaSmarts, L'Inis and Théâtre Espace Go and sits on the NFB Indigenous Advisory Group. She is also an industry adjudicator on the Canadian Broadcast Standards Council – Quebec Regional Panel. In 2019, Monika was named one of Maison Saint-Gabriel's Exceptional Women. She recently completed the McGill-HEC Montréal Executive MBA program.
Randy Reid is an experienced broadcaster and experiential engagement expert. As a veteran producer of prime-time C/C station programs on Toronto airwaves for over 10 years, he has delivered some of the most popular morning shows and captivating interviews with international and Canadian music icons. Randy is readily recognized as one of the countries most engaging and polished radio personalities as identified through his 3 x national Stylus Spinfest Award nominations in 2010, 2011, 2012 and further underlined as the reigning Stylus Award recipient for 'Canada's Best College Radio Show'. Reid has also successfully demonstrated his prowess and passion for traditional journalism launching a national (and provincial) award winning youth media news initiative in conjunction with TorStar Media Group and Boys & Girls Clubs across Canada. Currently he has been forefront in leading an important organizational shift with VX3 Exchange. He was instrumental in launching a popularly branded ethnic radio station VIBE105 and is directing the evolution of a vibrant Social Purpose Enterprise that creates connective experiences and creative arts solutions through cooperative models of active volunteerism and citizenship.
Madeline Ziniak is a senior broadcast executive and diversity champion. Recognized for influencing both public and private sector as a Multilingual Media Advocate. A renowned and sought after expert in diversity, inclusion and integration and in the media profession. A celebrated broadcaster, internationally recognized as an industry pioneer. Madeline Ziniak has been involved in ethnic media for over 30 years and was most recently the National Vice President of Rogers OMNI Television. Madeline is also Chair of the Canadian Ethnic Media Association. For her dedication throughout her career, Madeline has received the Order of Canada, and the Order of Ontario, The Queen Elizabeth II Golden and Diamond Jubilee Medals, as well as numerous community, government, and industry related honours. Madeline is former Chair (Ontario Region) of the Canadian Broadcast Standards Council, former Vice Chair of Women in Film and Television – Toronto, a founding member of the Strategic Alliance of Broadcasters for Aboriginal Reflection (SABAR), Co-Chair of the International Press Freedom Awards (Canadian Journalists for Free Expression) and a previous board member of the Canadian Journalism Foundation. She was former CoChair of the Task Force For Cultural Diversity on Television and Chair of the Jury of the Awards of Excellence, Canadian Race Relations Foundation.
Moderator:
Mark Hayward: Mark is an Associate Professor in the Department of Communication Studies, York University and a member of the York-Ryerson Graduate Program in Communication & Culture. He is currently serving as the Associate Dean, Academic in the Faculty of Graduate Studies. His recent book, Identity and Industry: Making Media Multicultural in Canada (MQUP 2019), examines how the history of minority media in Canada continues to shape the present and future of Canadian culture.o