Have an event you'd like to have appear on our events calendar? Please fill out the event form.
All events will be reviewed by an administrator before appearing on the calendar.

GIJN Webinar — Investigating Sexual Abuse: Reporting Tips & Tools
November 12, 2020 @ 9:00 am

-

10:00 pm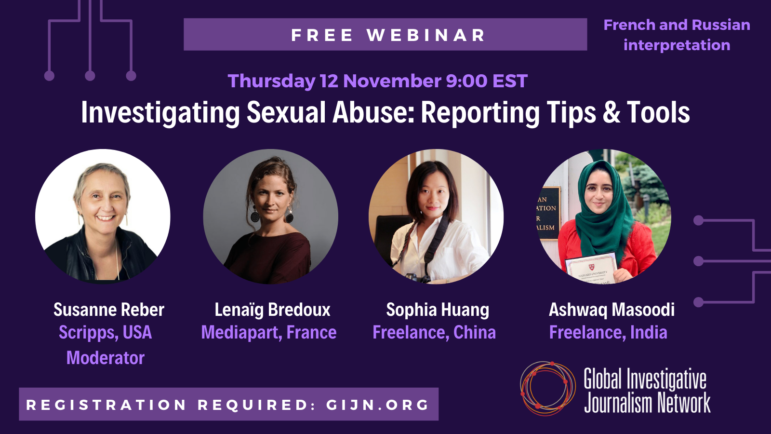 The use in 2017 of #MeToo as a hashtag following the Harvey Weinstein sexual abuse allegations, investigations by journalists, and the ever-louder voices of women have amplified the age-old issue of sexual abuse and put it firmly on the global agenda. Investigating sexual abuse is difficult and requires not only the rigorous standards of investigative journalism, but additional skills to deal with the trauma of survivors.
This GIJN webinar, Investigating Sexual Abuse: Reporting Tips and Tools, will focus on investigating cases of sexual abuse that take place in times of peace, rather than in conditions of war or mass conflict. It will not look at intimate partner violence or domestic abuse, but will focus on how to investigate patterns of behavior and institutional negligence or complicity.
Globally the statistics are depressingly similar: cases of abuse are mainly by men against women, most are never reported to authorities; the level of convictions is low; and studies indicate a very low incidence of false claims despite hype by some media and public officials. In addition, the subject of sexual violence remains a sensitive if not taboo subject in much of the world, and often goes unreported. Watchdog journalism has started digging deeper into sexual violence, but these investigations are still few relative to the estimated number of cases worldwide.
In this global GIJN webinar we bring together three journalists from France, China and India who have substantial experience in investigating cases of sexual abuse. They will share their strategies and reporting tips, ranging from collecting evidence to how to deal with survivors and their families during and after the investigation.
Lenaïg Bredoux (@LenaBred) is the gender editor at Mediapart, one of France's leading independent media outlets, where she has covered gender-related issues and sexual violence for almost a decade. She was previously an economic journalist at AFP and followed social issues at Huma. She is co-author of Tunisian Connection, an investigation into Franco-Tunisian networks under longtime President Ben Ali.
Sophia Huang is a freelance journalist best known for covering cases of sexual abuse in China and the protests in Hong Kong in 2019. She was among the reporters who propelled the #MeToo movement in her country after uncovering cases of sexual violence at some of China's top universities. In late 2019 she was arrested and spent three months in detention due to her reporting.
Ashwaq Masoodi (@ashwaqM) is a freelance journalist who recently completed a Nieman fellowship at Harvard University. Previously she was a feature writer for the Mint newspaper, a leading business daily in India, reporting on the lives of marginalized communities. She writes on gender, caste, human rights and social inequality. She won the Society of Publishers in Asia (SOPA) Award for Excellence in Reporting on Women's Issues in 2015.
This webinar will be moderated by Susanne Reber (@s_reber), executive producer of podcasts at Scripps, a US media company, and the executive producer and creator of 'Verified,' a podcast series about a serial sexual abuser in Italy. She is co-founder and served as executive editor of the Reveal investigative radio program, and was deputy managing editor of NPR's Investigative team and executive producer of the CBC's investigative team.
To accompany this webinar, GIJN will be publishing a new tipsheet on investigating sexual abuse.