Have an event you'd like to have appear on our events calendar? Please fill out the event form.
All events will be reviewed by an administrator before appearing on the calendar.

How to Get Heard in the Zoom Era: A Panel on Panels
October 20, 2020 @ 7:00 pm

-

9:00 pm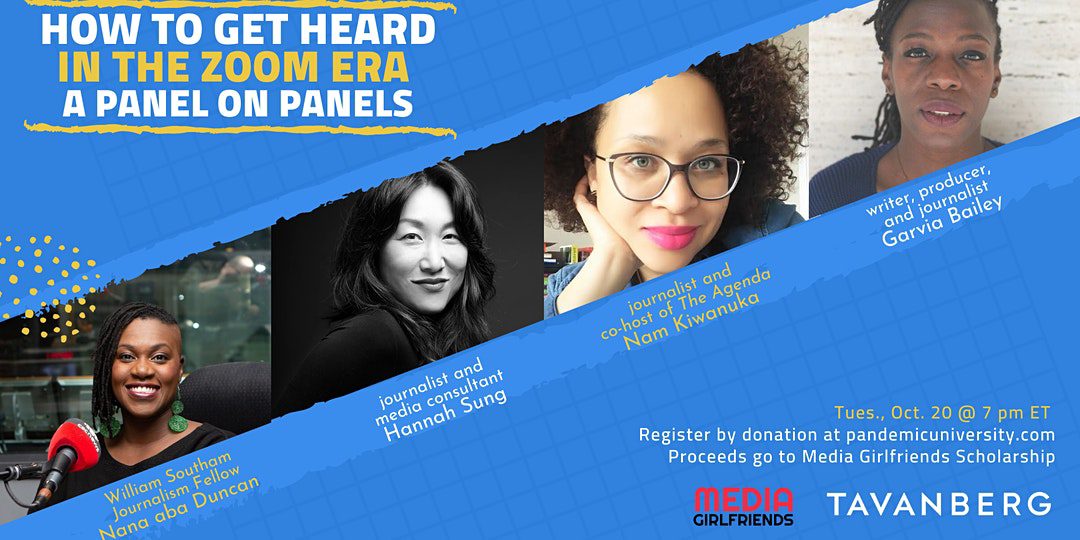 Four outstanding broadcast journalists teach us the art of conversation in the pandemic, and beyond. Tickets by donation.
About this Event
The art of conversation has always been an important skill for storytellers but it's even more important—and trickier—during the COVID-19 pandemic. This event helps writers, journalists and other media professionals adjust to our new reality by teaching them how to to better prepare, shape, guide and conclude a panel in the Zoom era, and beyond.
Broadcast professionals Garvia Bailey, Nana aba Duncan, Nam Kiwanuka, and Hannah Sung will discuss how to guide group conversations so every participant will walk away feeling seen and heard. This timely panel on panels will help you get comfortable with leading editorial meetings, creative workshops and classes, public lectures, virtual debates, and the other ways we discuss our stories. Most of all, it will help us elevate group conversations. Because pandemic or no, the point of any panel is to convene people's voices and to reach new understanding—for everyone to learn about the topic and each other.
Tickets are by donation. All proceeds from this class go to the Media Girlfriends scholarship to support women and non-binary students pursuing media, tech, communications and journalism post-secondary programs in Canada. This event is supported by Tavanberg Communications.
Includes: Live two-hour presentation, panel, and audience Q&A closed captioning for the hearing impaired; a handy tip-sheet from the speakers; access to watch Replay anytime you want.
How it Works: After checkout, you'll receive a receipt with a link for the live Zoom event. We'll also email you a ticket with information to access it outside of the Eventbrite platform, and another reminder with the same information a few hours before the session. After the class you'll get a password to access the Replay and tip-sheet.
Accessibility: Close captioning works for live webinar only. It's generated by Rev AI technology and subject to error.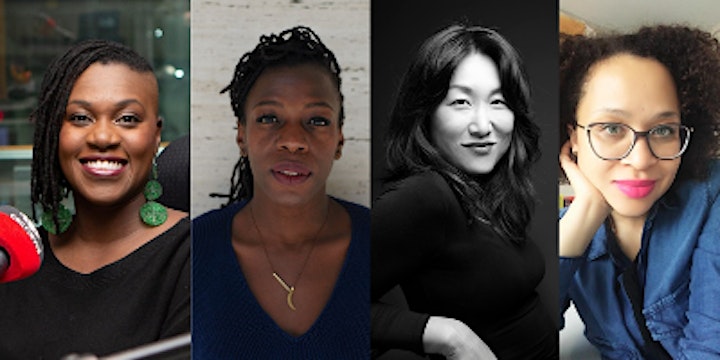 About the Panelists
Nana aba Duncan is a broadcast journalist and William Southam Journalism Fellow at University of Toronto's Massey College, where she is studying the experiences of racialized leaders in Canadian media. In 2015, she launched Media Girlfriends as a podcast. It now includes live events, student scholarships and a peer network supporting racialized and LGBTQ2+ women/non-binary people working in media.
Hannah Sung is a journalist and consultant working in podcast and newsletter production and strategy. Previously, she worked at the Globe and Mail, TVO, MuchMusic and was the Asper Fellow in Journalism at University of Western Ontario in 2020. She writes the newsletter At The End Of The Day and tweets at @HannahSung.
Garvia Bailey is a broadcaster, host, producer, writer and co-founder of the on-line radio station, JAZZCAST. She spent 10 years with the CBC in various roles, including as host of a variety of radio programs, columnist for Metro Morning, contributor to cbcmusic.ca, producer on documentary programs, and pop culture commentator on CBC's flagship news program The National.
Nam Kiwanuka is a multi-platform journalist, host, and producer. She co-hosts The Agenda with Steve Paikin, Ontario's leading daily prime time current affairs show, and hosts The Agenda in the Summer on TVO. Nam has hosted magazine shows for the NBA and CFL and was a MuchMusic VJ and videographer. She has worked with CNN and BET and was a columnist for the BBC's Focus on Africa magazine.

About the Cause: Media Girlfriends is an inclusive network of women and gender non-binary people working in media in Canada. It started as a podcast by Nana aba Duncan and has grown to include peer mentorship, events and a $14K scholarship for women or non-binary students in high school, college, and university.
About the Sponsor: Tavanberg is a boutique content marketing agency based in Toronto. It helps clients reach their audience with customized strategies and exceptional writing, images and video for print, digital and social media. With an award-winning team of journalists and creative talent, Tavanberg crafts content that builds communities, drives engagement and gets results.