Have an event you'd like to have appear on our events calendar? Please fill out the event form.
All events will be reviewed by an administrator before appearing on the calendar.

Journalism and the Pandemic: How is #COVID19 Transforming Journalism?
May 26, 2020 @ 11:00 am
Free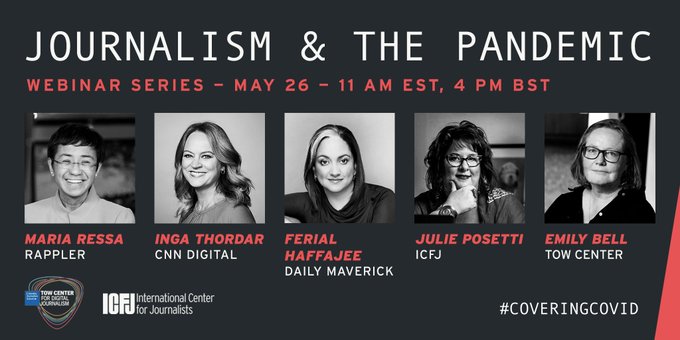 The effects of COVID-19 are already being framed as an "extinction event" for journalism, causing dozens of news outlets to collapse around the world. Tens of thousands of newsroom jobs have been lost or reshaped by the pandemic. That's why ICFJ and the Tow Center have launched a global survey to track and assess the impacts of the pandemic on journalism worldwide, and to help reimagine its future. This webinar officially launches our study, and it will feature celebrated editor and CEO Maria Ressa (Rappler), CNN's Executive Editor of Digital Worldwide Inga Thordar, prominent South African editor Ferial Haffajee (Daily Maverick), Director of the Tow Center for Digital Journalism at Columbia University, Prof. Emily Bell, and ICFJ's Global Director of Research, Dr. Julie Posetti. Together, they will identify and debate the key challenges confronting journalism at a transformative moment and consider the prospects for recovery.
It is the first in a series of webinars from the Journalism and the Pandemic Project – a research collaboration between ICFJ and the Tow Center that is studying the implications of the crisis for journalism.