Have an event you'd like to have appear on our events calendar? Please fill out the event form.
All events will be reviewed by an administrator before appearing on the calendar.

Journalism under siege – Leading journalists discuss reporting the convoy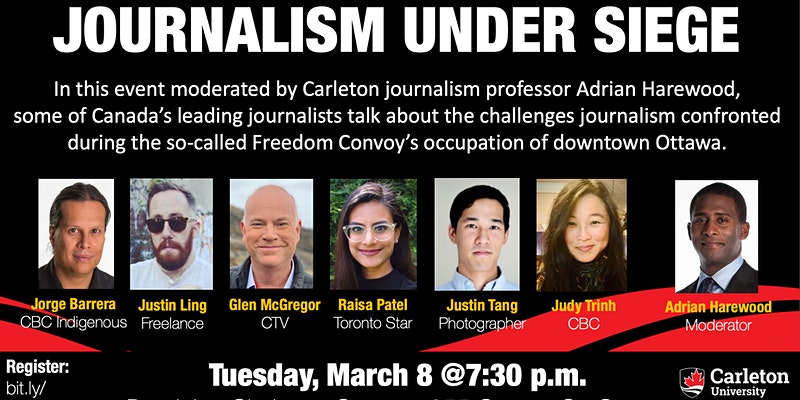 A Carleton University event moderated by journalism professor Adrian Harewood
In one of the first public events to reflect on the role of the media during the unprecedented occupation of downtown Ottawa, Carleton University invites the community that experienced the siege to join in the discussion.
Some of Canada's leading journalists will talk about the challenges journalism confronted during the so-called Freedom Convoy's occupation of downtown Ottawa.
Limited seating will be available on a first-come first-served basis in Carleton's majestic Dominion-Chalmers Centre in the heart of downtown. Registration is mandatory to reserve seating and attend the event.
PLEASE NOTE: PARTICIPANTS WILL BE REQUIRED TO SHOW PROOF OF VACCINATION TO ENTER THE CARLETON DOMINION-CHALMERS CENTRE AND WILL ALSO BE EXPECTED TO USE A MASK THROUGHOUT THE EVENING. FULL DETAILS OF CONDITIONS OF PARTICIPATION WILL BE INCLUDED IN THE CONFIRMATION MESSAGE FOR REGISTRANTS.
——
The event will also be streamed live through a Zoom webinar and those who cannot make it in person are encouraged to use the Zoom link that evening. Please DO NOT register for this event through eventbrite if you plan to watch the Zoom webinar.
Please click the link below to join the webinar on March 8:
https://carleton-ca.zoom.us/j/99393091552
—–
Adrian Harewood, a professor at Carleton's School of Journalism and Communication will moderate the event.
Panelists will make brief presentations to be followed by a question and answer period. The panel includes:
Jorge Barrera is an award-winning journalist who has worked across the country and internationally. He works for CBC's Indigenous unit based out of Ottawa. At a critical moment in the occupation of Ottawa's downtown, Barrera waded into the crowd with his mobile phone to report live on his own.
Justin Ling is a freelance investigative journalist, covering privacy, security, foreign policy, politics, law, defence, and where all those things meet. Ling is based in Montreal but his reporting during the occupation and social media presence on Twitter was mandatory reading for anyone following the events. Ling's expert reporting on extremist groups behind the siege was sought out by The Guardian.
Glen McGregor joined CTV National News as Senior Political Correspondent in January 2016. Based out of CTV News' Ottawa Bureau, McGregor contributes political coverage to CTV News across all platforms. McGregor was a constant presence on television screens and Twitter during the occupation and like others working with camera crews, was subject to relentless harassment by protestors.
Raisa Patel covers federal politics in Ottawa for the Toronto Star. Patel was previously an associate producer for CBC's flagship political radio show, The House, as well as a writer on the broadcaster's Parliament Hill team. Patel graduated from Carleton University's journalism program.
Justin Tang is an award-winning photographer based in Ottawa. He was the recipient of a 2015 National Newspaper Award for his image of Prime Minister-designate Justin Trudeau being embraced by his mother Margaret on election night. He is a contributing photographer to The Canadian Press and anyone who consumed news coverage of the convoy will have seen some of his iconic images.
Judy Trinh is an investigative journalist with CBC News. She covers a diverse range of stories from breaking crime news to the #MeToo movement to human rights court challenges. During the siege she provided some of the most detailed coverage of the Ottawa Police Services and the Freedom Convoy encampment on Coventry Road in Ottawa's east end.
The moderator for the event, Adrian Harewood, an Associate Professor in Carleton's School of Journalism and Communication. During a transitional period, he has continued to serve as co-host of CBC News Ottawa. Harewood attended elementary and high school at Ashbury College in Ottawa and was involved in community radio at CKCU (Carleton University) and CHUO (University of Ottawa). He has been a guest host on national CBC programs such as As it Happens, Sounds Like Canada and The Current. Before coming to television, Harewood was the host of All In A Day on CBC Radio One in Ottawa.