Have an event you'd like to have appear on our events calendar? Please fill out the event form.
All events will be reviewed by an administrator before appearing on the calendar.

Magazines West 2020 Conference
September 14, 2020

-

September 25, 2020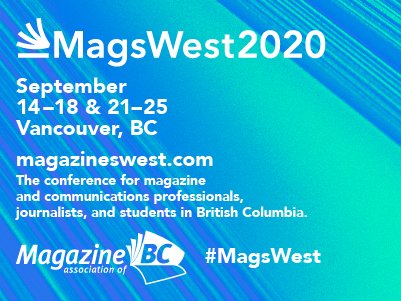 The Magazines West Conference, or MagsWest, is British Columbia's only conference for magazine professionals. MagsWest is organized by the Magazine Association of BC in consultation with its members and the local publishing industry.
This year, MagsWest runs from September 14-18 and September 21-25, with one online session each day at noon PT via Zoom. Programming for 2020 includes:
1 keynote manifesto by Erin Millar of Discourse Media
8 webinars: 5 one-hour (or one-hour plus) presentations, a three-hour workshop, a discussion, and a free Q&A session about Canada Periodical Fund's Aid To Publishers program
1 revenue diversity "doctor" that you can register for a half-hour one-on-one consultation with on September 15 and 17 (2 each day)
We hope you can join us!