Have an event you'd like to have appear on our events calendar? Please fill out the event form.
All events will be reviewed by an administrator before appearing on the calendar.

Massey College Press Club: Objectivity in Canadian Media in Wake of Black Lives Matter
November 10, 2020 @ 7:30 pm

-

9:00 pm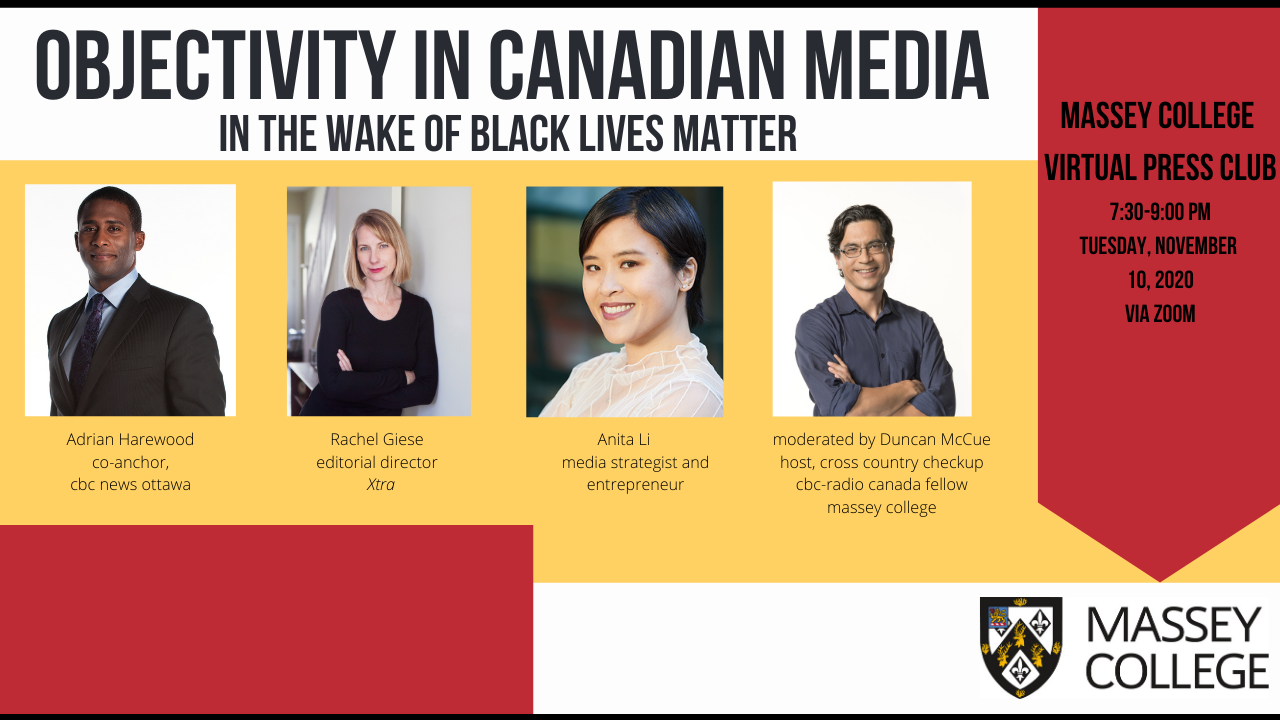 This event is free and open to all. Advanced registration is required to attend this event. Note that the recording will be available on the Massey College YouTube channel following the live broadcast.
---
The recent BLM movement has intensified the debate in Canada and elsewhere around how the media can better reflect the diversity of the communities it purports to serve. This question necessarily asks not just how news coverage is shaped, but also considers who is doing the shaping.
Training and hiring practices, the editorial mandates of media companies to reach audiences and the everyday choices of reporters, photographers and editors are all under scrutiny.
Intertwined with this is an even more challenging but unavoidable question that takes aim at a core tenet of journalism: objectivity.
Are journalists being partisan if they say Black Lives Matter? Is it preferable or not for newsrooms to send an Indigenous journalist to cover a protest for Indigenous rights? Can reporters legitimately refuse to cover people who have unsavory views? Under what circumstances can journalists shed the need to adhere to "both sides-ism?" Is it possible to be both activist and professional, or are those roles incompatible? 
Panelists: 
Anita Li –Media strategist, consultant and instructor with a decade of experience as a multi-platform journalist at outlets across North America. She founded The Other Wave, a newsletter about challenging the status quo in Canadian media, and also co-founded Canadian Journalists of Colour, a rapidly growing network of BIPOC media-makers across the country.  
Dr. Stephen J. A. Ward – Internationally recognized author, media ethicist and historian of ideas whose research is on the ethics of global, digital media, the rise of extreme media, and its impact on democracy. Ward is also a professor emeritus and Distinguished Lecturer on Ethics at the University of British Columbia (UBC), Canada. He has written and edited 10 books on media ethics, including the award-winning Radical Media Ethics and The Invention of Journalism Ethics. A former war reporter, he is founding director of the Center for Journalism Ethics at the University of Wisconsin, co-founder of the UBC School of Journalism in Vancouver, and former director of the Turnbull Media Center at the University of Oregon in Portland.
Rachel Giese –An award-winning journalist and the editorial director of Xtra, an LGBTQ2S online magazine and community platform. Her best-selling book, Boys: What it Means to Become a Man, was named one of the Globe and Mail's best books of 2018 and it won the Writers' Trust of Canada Shaughnessy Cohen Prize for Political Writing.
Adrian Harewood – Co-anchor of CBC News Ottawa, and a guest host on national CBC programs such as As it Happens, Sounds Like Canada and The Current. Harewood has been a leading critic of the media's deficiencies with race and representation.
Moderator: 
Duncan McCue – William Southam Journalism fellow at Massey College, the host of CBC Radio One's Cross Country Checkup and correspondent for The National on CBC-TV. McCue also teaches journalism at the UBC Graduate School of Journalism and Ryerson University, and is the author of an online guide for journalists called Reporting in Indigenous Communities.
Please click here to register your attendance. The registration confirmation — which will contain the Zoom link required to participate — will be sent to your email.