Have an event you'd like to have appear on our events calendar? Please fill out the event form.
All events will be reviewed by an administrator before appearing on the calendar.

Muslims and the Media: Western media's role in fanning fear of Islam and Muslims
March 2 @ 2:00 pm

-

3:30 pm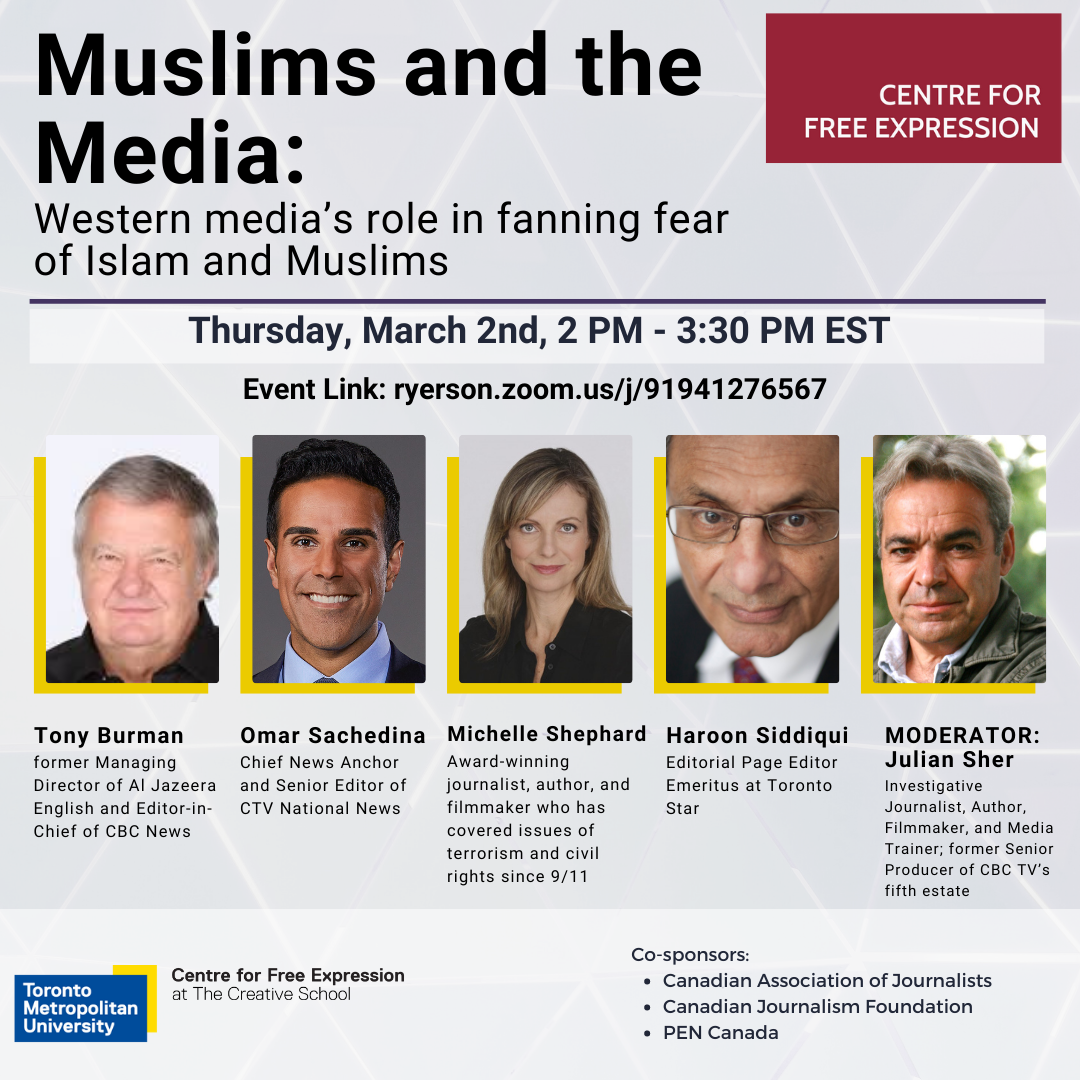 #5 in CFE Series: Threats to Press Freedom
In his Massey Essay, Haroon Siddiqui argues that "our ostensibly free media… has played a leading role in the cultural warfare waged on Muslims, chiefly against [those].. who are fellow citizens in the West and, most ironically, against Muslim women." Join a panel of distinguished journalists who will critically discuss the role of Western media in relation to Islamophobia since 9/11.
Co-sponsors: Canadian Association of Journalists, Canadian Journalism Foundation, PEN Canada
Panelists
Tony Burman, former Managing Director of Al Jazeera English and Editor-in-Chief of CBC News
Omar Sachedina, Chief News Anchor and Senior Editor of CTV National News
Michelle Shephard, Award-winning journalist, author, and filmmaker who has covered issues of terrorism and civil rights since 9/11
Haroon Siddiqui, Editorial Page Editor Emeritus at Toronto Star
Moderator
Julian Sher, Investigative Journalist, Author, Filmmaker, and Media Trainer; former Senior Producer of CBC TV's  fifth estate.
Zoom link to event torontomu.zoom.us/j/91941276567
This is a free event and no registration is required.
Please contact cfe@torontomu.ca if you require accommodation to ensure inclusion in this event.