Have an event you'd like to have appear on our events calendar? Please fill out the event form.
All events will be reviewed by an administrator before appearing on the calendar.

Navigating Race and Politics in a Post-Trump World
February 25, 2021 @ 1:00 pm

-

3:00 pm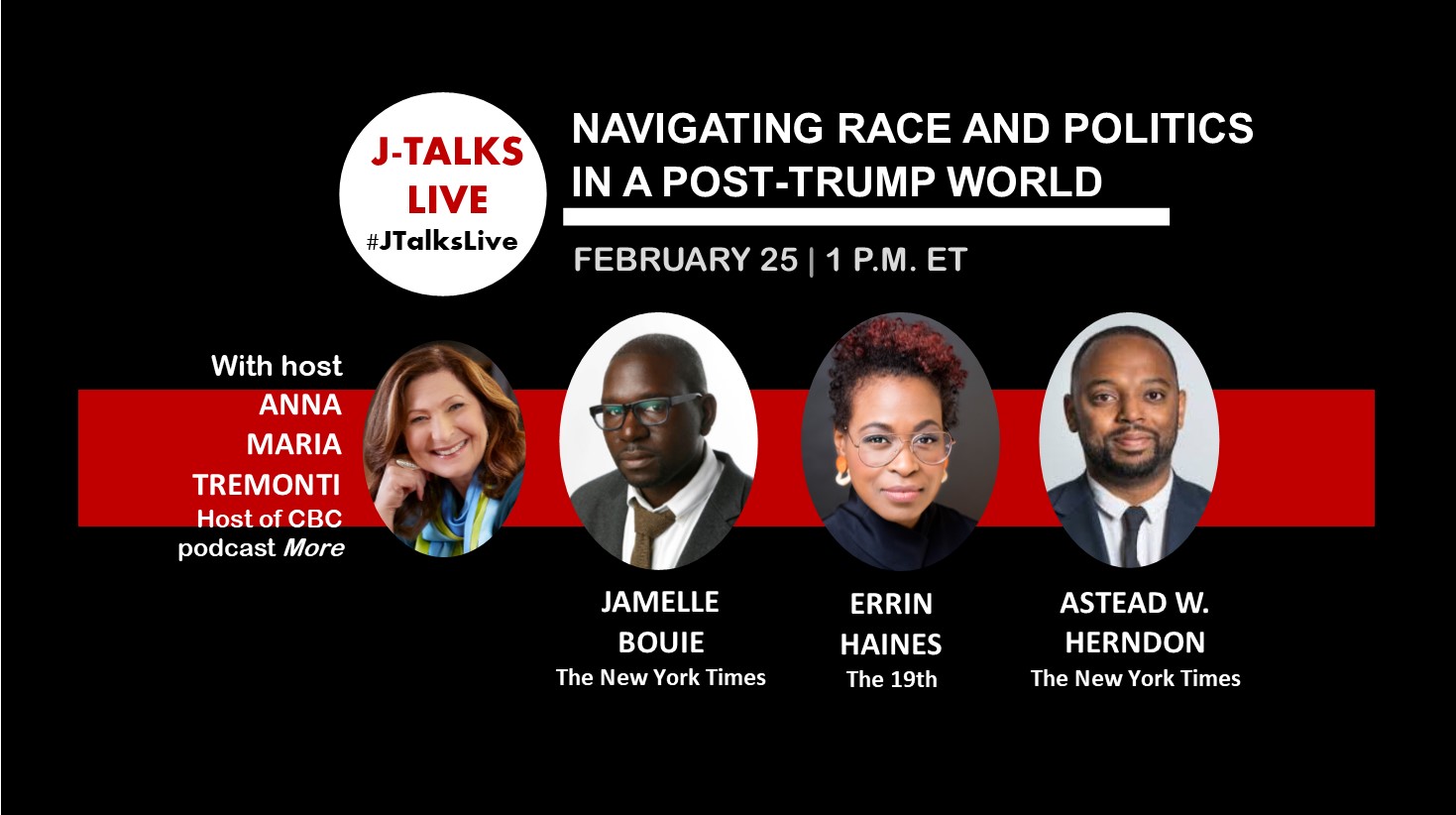 Hopes are pinned on President Joe Biden to navigate the turbulent terrain of race and politics inflamed during Donald Trump's presidency. What role does the media play in the path forward? How can journalism make a difference? Discussing the challenges and opportunities ahead: Errin Haines, co-founder and editor-at-large for The 19th, a non-profit, non-partisan news organization focused on women, politics and policy, and from The New York Times, opinion columnist Jamelle Bouie and national political reporter Astead W. Herndon, in conversation with Anna Maria Tremonti, host of the CBC podcast More.
Thursday, February 25, 2021
1 p.m. ET
ABOUT THE SPEAKERS
Jamelle Bouie is a columnist for the New York Times and political analyst for CBS News. He covers campaigns, elections, national affairs, and culture. Prior to the Times, Jamelle was chief political correspondent for Slate magazine. Before that, he was a staff writer at The Daily Beast and held fellowships at The American Prospect and The Nation magazine. He attended the University of Virginia, where he graduated with a degree in political and social thought, and government. He is based in Charlottesville, Va. and Washington D.C.
@jbouie
Errin Haines is a founding  mother and editor-at-large for The 19th, a nonprofit, nonpartisan newsroom covering the intersection of women, politics and policy, and an MSNBC Contributor. An award-winning political journalist focused on issues of race, gender and politics, Errin was previously the Associated Press' National Writer on Race and Ethnicity. She has also worked at The Washington Post, The Orlando Sentinel and The Los Angeles Times. Errin was a Fall 2019 Ferris Professor at Princeton University, teaching a class on black women and the 2020 election. She joins Georgetown University's Institute of Politics as a fellow in their fifth anniversary class in Fall 2020. Originally from Atlanta, Errin is based in Philadelphia with her dog, Ginger. @emarvelous
Astead W. Herndon is a national political reporter for The New York Times, based in New York. He was previously a Washington-based political reporter and a City Hall reporter for The Boston Globe. @AsteadWesley
ABOUT THE HOST
Anna Maria Tremonti is the host of the CBC podcast More, a series of conversations with high-profile guests and rising stars from a variety of fields. The podcast represents a change, and a progression toward more immersive conversations following her success hosting the CBC Radio's The Current, the flagship current affairs program she helped create. Prior to that Tremonti was a co-host of CBC Television's investigative program the fifth estate and before that she was covering war, disaster, politics and society as a foreign correspondent for CBC's The National, with postings in Berlin, London, Jerusalem and Washington. @amtremonti #MorewithAMT