Have an event you'd like to have appear on our events calendar? Please fill out the event form.
All events will be reviewed by an administrator before appearing on the calendar.

NCM-The Walrus Immigrant Journalist Training Webinar-2
February 6, 2021 @ 11:00 am

-

5:30 pm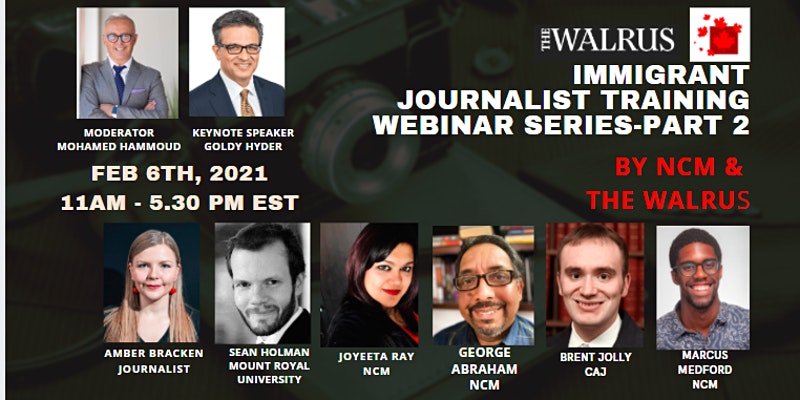 About this Event
Looking to make a name for yourself as a professional Canadian journalist? Don't miss the NCM-The Walrus Webinar Series. Facilitated by industry leaders, the webinars cover key topics to help you kick-start a flourishing career.
The second workshop will be held on Feb 6th, 2021, and features the following topics:
Canadian Journalism – George Abraham and Brent Jolly
Interviewing and Data Collection – Marcus Medford and Sean Holman
Photojournalism – Amber Bracken
The webinar will be moderated by NCM's Chief Learning Officer, Mohamed Hammoud. Goldy Hyder, President and CEO of the Business Council of Canada will be present as keynote speaker.
New Canadian Media (NCM), a dynamic Collective of over 200 high-calibre journalists from diverse ethnic backgrounds, collaborates with the Canadian Association of Journalists (CAJ) and top news media publications such as The Walrus magazine to empower our members with full support and resources.
Event Details
11 AM-5.30 PM (Eastern Standard Time)
Use this time zone converter to check your local live streaming time.
Live on Zoom
Meeting link will be sent upon registration
11:00 AM-11:15 AM: Introductions
11:15 AM-11:30 AM: Keynote speaker
11:30 AM-1:00 PM Session 1: Introduction to Canadian Journalism
1:00 PM-1:30 PM: Break
1:30 PM-3:00 PM: Session 2: Interviewing and Data Collection
3:00 PM-3:30 PM: Break
3:30 PM-5:00 PM: Session 3: Photojournalism
5:00 PM-5:15 PM: NCM-CAJ Collective
5:15 PM-5:25 PM: Evaluation
5:25 PM-5:30 PM: Closing
About the speakers
Mohamed Hammoud is a dedicated and driven community leader and a consultant with expertise in community activism, leadership development, diversity, equity and inclusion, Mohamed understands the importance of diversity to sustain Canada's prosperity and growth and regularly contributes to various media outlets, including the CBC, the London Free Press, Thrive Global, and BizCatalyst. An award-winning Toastmaster, TEDx and keynote speaker, executive coach and trainer, Mohamed has been recently appointed as the Chief Learning Officer to New Canadian Media.
Goldy Hyder is President and Chief Executive Officer of the Business Council of Canada. In addition to his achievements in business and public policy, Mr. Hyder has a long track record of service on behalf of several charities and non-profit organizations. Currently, he is vice chair of the Asia Pacific Foundation of Canada's Asia Business Leaders Advisory Council, co-chair of Canada's World Trade Organization Business Advisory Council, and an executive committee member of the Century Initiative. Mr. Hyder is a regular commentator in the Canadian media on business, politics and leadership. He is the host of the "Speaking of Business" podcast, which features interviews with Canadian innovators, entrepreneurs and business leaders. In 2013, he received the Queen's Diamond Jubilee Medal in recognition of his contributions to Canada.
George Abraham is the Founder and Publisher of New Canadian Media.
Brent Jolly is the President of the Canadian Association of Journalists.
Marcus Medford is a freelance journalist and poet born and raised in Toronto. Marcus is a third-generation immigrant whose grandparents came to Canada from the Caribbean in the '70s. He graduated from the University of Toronto's Journalism Specialization program and received an Advanced Diploma in Journalism from Centennial College. In 2015, Marcus began his journey with New Canadian Media writing about the role of race and diversity in journalism schools. Professionally, Marcus has worked as an editor, freelance writer, marketing strategist, photographer's assistant, and sport instructor. Marcus, who goes by the stage name Mars The Poet, is also a two-time TEDx performer and the author of the 2016 poetry collection, "Book of Mars." Marcus' pieces have been published by The Edge Leader's Magazine, ByBlacks.com, The Soapbox Press, Huffington Post, and of course, New Canadian Media.
Sean Holman is an associate professor of journalism at Mount Royal University, freedom of information researcher and the founding editor of the pioneering online investigative political news service Public Eye. A former syndicated columnist, he also worked as a legislative reporter for 24 hours Vancouver and the Vancouver Sun. In 2004, Holman won the Jack Webster Award for leading a five month investigation into what became known as the Doug Walls affair. He was also recognized in 2012 with a special mention in J-Source's Canadian Newsperson of the Year competition for "using new and emerging media technologies to expand the number of journalistic voices in this country and to redefine the relationship between journalists and citizens." Holman is also a former vice-president and Alberta/Northwest Territories regional director for the Canadian Association of Journalists. He is presently a doctoral student at the University of Birmingham where he is writing a dissertation on the history of the federal government's Access to Information Act.
Amber Bracken is a lifelong Albertan and covers assignments across the province and farther from home. After getting her start as a staffer at the Edmonton Sun, she has moved on to a freelance career and the pursuit of long-term projects. Select clients include National Geographic, The New York Times, The Globe and Mail, BuzzFeed, The Wall Street Journal, Maclean's, and Canadian Geographic. In her personal work, Amber's interest is in the intersection of photography, journalism and public service with a special focus on issues affecting North American Indigenous people. She works to represent and foster communities' strength while documenting issues around culture, environment and the effects of inter generational trauma from colonization.
Joyeeta Ray is the Convener, Communications Planner, Reporter and a Mentor of the NCM Collective. She brings over 20 years of awarded writing experience in ad agencies and multimedia publications from seven countries to the table. She is also a published author of children's books. In Canada, Joyeeta operates as an independent Content Marketing Consultant. She entered NCM through the Mentoring Program and developed her understanding of the Canadian Press Style through NCM's collaborative workshops with NNC and CBC. Her vision is to now help other new Canadian writers using the same NCM tools that inspired her.
NCM and The Walrus gratefully acknowledge funding from the Canada Periodical Fund's Collective Initiatives supporting this training initiative.