Have an event you'd like to have appear on our events calendar? Please fill out the event form.
All events will be reviewed by an administrator before appearing on the calendar.

NCM-The Walrus Journalist Training Webinar-4
March 6, 2021 @ 11:00 am

-

4:30 pm

$10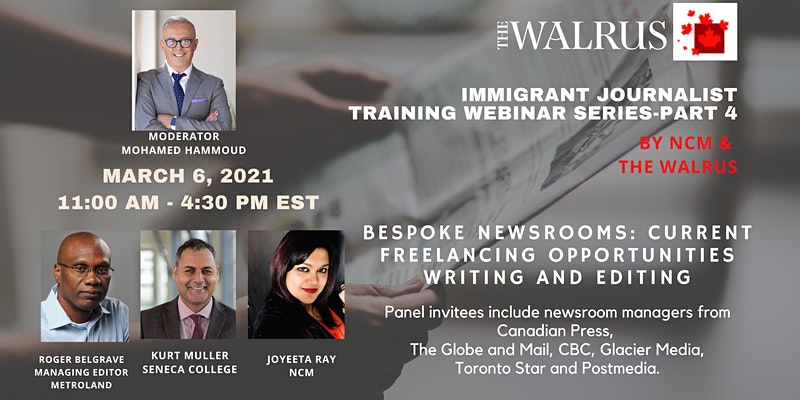 Looking to make a name for yourself as a professional Canadian journalist? Don't miss the NCM-The Walrus Webinar Series. Facilitated by industry leaders, the webinars cover key topics to help you kick-start a flourishing career.
The fourth webinar will be held on March 6, 2021.
In response to feedback from previous webinar participants who wondered about how media organizations are responding to demands for greater diversity, we will feature a special panel on Bespoke Newsrooms: Current freelancing opportunities.
Panel invitees include newsroom managers from Canadian Press, The Globe and Mail, CBC, Glacier Media, Toronto Star, Postmedia, and The Walrus Lab.
The webinar also features a session on Writing and Editing by Roger Belgrave, Managing Editor (Peel division), Metroland.
The webinar will be moderated by NCM's Chief Learning Officer, Mohamed Hammoud.
Kurt Muller of Seneca College will be present as keynote speaker.
New Canadian Media (NCM), a dynamic Collective of over 200 high-calibre journalists from diverse ethnic backgrounds, collaborates with the Canadian Association of Journalists (CAJ) and top news media publications such as The Walrus magazine to empower our members with full support and resources.
Event Details
11:00 AM – 4:30 PM (Eastern Standard Time)
Use this time zone converter to check your local live streaming time.
Live on Zoom
Meeting link will be sent upon registration
11:00 AM-11:15 AM: Introductions
11:15 AM-11:30 PM: Keynote speaker
11:30 PM-1:00 PM Session 1: Writing and Editing
1:00 PM-1:30 PM: Break
1:30 PM-3:30 PM: Session 2: Bespoke Newsrooms: Current freelancing opportunities
3:30 PM-4:00 PM: Break
4:00 PM-4:15 PM: NCM-CAJ Collective
4:15 PM-4:25 PM: Evaluation
4:25 PM-4:30 PM: Closing
About the speakers:
Mohamed Hammoud is a dedicated and driven community leader and a consultant with expertise in community activism, leadership development, diversity, equity and inclusion, Mohamed understands the importance of diversity to sustain Canada's prosperity and growth and regularly contributes to various media outlets, including the CBC, the London Free Press, Thrive Global, and BizCatalyst. An award-winning Toastmaster, TEDx and keynote speaker, executive coach and trainer, Mohamed has been recently appointed as the Chief Learning Officer to New Canadian Media.
Kurt Muller is the Dean of the Faculty of Communication, Art and Design at Seneca College. Prior to joining Seneca in October, Kurt was the Dean of the McKeil School of Business, and the School of Media & Entertainment at Mohawk College, where he was instrumental in the launch of Mohawk's groundbreaking Accessible Media Production Program, and spearheaded an initiative to make Mohawk's Journalism program more accessible to people with disabilities. Kurt spent almost 20 years working as a print and television journalist in Manitoba and Ontario. He graduated with an MA in Journalism from the University of Western Ontario and worked as a reporter and writer for CTV National News with Lloyd Robertson. Kurt was born in Cape Town, South Africa.
Roger Belgrave is an award-winning journalist and Managing Editor of Metroland publications the Brampton Guardian, Mississauga News and Caledon Enterprise. He has more than 30 years experience in the newspaper industry, all of that time spent as a reporter and editor at Metroland community publications from Oakville to Oshawa. He has covered numerous beats, from courts and council to federal politics and education. His family immigrated to Canada from England when he was a young boy and settled in the Toronto area, where he is still based.
Joyeeta Ray is the Convener, Communications Planner, Reporter and a Mentor of the NCM Collective. She brings over 20 years of awarded writing experience in ad agencies and multimedia publications from seven countries to the table. She is also a published author of children's books. In Canada, Joyeeta operates as an independent Content Marketing Consultant. She entered NCM through the Mentoring Program and developed her understanding of the Canadian Press Style through NCM's collaborative workshops with NNC and CBC. Her vision is to now help other new Canadian writers using the same NCM tools that inspired her.
"Bespoke Newsrooms" Panel speakers: Coming soon, watch this space!