Have an event you'd like to have appear on our events calendar? Please fill out the event form.
All events will be reviewed by an administrator before appearing on the calendar.

Newzapalooza XIV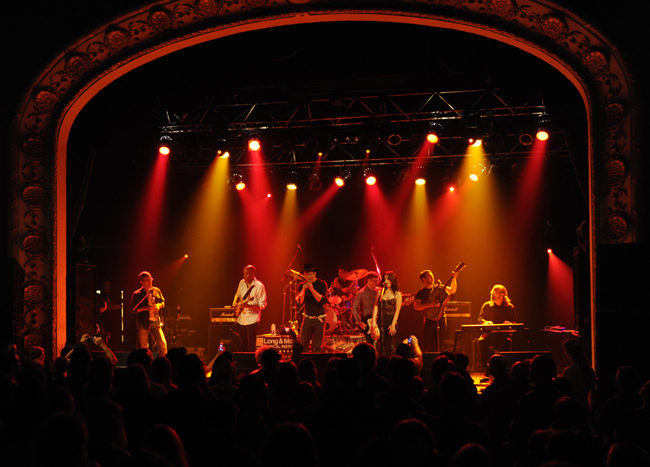 Toronto's most awesome – and only – Media Battle of the Bands. Our 14th show is Nov. 2, 2018, at The Opera House. All for Children's Aid Foundation of Canada.
Newzapalooza burst out of the newsrooms of Toronto in 2004 like a bat out of hell on a very tight deadline. Founded by the late, great newsman Jonathan Jenkins (above, left, with Jaymz Bee), the idea was simple — harness the innate competitiveness of local reporters and editors and marry it to their undying belief that they can, in fact, do it better themselves. The result — instant rock bands, itching to square off against their bitter rivals, all for the benefit of a worthy cause, the Children's Aid Foundation of Canada.
Newzapalooza has since featured bands from the Toronto Sun, Toronto Star, Globe and Mail, National Post, CTV, Canadian Press, MTV Canada, Jazz 91.1 FM, Hamilton Spectator, Thomson Reuters, CityTV, a merry band of freelancers, Vice Canada and the CBC. These fearless acts, some talented, some merely bold, have raised more than $167,000 for the foundation — and had a damn good time doing it.
Jonathan, who loved getting up on the stage to perform at Newzapalooza with his Toronto Sun bands over the years, passed in April 2014 after a brief fight with cancer. In 2015, the CAF honoured the Newzaopalooza organizers with a community award. We know Jonathan would have loved it. Nancy Westaway, Jonathan's wife, and their children, Dexter and Maizey, accepted the award.