Have an event you'd like to have appear on our events calendar? Please fill out the event form.
All events will be reviewed by an administrator before appearing on the calendar.

Reporting on the pandemic
October 7, 2020 @ 5:00 pm

-

6:00 pm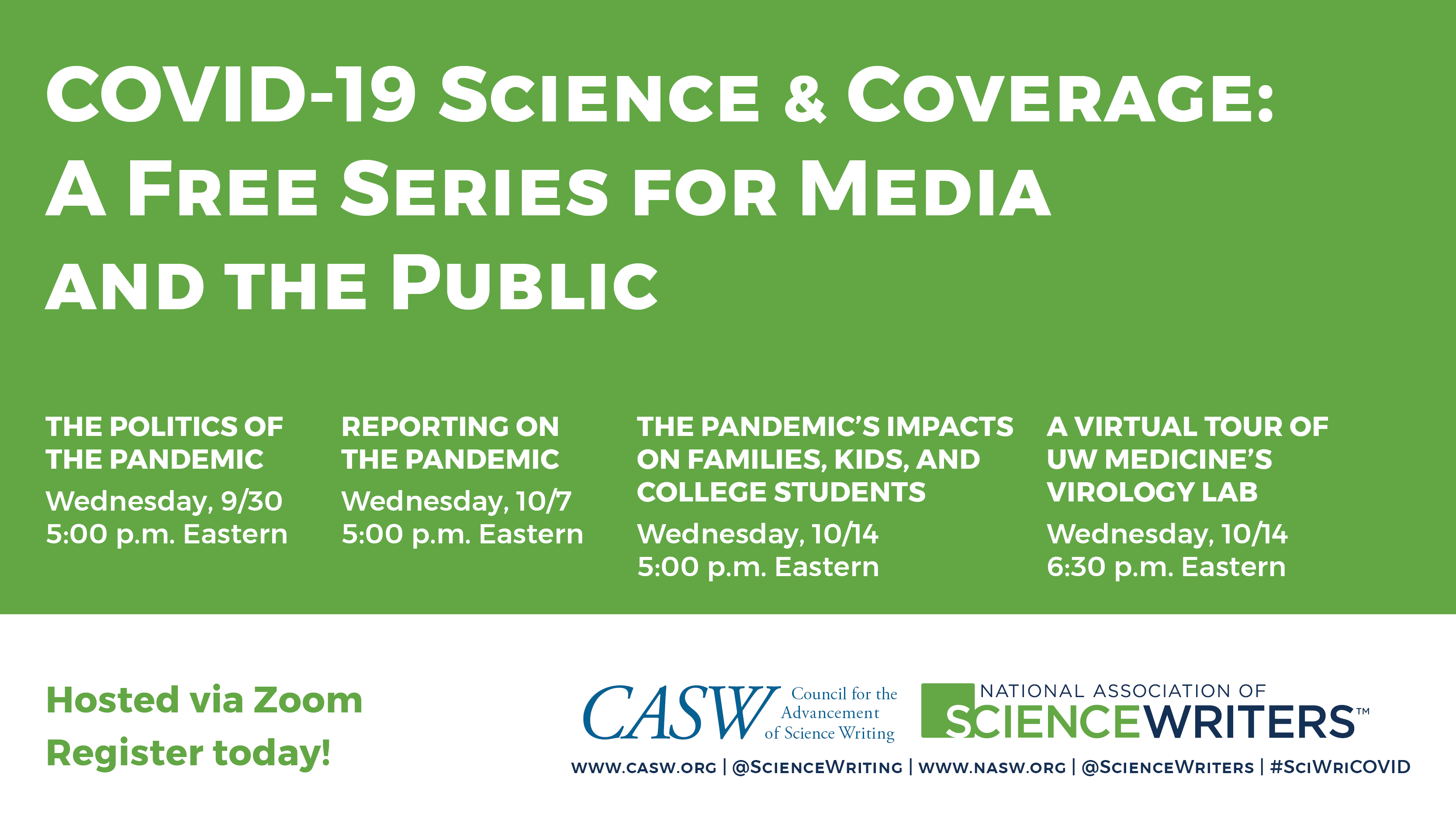 The coronavirus pandemic has been the science story of the year. Science writers have grappled with reporting on a story that progressed rapidly and continues to wield a ton of uncertainty. With insight from experienced science journalists and those covering the pandemic, this session will offer science writers and the public an opportunity for mutual understanding, especially as frustration over – and dangers from – misinformation grow.
Helen Branswell is a senior writer covering infectious diseases and global health at STAT, an online news publication focused on health, medicine, and scientific discovery. She has been with STAT since its November 2015 launch. Branswell came to STAT from The Canadian Press, Canada's national news agency. Branswell won the Association of Health Care Journalists' 2017 beat reporting award. She was a 2011 Nieman Global Health Fellow at Harvard and CDC Knight Fellow in 2004. @helenbranswell
Laura Helmuth is the Editor in Chief of Scientific American. She has previously been an editor for The Washington Post, National Geographic, Slate, Smithsonian, and Science's news section. She serves on the boards of High Country News, Spectrum and SciLine and is a member of the National Academies' Standing Committee on Advancing Science Communication. She served on the NASW board and as president 2016-2018. @laurahelmuth
Patrice Peck is a multihyphenate creative with a 10-year background in journalism, on-air hosting, and multimedia production. She recently launched the newsletter Coronavirus News for Black Folks and specializes in discovering and amplifying underreported stories at the intersection of race, culture, and identity. Her work can be found at EBONY, The New York Times, Los Angeles Times, Vogue, Teen Vogue, ELLE, BuzzFeed and more. @SpeakPatrice
Zeynep Tufekci is a contributing writer at The Atlantic and an associate professor at the University of North Carolina. She studies the interaction between digital technology, artificial intelligence, and society. @zeynep