Have an event you'd like to have appear on our events calendar? Please fill out the event form.
All events will be reviewed by an administrator before appearing on the calendar.

Rethinking Objectivity: The Role Of Journalism In A Social Justice Era with Eternity Martis
March 18, 2021 @ 12:30 pm

-

1:30 pm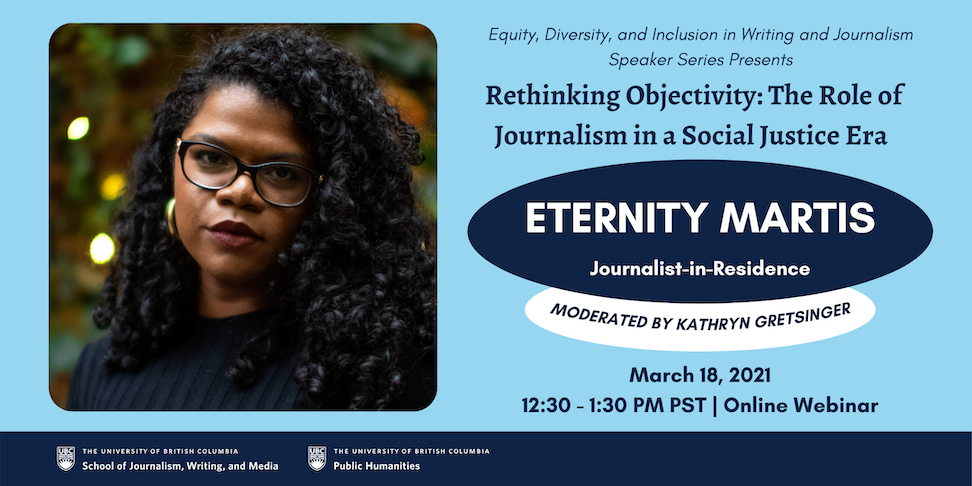 Join the UBC School of Journalism, Writing, and Media on the second Equity, Diversity, and Inclusion Speaker Series for the 2020-21 academic year.
About this Event
The UBC School of Journalism, Writing, and Media and Public Humanities are pleased to invite you to "Rethinking Objectivity: The Role Of Journalism In A Social Justice Era," featuring UBC Journalist-in-Residence, Eternity Martis, for a virtual event on March 18 at 12:30 PM – 1:30 PM PST, as part of the Equity, Diversity and Inclusion (EDI) in Writing and Journalism Speaker Series. The talk will be facilitated by associate professor of teaching, Kathryn Gretsinger and lecturer Tara Lee.
About the Talk
For decades, journalists have been committed to unbiased reporting and to shining a light on injustices in our society, but what if those two concepts are fundamentally incompatible? In a Black Lives Matter and #MeToo era where politicians, companies and celebrities are taking social justice stances, what role do journalists play in naming and reporting on injustice? And in what ways has objectivity been harmful to marginalized groups?
In this talk, award-winning journalist Eternity Martis will explore how the concept of objectivity has shifted since 2014 with the emergence of the global #BlackLivesMatter movement, and how journalists continue to be essential to how our society understands and responds to injustice.
Using decades of high-profile examples, from the 1989 Central Park Five case, the 1994 Just Desserts case, the Black Lives Matter protests of the 2010s and the 2021 Capitol Hill insurrection, Martis will examine the shocking ways that objectivity has left out the most marginalized voices, stories and truths, and the real-life harm it has caused communities of colour. Martis will also address the urgent role journalists play in an increasingly polarized society, and the new directions journalism is taking to create more inclusive reporting.
About Eternity Martis
Named as one of Canada's Top 100 Most Powerful Women by Women's Executive Network in 2020, Eternity Martis is an award-winning Toronto-based journalist and editor. She was a 2017 National Magazine Awards finalist for Best New Writer and the 2018 winner of the Canadian Online Publishing Awards for Best Investigative Article.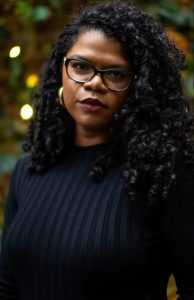 Her work has appeared in Vice, Huffington Post, The Walrus, CBC, Hazlitt, The Fader, Salon, and on academic syllabuses around the world. Her work on race and language has influenced media style guide changes across the country.
Martis's debut memoir, They Said This Would Be Fun, is a Toronto Star, Globe and Mail and Vancouver Sun bestseller. It's featured on anticipated and essential book lists including Now, the Globe and Mail, BlogTO, CBC, Chatelaine and more. CBC has named Martis one of "Six Canadian writers of Black heritage to watch in 2020" and the book as one of "20 moving Canadian memoirs to read right now." PopSugar named it one of "5 Books About Race on College Campuses Every Student Should Read" and it is one of Chapters/Indigo's "Best Books of 2020." The audiobook has been named "Best Audiobooks Of 2020" by Apple and Audible. Recently, it became a finalist for the International Book Awards in the categories of Autobiography/Memoir and Social Change.
Martis is this year's Journalist-in-Residence at the School of Journalism, Writing, and Media and adjunct professor in the department of Gender, Race, Sexuality and Social Justice at UBC. She is also the course developer and instructor of Reporting On Race: The Black Community in the Media at Ryerson University, the first of its kind in Canada. She earned an honours BA and a Certificate in Writing from Western University and an MJ from Ryerson University.
NOTE: A script of the talk will be provided to attendees ahead of the event. Closed captioning is unavailable for the talk itself but will be added to the event video. If you have accessibility requirements, please contact us at jrnl.journal@ubc.ca.