Have an event you'd like to have appear on our events calendar? Please fill out the event form.
All events will be reviewed by an administrator before appearing on the calendar.

State of Emergency: Reporting on Solutions to Climate Change
October 26, 2021 @ 1:00 pm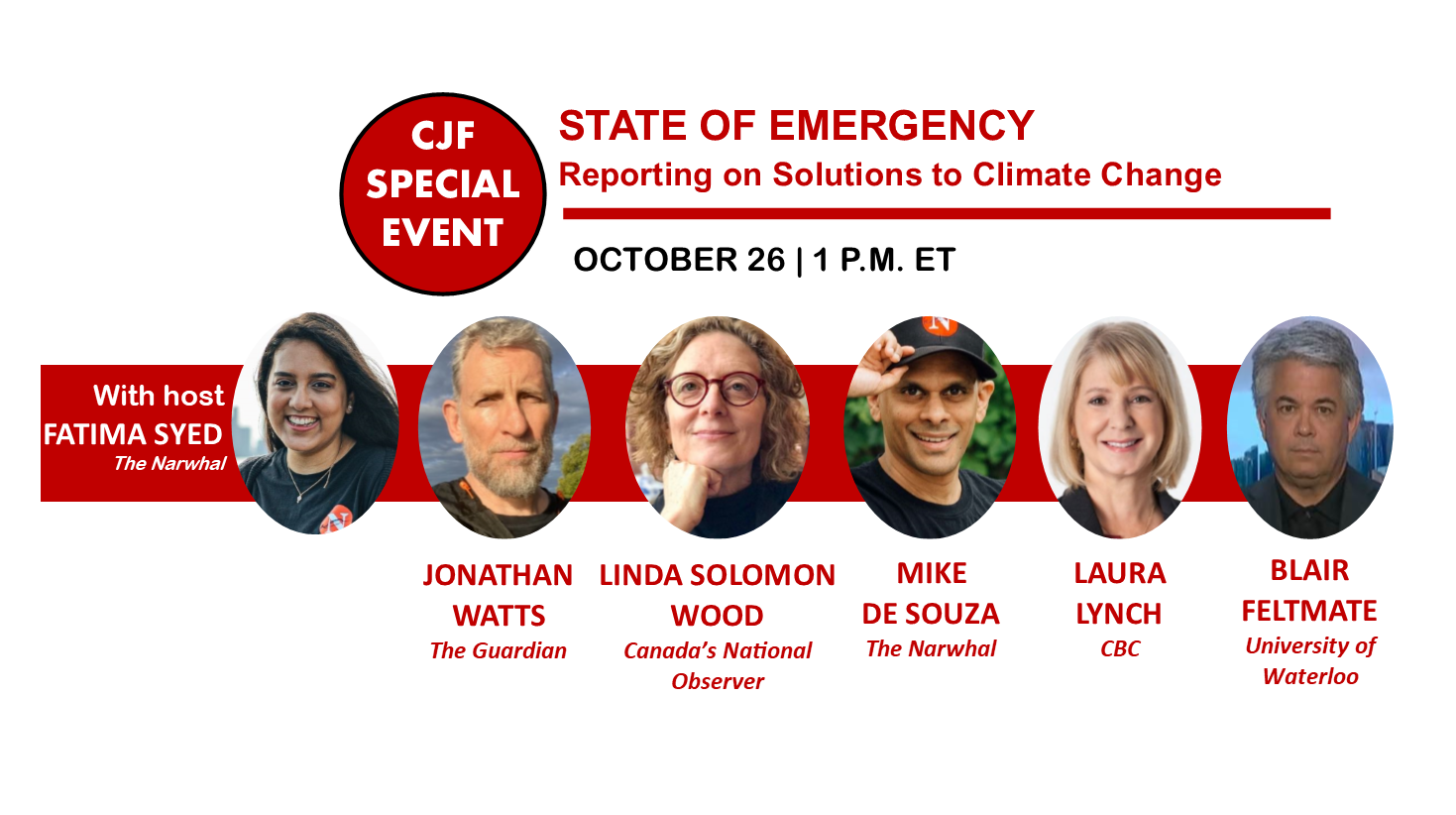 The urgency of the climate crisis cannot be understated. From record-breaking heatwaves to prolonged droughts to migration crises and even production declines, our changing climate impacts all aspects of society.
What role can journalists play in ensuring that climate reporting doesn't only cover "what is" but "what can be"? What role can concrete solutions-based coverage play in responding to this crisis? In the lead-up to COP26 on November 1, this panel will explore the importance of climate solutions journalism in sharing valuable knowledge and lessons learned from academics, news leaders, and local communities.
Featured speakers Jonathan Watts, climate editor at The Guardian, Linda Solomon Wood, CEO and editor-in-chief at Canada's National Observer, Mike De Souza, Managing Editor at The Narwhal, Laura Lynch, host of CBC's What on Earth, and Blair Feltmate, climatologist and professor at the University of Waterloo, will be in conversation with Fatima Syed, journalist at The Narwhal.
ABOUT THE SPEAKERS
Mike De Souza is an award-winning investigative journalist, specializing in covering environmental issues and the energy industry. He has also covered politics for more than two decades. A Montreal native, Mike has worked as a broadcast and print journalist in his hometown, as well as the National Assembly in Quebec City, Parliament Hill in Ottawa, Toronto and Calgary. Along the way, he has worked for Global News, Reuters, Postmedia, The Montreal Gazette, CJAD, CTV and National Observer. @mikedesouza
Blair Feltmate is the Head of the Intact Centre on Climate Adaptation, University of Waterloo. He serves on several advisory boards and councils, including the federal National Adaption Strategy board and the Ontario provincial Climate Advisory Board, Minister of Environment. Dr. Feltmate is also Chair of the Adaptation Council, Canadian Institute for Climate Choices, and Expert Member of the International ISO Strategic Advisory Group, ESG.
Laura Lynch is an award-winning journalist and host at CBC. In 2020, Laura was part of the team that created the weekly radio program What on Earth, focusing on climate change solutions. In 2021, the program won the inaugural Canadian Journalism Foundation award for its work. Throughout her career, she has reported from across Canada and around the world, covering everything from gun control to abortion to international trade to political assassinations and civil war. @lauralynchcbc
Linda Solomon Wood is a CEO and editor-in-chief who has, for more than a decade, been a leader in the digital re-invention of Canadian media and has helped to drive the national conversation on the environment, politics, and climate change. She founded Canada's National Observer in 2015 and since has worked to establish a national publication that is rigorous about accuracy and that adheres to the highest standard of ethics. Coverage of the race against climate change at the intersection of politics, technology and culture is at the heart of CNO's mission and has been called essential by climate leaders such as David Suzuki, Maude Barlow and Bill McKibben. @Linda_Solomon
Jonathan Watts is global environment editor of the Guardian and a founder of the Rainforest Journalism Fund. Working across a range of text, photographic, video and podcast media, he has previously served as the paper's correspondent in Japan (1996-2003), China (2003-2012) and Brazil (2012-2017). Watts is the author of the eco-travelogue When a Billion Chinese Jump and helped to edit the recently released "Standing up for a Sustainable World." Four years ago, he and group of Brazil-based journalists founded the Rainforest Journalism Fund, which uses a $5.5million dollar donation from the Norwegian government to support reporting trips in the world's major tropical forests. @jonathanwatts
ABOUT THE HOST
Fatima Syed is a Mississauga-based journalist with The Narwhal and host of The Backbench podcast. She has worked for The Walrus, the Toronto Star, The Logic, and National Observer, where she established the outlet's Queen's Park bureau, with an emphasis on coverage of environmental and energy policy. She is a National Magazine Award nominee, a Digital Publishing Award winner, and has contributed chapters to two anthologies published by Coach House Books—Subdivided: City-Building in an Age of Hyper-Diversity and House Divided. She is also the vice-president of the Canadian Association of Journalists. @fatimabsyed