Have an event you'd like to have appear on our events calendar? Please fill out the event form.
All events will be reviewed by an administrator before appearing on the calendar.

State of Media: Survival Strategies in the Age of Misinformation
October 17, 2018 @ 6:30 pm

-

9:00 pm

$15 – $30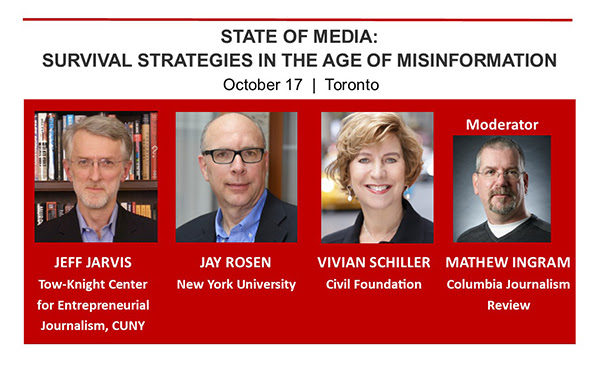 Journalists and media organizations around the world are under siege from misinformation fed by social media and an antagonistic U.S. president. How should journalism and democracy respond to this dual challenge? How can journalists ensure truth overrides false information? How should they respond to public attacks and historic levels of mistrust? At the same time, many media are seeking sustainable business models and some are asking: can blockchain technology provide security for the future of journalism?
Join a wide-ranging conversation on these issues with prominent journalism thought leaders: Jeff Jarvis, director of the Tow-Knight Center for Entrepreneurial Journalism at the City University of New York; Jay Rosen, associate journalism professor at New York University; and Vivian Schiller, CEO of the Civil Foundation, which makes philanthropic grants in support of journalism and upholds the ethics of Civil, a blockchain-based platform that supports a global community of quality newsrooms. This conversation will be moderated by Mathew Ingram, chief digital writer with the Columbia Journalism Review.