Have an event you'd like to have appear on our events calendar? Please fill out the event form.
All events will be reviewed by an administrator before appearing on the calendar.

The 2021 Spry Memorial Lecture
April 23, 2021 @ 3:00 pm

-

5:00 pm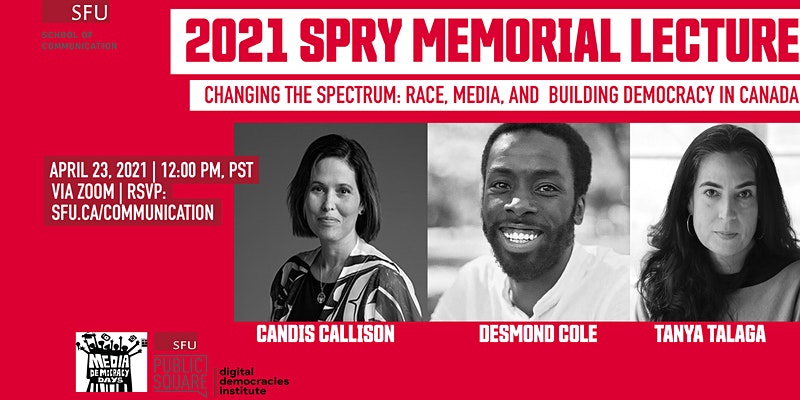 The 2021 Spry Memorial Lecture presents Changing the Spectrum: Race, media and building democracy in Canada.
About this Event
The Spry Memorial Lecture has a long history of tackling key issues facing Canadian media and its role in the national conversation. For the 2021 event, Spry joins with Media Democracy Days and the Digital Democracies Institute to bring together leading figures in Canadian media in conversation about race, media and building democracy in Canada. Our panelists Desmond Cole and Tanya Talaga, along with moderator Candis Callison, will consider recent attention over the escalation of commentary on the representation of Indigenous, Black, and people of colour; the structural challenges that currently impede calls for greater diversity; and discuss how institutions and platforms can foster a more constructive dialogue. At a time when violent events internationally, nationally, and locally are making headlines on a frequent basis, the urgency of this panel is incontestable. Not to be missed!
Part of Towards Equity, SFU Public Square's 2021 Community Summit Series
Panelists
Desmond Cole
Desmond Cole is a Canadian activist, journalist, broadcaster, and best-selling author. He was awarded the 2020 Toronto Book Award for his bookThe Skin We're In: A Year of Black Resistance and Power. Publications he has written for include The Toronto Star, NOW magazine, and The Tyee. Desmond's activism on issues such as racial profiling, police carding, and systemic racism earned him the 2017 PEN Canada/Ken Filkow Prize for freedom of expression. CBC television released the documentary The Skin We're In based on Cole's 2015 award-winning essay of the same name that was published in Toronto Life.
Tanya Talaga
Tanya Talaga is an Ojibwe award-winning journalist and author, producer, director, and speaker. She has earned multiple awards for her book Seven Fallen Feathers: Racism, Death, and Hard Truths in a Northern City including the Shaughnessy Cohen Prize for Political Writing. Tanya has worked for publications such as The Toronto Star and The Globe and Mail, and has been nominated five times for the Michener Award in public service journalism. She is also President and CEO of Makwa Creative, a production company amplifying Indigenous stories.
Moderator
Candis Callison
Candis Callison is a Tahltan environmental journalist, author, and associate professor at UBC in the School of Journalism, Writing, and Media, and in the Institute for Critical Indigenous Studies. She co-wrote Reckoning: Journalism's Limits and Possibilities after doing five years of research with journalists from various news organizations in Canada and the U.S. Candis was a 2019 inductee to the The American Academy of Arts and Sciences, and is also a member of the Advisory Circle for The Indigenous Screen Office.
Emcee
Adel Iskandar
Adel Iskandar is an Assistant Professor of Global Communication at Simon Fraser University in Vancouver/Burnaby, Canada. He is the author, co-author, and editor of several works including "Egypt In Flux: Essays on an Unfinished Revolution" (AUCP/OUP); "Al-Jazeera: The Story of the Network that is Rattling Governments and Redefining Modern Journalism" (Basic Books); "Edward Said: A Legacy of Emancipation and Representation" (University of California Press); "Mediating the Arab Uprisings" (Tadween Publishing); and "Media Evolution on the Eve of the Arab Spring" (Palgrave Macmillan). Iskandar's work deals with media, identity and politics; and he has lectured extensively on these topics at universities worldwide.