Have an event you'd like to have appear on our events calendar? Please fill out the event form.
All events will be reviewed by an administrator before appearing on the calendar.

The Great Canadian Magazine PitchFest
October 29, 2021 @ 12:00 pm

-

4:00 pm

$50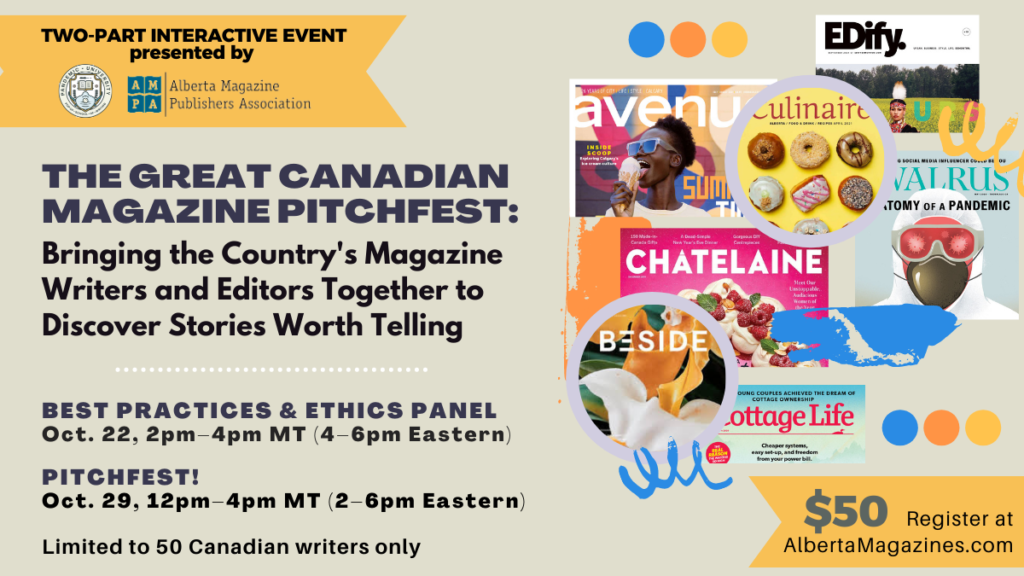 Like speed dating for magazine professionals, this two-part event offers freelancers practical training before sending them into a (virtual) room with editors of Canada's best magazines for a chance to wow them with story ideas.
SCHEDULE: 
Friday, 22 October, 2–4pm MT
Friday, 29 October, 12–4pm MT
COST: $50
CAPACITY: Space is limited to 50 registrants
Are you an industrious writer with more story ideas to pitch than time to pitch them? Are you a talented new journalist unsure how to reach the right editors?
In partnership with the Alberta Magazine Publishers Association (AMPA), Pandemic University is pleased to present PitchFest 2021, a two-part professional development event on Zoom designed for Canadian freelancers and magazine editors to test the waters on potential articles. Like speed dating for magazine professionals, PitchFest puts you in a virtual room with editors from Canada's best magazines, and offers practical training on freelancer best practices and ethics.
On Fri., Oct. 22nd, writers will learn from a seasoned panel, including Maclean's staff writer Jason Markusof, editors Rachel Giese of Xtra Magazine and Steven Sandor of Edify. Moderated by full-time freelance journalist Omar Mouallem, the conversation will cover best practices and ethics for emerging and experienced writers alike, with ample time for Q&A.
Then, on Fri. Oct. 29th, it's pitch time! You'll rotate through break-out rooms with the editors you selected during registration, each giving you ~15 minutes to wow them with stories, or simply learn more about what they're specifically looking for from future articles.
Neatly organized to provide you with a dossier containing specific requests and submission guidelines ahead of the event, plus a guided "greenroom" conversation in between pitching sessions, PitchFest promises to set writers up for success.
How to register and select your editors: After registering through AMPA's website below, you'll receive a PDF document that includes: the virtual events' access information (Zoom meeting ID and password); tips for pitching to magazines; and the submission guidelines/requests from participating magazines. You'll also be invited to complete a form to select which magazines you plan to pitch (deadline for completion is Oct. 14th).
Participating Magazines
Avenue Calgary
BESIDE
Birthing Magazine
Calgary's Child
Chatelaine
Cottage Life
Culinaire
Edify
enRoute
GrainsWest
Hakai
The Tomato Food and Drink
Toronto Life
Quench
The Walrus
Xtra
Accessibility
Classes are held via Zoom with Closed Captioning features enabled through auto-transcription technology. A teaching assistant will be present to correct transcription mistakes and assist in other ways. The course includes workshops and class discussions, thus students are required to participate through audio; accommodations can be made for people with speaking or other disabilities if they inform us ahead of schedule. Video is encouraged for all students in order to optimize everyone's virtual classroom experience.
Eligibility
The event is open to Canadian writers with varied professional experiences. Though we encourage writers with some experience with journalism and freelance writing etiquette, it is not a requirement. All registrants will be provided professional training opportunities through a pitching booklet delivered after check-out and a live webinar (held Oct. 22nd) on best practices and ethics.