Have an event you'd like to have appear on our events calendar? Please fill out the event form.
All events will be reviewed by an administrator before appearing on the calendar.

The Promise and Perils of Digital
May 20 @ 10:15 am

-

11:30 am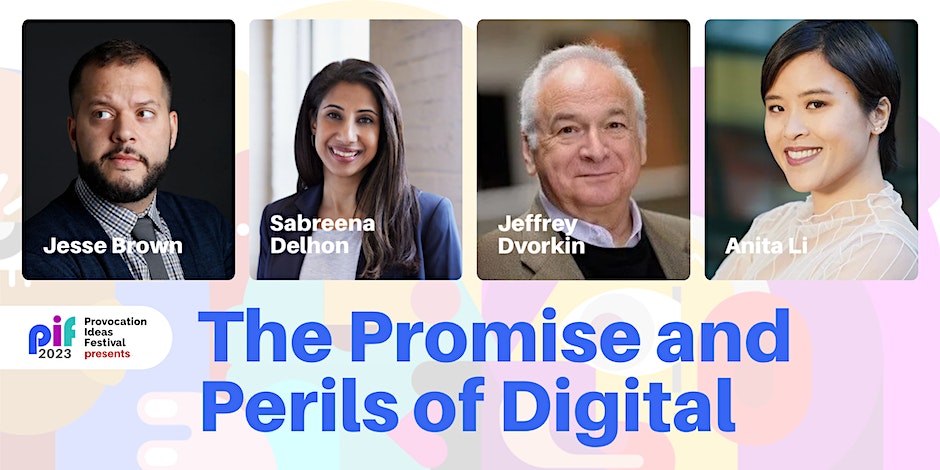 A thought-provoking and dynamic discussion focused on the implications of digital technology. Panelists will explore probing questions about digital's impacts on democracy, free speech, media ethics, equity and diversity, privacy, and trust. How have these technologies influenced public engagement and understanding?
Featuring:
Jesse Brown. Podcast host and the publisher of Canadaland, an independent podcast network fueled by over 10,000 monthly supporters. He is the producer and co-writer of the podcasts Thunder Bay and Cool Mules. Jesse has won the National Magazine Award for Humour and the Hillman Prize for Investigative Reporting. He's also a co-founder of Bitstrips, makers of Bitmoji.
Sabreena Delhon. Executive Director of the Samara Centre for Democracy, she has over a decade of experience directing multi-stakeholder research and outreach initiatives that have made an impact across justice, academic, and non-profit sectors. Delhon has appeared as an expert witness before Parliamentary committees on matters relating to political participation and frequently provides commentary about democratic engagement for media outlets such as the Globe & Mail, CBC Radio, and the Toronto Star. She is the host of Humans of the House, a podcast that explores the lived experience of former Members of Parliament, and sits on the board of the Provocation Ideas Festival.
Jeffrey Dvorkin. Author of "Trusting the News in a Digital Age", Senior Fellow at Massey College, former lecturer and director of the journalism program at the University of Toronto Scarborough Campus, Vice President of News and ombudsman for National Public Radio, former Managing Editor and Chief Journalist for CBC Radio.
Anita Li. Journalist, news entrepreneur, media consultant, and educator with two decades of experience across North America. She has worked at The Toronto Star, The Globe and Mail, The Discourse, and CBC. She co-founded Canadian Journalists of Colour in 2018 and is a board member of the Online News Association and Local Independent Online News Publishers. Currently, she is the founder, CEO, and Editor-in-Chief of The Green Line, a hyperlocal Toronto-based news outlet.