Have an event you'd like to have appear on our events calendar? Please fill out the event form.
All events will be reviewed by an administrator before appearing on the calendar.

The Time is Now: Amplifying Women's Voices in Media
March 5, 2020 @ 6:00 pm

-

9:00 pm

$15 – $20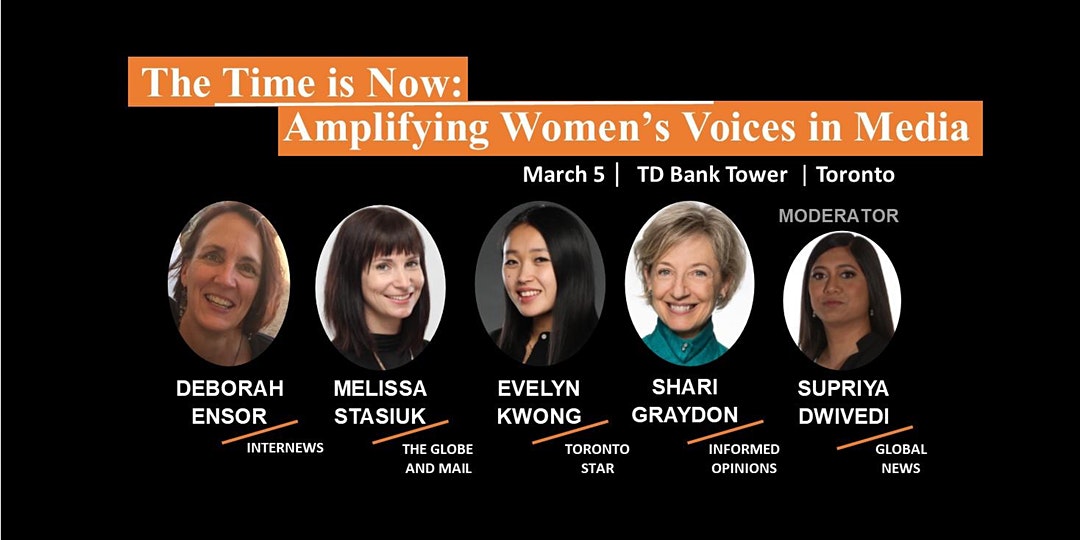 With women's perspectives underrepresented in media, how can journalists increase the gender mix and diversity of their news sources and the experts they quote?  This important panel discussion will explore the outcome and ongoing challenges of a dedicated global project to increase the voices of women in news. Initiated and run by United for News, a global coalition founded by Internews in partnership with the World Economic Forum, the project aims to build trust in journalism by making it more representative of its diverse audiences.
The conversation features: Deborah Ensor, senior vice-president of technical leadership for Internews, lead of the Reflect Reality initiative, and the Canadian pilot of the project; Melissa Stasiuk, head of programming with The Globe and Mail, a project participant and Evelyn Kwong, social media and audience lead with the Toronto Star, and part of a newsroom committee launched as a result of the project. Shari Graydon, founder of Informed Opinions, a leader in helping bridge the gender gap in Canadian media, will also join the conversation. The discussion will be moderated by Supriya Dwivedi, host of The Morning Show on Global News Radio 640.
ABOUT THE SPEAKERS
Deborah Ensor is currently the senior vice president of technical leadership at Internews, lead of the Reflect Reality initiative for United for News. Internews is an international non-profit that works in more than 70 countries around the world to build healthy information environments that enable everyone to make better-informed decisions, bridge divides, participate more fully in their communities, and hold power to account. As part of her current role, Deborah leads the "United for News" work around increasing women's expert voices in the media. Her career includes working 15 years as a journalist and editor in the U.S. @Internews
Evelyn Kwong is a social media and audience lead at the Toronto Star. When she's not scouring the internet for the latest trending events and memes, she's working on shaping the voice of The Star's social platforms and thinking of new social strategies to gain new audiences. The audience engagement work also aligns with her passion for bringing diverse voices to light which entails assisting reporters and editors to find angles to highlight those in marginalized neighbourhoods, people of different cultural backgrounds, and younger people on their struggles and successes. She also writes a weekly social media column for the Star and started the business Millennial Money series in hopes to engage a more vast audience. @EVYSTADIUM
Melissa Stasiuk is head of programming at The Globe and Mail, leading a team of 15 journalists who identify priority stories and use homepage, SEO, social media, newsletters, mobile alerts, audience data and print to get stories to the widest or most appropriate audience. She is also on the hiring committee for The Globe's summer program, which hires students or recent grads, and led the Breaking the Habit 2.0 initiative – aimed at increasing female voices in Globe stories  –  in partnership with United for News. She can also teach you baby sign language. @Melissa_Stasiuk
Shari Graydon is founder and catalyst of Informed Opinions, an award-winning author and women's advocate. Since 2010, she has helped amplify the voices of more than 2,500 women in diverse fields and sectors across Canada, supporting them in sharing their insights and analysis with a broader public. A former newspaper columnist, TV producer and commentator for CBC radio and TV, Shari also served as press secretary to a provincial premier. For 10 years during the 1990s, she was President of MediaWatch, a national women's organization working to improve the portrayal and representation of women in media. @ShariGraydon
ABOUT THE MODERATOR
Supriya Dwivedi is the host of The Morning Show on Global News Radio 640 Toronto, and a regular panelist on CBC's Power & Politics. She has previously worked in government relations and strategic communications, as well as advising political campaigns. @supriyadwivedi