Have an event you'd like to have appear on our events calendar? Please fill out the event form.
All events will be reviewed by an administrator before appearing on the calendar.

The Word on the Street Toronto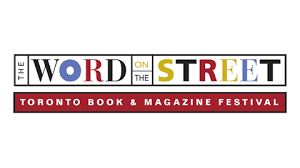 Since 1990, The Word On The Street has proudly hosted vibrant writing by writers across Canada. Check back soon to explore the authors and artists appearing at our 29th festival on Sunday, September 23, 2018.
Depuis 1990, The Word on the Street accueille avec fierté la crème des talents de la littérature canadienne. Consultez ci-dessous la programmation des auteurs et des artistes qui participeront à notre 29e festival le dimanche 23 septembre 2018.
Stay current with festival updates, Canadian book news, contests, and more!
Soyez au courant des mises à jour du festival, des nouvelles du livre canadien, des concours, et plus encore!
** (Schedule and times not listed yet. Check the website to keep up to date). **