Feminist fashion magazine with Toronto roots has big plans
On Sophomore's website, you won't find trend pieces about what colour is in right now or what women over 30 shouldn't wear. Instead, what you'll find on the Toronto-based feminist fashion magazine's website are stories explaining how to give up fast fashion; profiles of ethical fashion lines; and roundtables on the "ins and outs of the ethical fashion industry."
Sophomore was founded by three Ryerson University graduates — Stephanie Rotz, Kiersten Hay and Jeanine Brito — who decided that if they wanted to look at fashion through a feminist lens, a magazine was the best way to do it. Now entirely a digital publication, Sophomore was partly inspired by Tavi Gevinson's Rookie Magazine, aimed at teenagers, and has kin among the likes of politically charged, millennial focused outlets like Teen Vogue or Racked.
J-Source spoke to Rotz, co-founder and publisher, about how the magazine came together, what comes next, and why Sophomore was always the perfect name for their project. This interview has been edited and condensed for clarity and length.
J-Source: Was your plan always to start a magazine? How did it evolve?
Stephanie Rotz: I graduated from the fashion communications program at Ryerson in 2014 and a peer of mine, Kiersten Hay, reached out to me after graduation saying that she has this idea she thinks that it would be a good fit for the two of us. So we met for brunch, and we kind of just talked about this, like, big vague idea of wanting to create a feminist fashion magazine and wanting to prove that fashion can be feminist and what would that look like.
It kind of came at really great time for me. I was figuring out what it was exactly I wanted to do and where I felt my heart lying.
So Kiersten and I then reach out to Jeanine, who was then going into her fourth year of fashion communications And, again, I didn't know Jeanine. I just knew of her from social media and knew that we had very similar interests and aesthetics and that she was a really driven, talented person.
All three of us share the same opinion that what we were learning in school was clashing with what we were seeing in the industry. Having come from that university background, we had were armed with a great deal of privilege in knowing the issues surrounding the industry, and felt a little bit apathetic towards it and a little bit disengaged. We were faced with the decision around the same time of, do we stay in this industry and try and change it or do we leave it altogether? So we decided to try to go with the first option.
J-Source: Why did you start a magazine  rather than starting your own line or doing P.R. or going in the other areas you can do fashion communication in?
S.R.: We wanted to do what we knew. It doesn't seem like the most direct route to or the most obvious form of activism but it's taking what we know and the skills that we have and doing what with those we can.
Jeanine did a year abroad in Amsterdam and she studied, I think it was called fashion magazine or fashion media — but she spent a year in Amsterdam and studied how to put together a magazine, more so from the art direction perspective. When I was in school my undergraduate thesis focused on feminism — the intersection between feminism and pop music — and I also had a couple other leadership roles throughout school. Where we were positioned it made sense for us and it's kind of what made sense in terms of the collaborative group.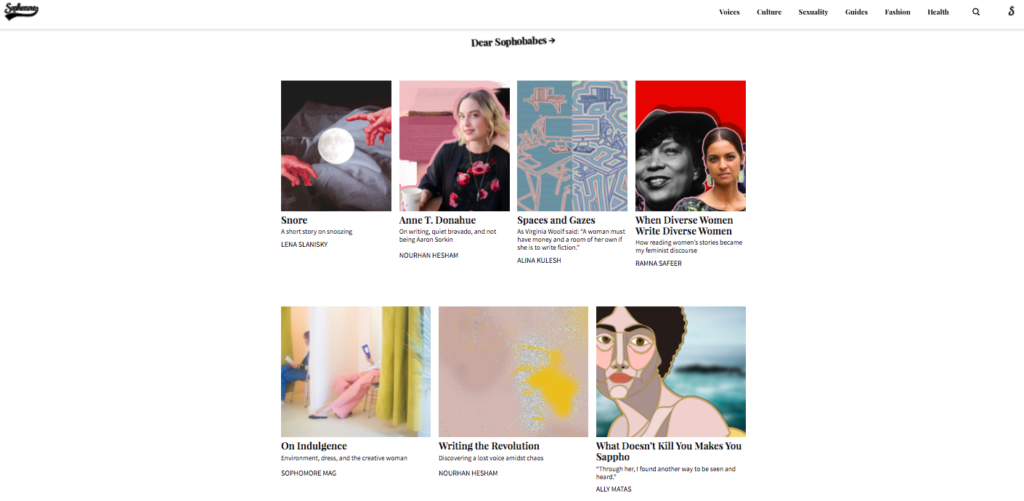 J-Source: So for people who are going to your website for the first time, what what would be different than if they were going to Vogue or InStyle or any of the more mainstream fashion magazines?
S.R.: I mean, they're definitely all doing something right, and they're all contributing and and I would never want to knock down another magazine or say that we're better than them in any other regard. But I think what's different about us is we don't follow the trend model, necessarily. We view trends more as a political statement and not necessarily as consumeristic statements. We're not selling anything. We're more so talking about fashion as a form of culture and a form of politics. So we're not really based in the capitalistic view of fashion. We look at fashion through a feminist lens which  immediately complicated in so many ways.
J-Source: How so?
S.R.: There is no black and white way to approach a complex issue like feminism. So right now we're working on our ethical fashion issue which is coming out on Wednesday Aug. 2. So in in figuring out "What is sustainable fashion? What is ethical fashion?" that brings up a bunch of different questions. Who is the maker of your clothes? How was the clothes made? That's a feminist issue because it often relies on children and women workers. Then on the flipside of that is who can actually afford sustainable fashion and ethical fashion at a high price point. There's no really right or wrong answer in terms of feminist issues and how they relate to fashion.
That's what we want to explore. Ultimately feminism is a learning experience and it's about learning and about expanding your worldview and listening to others and doing a lot of listening. So that's what we try to do with Sophomore — render a platform and use our platform to expand what it what it means to be stylish what it means to be fashionable. And all that jazz.
J-Source: When you think fashion magazines, you know they're based in New York City and they are really in the epicenter. But you're based in Toronto. Do you do you feel like being here and being in this Canadian scene really informs the work? Or do you see yourself as being like more global than that?
S.R.: The benefit of the internet is you can be global and you can connect with community worldwide. But definitely our experience is informed by where we live in and where we operate. We try and focus on Canadian content and featuring Canadian women and Toronto-based women. For sure we wouldn't be who we are unless we studied here in Toronto, unless we lived here in Toronto. And it gives us a little bit more freedom being in an underdog city as opposed to being in a different market. I think too it definitely gives us a different perspective.
J-Source: I was curious about the name, because obviously there is Rookie magazine. Was this intentional?
S.R.: Oh, totally, it was a direct nod to Rookie.
I love Rookie magazine, the whole team, we obviously love for Rookie magazine. Our team is made up of millennial women, so we're generally early- to mid-twenties bordering into thirties, so we love Rookie. We appreciate it, but it's not really for us. It's a great tool for a teenage girl. So we're looking to create Sophomore, and we wanted to acknowledge the importance and the fact that we may not even exist without what Rookie has already done online — but do that more so for our market and for our demographic. Something that we would want to consume and that we would want to read.
When you look at the Latin definition of sophomore — "sophos" and "moros" — is broken down into "wise" and "foolish" which we thought encapsulates your twenties so well, because you feel like you know what you're doing, but you're completely foolish still and it's all still very terrifying but you're much more armed and confident in yourself than you were in your teens. So yeah, the name Sophomore felt like a good fit.
J-Source: You decided to make the transition from being a print magazine to going online. Why did you make that switch?
S.R.: A couple reasons. We have a Canadian focus but with the power of the internet and Instagram and social media, we were able to reach women around the world. Shipping that magazine was so expensive — it was 160 pages; it was quite heavy. So once you start thinking about shipping that internationally it almost doubles the price of a magazine, so that instantly creates a barrier to our content. We wanted to make sure there wasn't a barrier and we wanted to digitize that first issue and then move forward doing digital issues. When we're thinking about our framework and who we are as a magazine it made much more sense to be digital.
J-Source: Where does your funding come from?
S.R.: The reason we were actually able to print the Issue 1 in first place was because we were funded by the R.C.D.F. which is the Ryerson Communication and Design Society, because Jeanine was still a student at the time when we created the magazine. We were able to apply for student grants, so it was because of their support that we were able to do the initial print publication. That also informed moving to digital. At this time, we are still entirely a volunteer run based publication and we like to be completely transparent with that. We are taking steps towards monetization, but we are trying to make sure we're doing it in an ethical fashion.
J-Source: So what does that look like for you?
S.R.: We're definitely looking at partnerships/ we started doing some it already but we have some more coming down the line.
J-Source: What are really your hopes for Sophomore?
S.R.: I would love for Jeanine and I to be able to dedicate more time. A majority of the team work full time during the day. Sophomore is currently 100 per cent run as a side hustle. I would love to see that change. I would love to be able to have our team dedicate more time, because we'll have more resources. That's the dream.
H.G. Watson was J-Source's managing editor from 2015 to 2018. She is a journalist based in Toronto. You can learn more about her at hgwatson.com.