Follow the Money: Into the Nursing Home Complex
In this five-part series, Zaid Noorsumar examines gaps in news coverage of long-term care, starting with privatization of nursing homes in the years before the pandemic.
PART I
Over the past ten months, of the more than 13,000 people who have died of COVID-19 in Canada, more than 4,000 were in Ontario; more than 2,400 of those were residents of Ontario's nursing homes (also known as long-term care homes).
Most deaths in LTC, according to the Canadian Medical Association Journal, have taken place in for-profit residences.

Researchers familiar with the sector aren't surprised. There has been a growing body of research over the past few decades showing worse conditions in for-profit homes, including more verified complaints, higher rates of hospitalization and higher mortality figures.

Fifty-eight per cent of nursing homes in Ontario are privately owned, creating a conflict between the labour of caring and the push for increased profit. Even non-profit facilities are often managed by for-profit corporations.
As the health crisis wore on, Canadian media outlets began to scrutinize ownership, a focus that had, until the pandemic laid bare the fragility of long-term care systems, been missing in media coverage. Concerns about ownership and its impact were limited to academic papers, online forums and left media outlets.
In the spring, as residents began dying at disproportionate rates relative to the wider population, calls for including long-term care homes in the public health-care system began growing. The news media began to question the stability of the system, and the logic of profits in care.
"Until the pandemic, it was almost impossible to get media to report about privatization. We would say it, but it just never made its way into the reporting," says Natalie Mehra, the executive director of the Ontario Health Coalition, a health-care advocacy group that represents about 400,000 people from seniors' groups, unions and patient advocacy organizations.
Indeed, as far back as 2002, the OHC had warned about the impact of growing privatization in the sector, and the consequences borne by residents and staff. But those warnings largely went unreported. So did the efforts of the National Union of Public and General Employees and other unions to draw attention to privatization.
But the gaps exposed by the pandemic resulted in a shift in media coverage.
"Now, I think that the media believes what we're saying and I think that they can see it for themselves," says Mehra, who has been interacting with media outlets for nearly 20 years in her executive director role.
Mehra does credit the mainstream media for "stellar investigative reporting" during the pandemic.
Indeed, on April 24, CBC's the Sunday Edition featured critical commentary of the for-profit model by Pat Armstrong, the York University sociology professor who in partnership with other collaborators has been researching nursing homes for over two decades, but who was barely cited in the news media prior to COVID-19.
And on May 8, the Toronto Star published an investigative report showing deaths in for-profit homes were four times as many as in municipal homes. On May 16, another hard-hitting piece in the Toronto Star dug into the $1.5 billion paid to shareholders by the three mega-corporations that are traded on the stock exchange.
That trend has continued into November, when the Star published findings of its own analysis showing disproportionately poorer outcomes in for profit long-term care.
Feature stories on nursing homes since spring began documenting the ownership of homes more often than not, turning away from decades of indifference to the systemic issues caused by a highly-privatized sector.
Despite this shift in investigative and long-form media coverage of the residential care system, daily coverage has continued to lag.
In an analysis of media coverage of nursing homes in Ontario in six mainstream Canadian outlets between January 2017 to December 2019, this J-Source series explores the consequences of a news media environment that rarely centred on — or even noted — the nature of ownership or management of long-term care homes.
In doing so, journalists and newsrooms committed a sin of omission, where emerging patterns are neither reflected in the record nor in audiences' understanding of the issue.
"[You often get] this really limited debate [in the media], this framing of issues where there's not a lot of room spent exploring questions at a fundamental level," says Greg Shupak, who teaches media studies at the University of Guelph and is the author of The Wrong Story: Palestine, Israel and the Media.
"[The question of whether] privatization should be part of the model of eldercare is not on the table. It's relegated to the backdrop or just invisibilized entirely," he said, theorizing about the parameters of the long-term care discourse.
The people affected by this erasure are the predominantly women residents and a disproportionately racialized and immigrant workforce.
For my analysis, I reviewed stories published in the Toronto Star, CBC, National Post, the Globe and Mail, Global News and CTV News and divided them into three key narratives: quality-of-care concerns, the case of the serial killer nurse (Elizabeth Wettlaufer) and the development of new beds/access to nursing homes.
I examined 141 stories about quality of care and 54 stories about development of beds/access to care.
I also looked at coverage on the case of Elizabeth Wettlaufer, who in 2017 was convicted of the serial murders of eight residents across two for-profit homes, to evaluate how much ownership factored into media coverage.
The analysis was supplemented by looking at a random sampling of media stories on the sector prior to 2017, including articles dating back to 2002.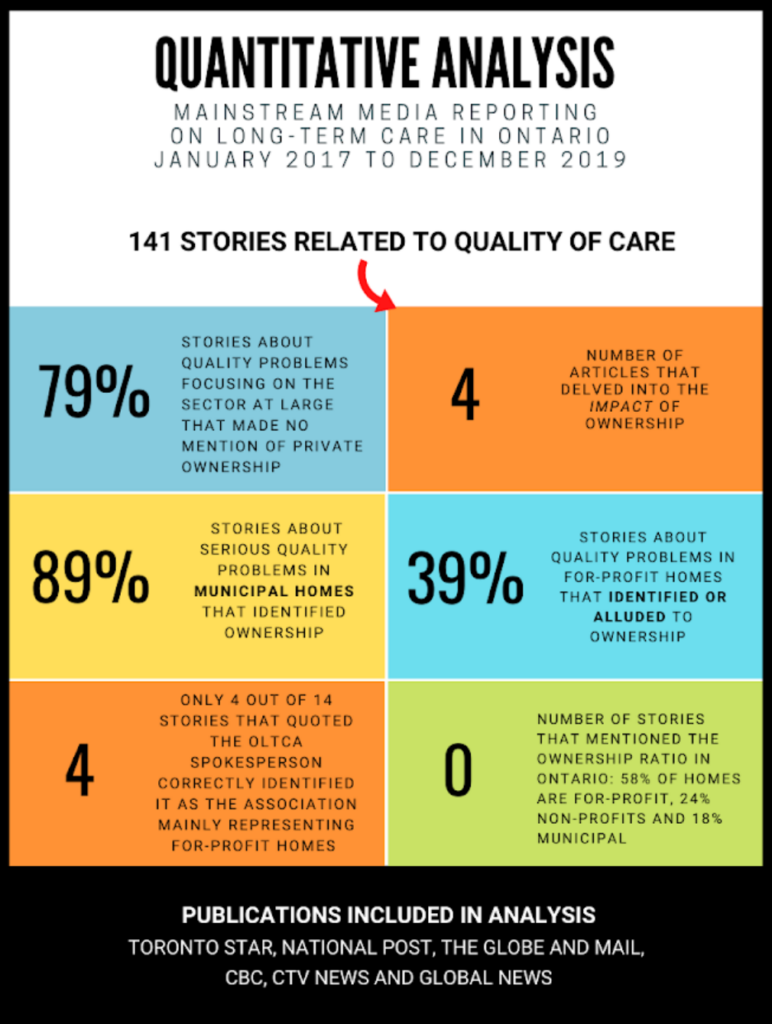 The horrors of a largely private, for-profit long-term care system are now well-documented. But that documentation comes with it the knowledge that the devastation rippling through care has been long coming. With four times as many deaths in for-profit homes as non-profit ones during the pandemic, the crisis has highlighted the problem with a legacy of coverage that normalized privatization.
Normalization of profits in care
In 2018, CBC did in-depth analysis of nursing home inspection reports and created two top-20 lists of the worst nursing homes based on staff-to-resident violence, and resident-to-resident violence. It did not consider ownership. In an analysis I did for Rabble.ca last year, I found that 28 of those homes (70 per cent) across both lists were for-profits, and an additional home was publicly owned but managed by a corporation.
In an in-depth analysis of 141 stories related to quality of care, most of which were about neglect of residents and rampant violence in homes, I found only four articles that delved into substantive discussion about for-profit ownership. By substantive I refer to in-depth exploration of how the for-profit model impacts care (as opposed to a one-liner questioning the profit motive).
Three of these stories, including two broadcast segments, were investigations undertaken by a single program: CTV's W5.
Although W5 brought to light important facts about private nursing homes, such as their inscrutable financial statements, the shows mainly honed in on profit-taking in the context of a class-action lawsuit against three major corporations.

Moreover, the insights from W5's investigation did not spill over into CTV's regular reportage on long-term care, which continued to omit details relating to ownership.
Other investigative projects over the years have ignored the question of privatization, even as evidence shows that the entire sector has been shaped to some extent by the lobbying of the Ontario Long Term Care Association, which mainly represents for-profit homes (but is often presented as an umbrella group, without indicating whom exactly it represents).
The for-profit lobby was not necessarily the go-to source for the news media, but their claims were almost never challenged, scrutinized or questioned. This in fact continues today.
"Advocacy groups like ours are treated with skepticism. Our research and our claims are never [given the same weightage as those of] industry groups, even if those industry groups clearly have a financial interest in increasing their own profit margins. Their claims and their statements just do not come under the same scrutiny."

Natalie Mehra, executive director of the Ontario Health Coalition
On the other hand, OLTCA spokespersons were cited as advocates or "health care leaders" in the Toronto Star.
Importantly, reporting on the OLTCA's behind-the-scenes lobbying was virtually non-existent (discussed in-depth in part two of this series), even as they made significant donations to Ontario's political parties.
Mehra said that the for-profit homes have consistently lobbied against the public interest in their quest for profit maximization.
"It was certainly impossible to get the media to report on what the for-profit industry was lobbying for and that it was against the public interest," says Mehra, who has been researching the regulatory changes for the past 20 years.

"[They have lobbied for] deregulation, no annual surprise inspections, fewer penalties, less enforcement and no staffing standards."
Over the years, the health coalition has regularly produced research on privatization as well as other components of the health care sector. And although it has been a source for mainstream media, the OHC's attempts to pitch stories on privatization remained unsuccessful for a long time.
In January 2019, all the major news outlets covered the OHC's research report, Situation Critical. But even as the 37-page report thoroughly examined the problems in the sector, including several pages on the impact of corporate chains, the Canadian Press article picked up by Toronto Star, CBC, the Globe and others, did not delve too deeply into the systemic issues.
Before the pandemic, the news media occasionally published short articles in response to new academic papers demonstrating worse outcomes in for-profit homes but those results don't tend to inform future coverage.
Ontario's fiscal policy – a glaring omission
One of the most glaring omissions in long-term care reporting is the absence of any attempt to connect the chronic underfunding and understaffing of nursing homes to the provincial and federal political economy.

In a July 2020 report, the Canadian Centre for Policy Alternatives noted that raising staffing levels — an important quality indicator — in Ontario's long-term care homes to a widely-recognized minimum care standard would cost $1.6 billion, representing a 40 per cent increase to the $4.3 billion long-term care budget. In contrast, annual funding increases since 2011-12 have averaged 2.5 per cent.
When I interviewed Sheila Block, a senior economist at the Canadian Centre for Policy Alternatives, for a piece on Rankandfile.ca, she explained it as a problem of both ideology and political will. "I think this neglect has to do with austerity, and it has to do with a neoliberal agenda," she said. "And this is just one of the many examples where public services are dangerously underfunded."
Underfunding of nursing homes was referenced in nearly 33 per cent of news stories, but there was no accompanying exploration of the underlying reasons for or the extent of the funding gap.
This trend continues through the pandemic and is emblematic of the institutional biases of a mainstream media landscape dominated by corporate entities (see part five in this series).
Nora Loreto, a freelance journalist who is working on a book about Canadian media's reporting on the pandemic, says that it's unacceptable for journalists to ignore the deep cuts made by the federal Liberals in the 1990s. Those massive reductions in health transfers have profoundly shaped provincial healthcare systems ever since.
"How many times has anyone mentioned the Martin-Chretien budget of 1994 in this discussion? No one mentions that, right? That is the biggest cut to our social programs, [so] it's pretty unacceptable," she says.
In June 2018, when Doug Ford campaigned on ending "hallway healthcare," and promised $6 billion in "efficiencies," the Ontario premier's proposals were lambasted across editorials in the Toronto Star.
But in a sample of 10 articles published by the CBC and Toronto Star between March and May 2018 that explored Ford's fiscal policy, there was no mention of the fact that Ontario already had the lowest program spending across Canada.
"I think part of what's happened is that the media has bought into government fiscal policy, with no critical analysis whatsoever," Mehra said. "So Ontario funds health care at the lowest rate in the country, despite the fact that we're a very wealthy province, despite the fact that we have population aging and demonstrable needs that are not being met."
The cuts have come disproportionately on the backs of the elderly and the benefit of the wealthiest people and corporations, Mehra said.
Although the Toronto Star tends to be relatively progressive on this issue and has published editorials calling for higher taxes on the wealthy, that perspective is missing from its long-term care reporting. Most other media outlets have a poorer track record.
The Wettlaufer murders
Three years before the pandemic, a high profile criminal proceeding showed the cracks in Canadian coverage of long-term care
During 2017 and 2018, a substantial amount of media coverage of nursing homes focused on the case of the serial killing nurse, who confessed to the murder of eight residents in two long-term care homes over a decade.
Seven of Elizabeth Wettlaufer's victims were committed at Caressant Care and another one at Meadow Park — both for-profit homes.
The province held a public inquiry in the wake of the murders, finding that Wettlaufer's crimes were able to go undetected because of the sector's "systemic vulnerabilities." Its final report, which was released in 2019, included 91 recommendations.
During the public inquiry, the Ontario Nurses Association highlighted that Caressant Care was consistently short-staffed, which allowed Wettlaufer to commit her crimes in secrecy (during night-shifts when she was often the only nurse on duty). This perspective is consistent with evidence from academic studies, which note that staffing levels are lower in for-profit homes.
In its submission and testimony, ONA noted that Caressant Care's incentive to profit conflicted with its duty to care. Although there was some coverage of this position in response to ONA's testimony and victims' angry family members, this was little explored even as major news outlets published dozens of stories on the murders and the subsequent inquiry over a three-year span.
A serial killer nurse causing immeasurable pain and harm in a largely privatized system should have jolted the media into examining the perils of a for-profit model. But Canadian audiences would have to wait for additional tragic outcomes before that would happen.
"There are boundaries to the discourse. [It's like, the media says], we're going to get to the curtain but not behind it. And so all these things are unexplainable," says Jim Brophy, academic and co-author of the Breaking Point academic study, which explored violence in Ontario's long-term care homes.
"They're just left at the level of, 'we don't care enough about our elderly' – which is true, we don't. But there's other dynamics that are at play here, that set the stage for this type of abuse to occur."
Will the current public health crisis lead to change in media coverage?
The horrific deaths during the pandemic ended up creating an avalanche of critical media reportage on ownership in the sector. But does that mean that we can expect fundamentally different reporting on privatization of homes moving forward?
While the pandemic has stretched the bounds of public debate and understanding, there are reasons to be skeptical about any transformative change.

In July, Ontario passed Bill 175, a home care legislation that privatized oversight and will potentially lead to more profit-making opportunities.
And yet, there was little mainstream media reportage on this massive overhaul of a sector that serves over 700,000 people annually (compared to about 79,000 long-term care residents).
Even when the Ford government brazenly defeated an NDP amendment to ban profits from home care, there was silence from the news media. The following month, the Toronto Star published an opinion piece by Sue VanderBent, the CEO of Home Care Ontario, the association that mainly represents for-profit companies and favoured the privatization bill.
Since the pandemic began, Loreto has been compiling data on deaths in residential care facilities (over 940 homes) across Canada based on news reports and publicly available information. Loreto says daily news reports often omit contextual information about home ownership.
"The number of articles that include ownership when announcing deaths or outbreaks in a facility is still the overwhelming minority," says Loreto. The result in daily coverage, she says, is "pure stenography."
There are other problems with the quality of reporting. For instance, despite widespread consensus about poorer quality in for-profit homes, reporting on construction of new homes by the Ford government has eluded discussion of ownership, although there was some critical reporting on the matter in November (elaborated on in part three of the series) or in news coverage where the nature of ownership is advanced by political players or stakeholders.
Tellingly, the OLTCA has faced little criticism or examination at the worst of times. Most journalists still don't report that it mainly represents for-profit homes. In fact, a recent CTV article positioned them as "advocates" for care.
In our conversation in late summer, Mehra from the health coalition noted that the "for-profit industry has regrouped. And they have lined up their arguments and they've come back with a new set of claims, which they are getting out quite widely."
In early November, after a commitment by the Ford government to institute minimum care standards (in response to public pressure), the OLTCA has been appearing on the news and giving the impression that they favour the change.
But as we will see in part two, despite lack of critical media attention, evidence shows the association has always opposed a basic care standard.