How AI is helping newsrooms identify biases, automate multi-platform visual media and accelerate data journalism
In this regular column, Ryerson University School of Journalism professor Adrian Ma explores emerging trends, technological developments and compelling work in the burgeoning field of immersive storytelling, including 360 video and virtual, augmented and mixed reality content.
Technological development and artificial intelligence are changing the way journalists discover, analyze and disseminate news stories. During the inaugural Journalism AI Festival, held virtually this past December, researchers and reporters from around the world presented some of the innovative, eye-opening work being done by learning to harness AI, from creating new story forms to better identifying a news organization's editorial biases.
AI identifies gender bias in stories
In an effort to better understand their own gaps in editorial representation, several news outlets, including Reuters, AFP, Nikkei and La Nacion, collaborated in a pilot program called the AIJO Project that used AI to detect binary gender bias in their reporting. In recent years, several organizations have been investigating the use of machine learning to examine gender representation in media, including Pew Research, which found that women are underrepresented in Google image searches.
The AIJO Project's AI software scanned through thousands of articles to detect and categorize both story images and interview quotations to see how balanced news coverage was when it came to giving men and women equal representation. The results were stark: women appeared in only 27.2 per cent of images used in articles, made up 21 per cent of individuals cited and only 22 per cent of the sources who were quoted. The team also learned that quotes from women sources were shorter than quotes from men.
This kind of AI development has exciting potential, especially as the algorithm expands to include other variables. But giving newsrooms the ability to swiftly measure the diversity of their content could help make for more balanced and representative coverage, something the industry has long failed to achieve.
To learn more about this work, check out the video recording of AIJO Project members Agnes Stenbom and Issei Mori presenting on the group's findings.
AI can help newsrooms create bespoke story forms
For the past decade, newsrooms have largely transitioned into creating multi-platform news stories and taking a more modular approach to their editorial content, by mixing different textual and multimedia elements together in different formats.
But constantly producing multiple types of content to better serve diverse audiences is time consuming and taxing on journalists. More newsrooms are turning to AI to experiment with automating part (or even all) of the story packaging process.
BBC News Labs is prototyping new AI-driven tools that can quickly and easily generate new story forms that appeal to different audiences, particularly younger social media users with a love for digestible videos.
The tools can extract website text and keywords and match them with images and graphic elements. Other functions include the automatic creation of image galleries for website stories using AI search or bullet-point summaries, which could be a real timesaver for reporters.
You can see some of the AI-assisted stories in the video presentation below.
AI-driven search will make data journalism and investigative reporting more potent than ever
Advances in machine learning and AI have made the potential for combing through colossal amounts of information, images and video files easier and faster than ever before. The potential for new, important stories to be discovered is just staggering.
In the Ukraine, for example, Texty.org.ua is an independent investigative journalism organization doing some amazing work using data mining tools. In one project, the group discovered the extent of illegal amber mining (an environmentally devastating practice) in the country by creating a machine learning algorithm that detected telltale evidence of mining through satellite images. This required processing through approximately 450,000 images that captured nearly 70,000 square kilometres of the country's surface.
You can learn more about Texty.org.ua's use of machine learning in its investigative projects in this video:
In another session, Gianfranco Rossi, a software developer for Peru's award-winning data journalism team Ojo Público, explained how they created an algorithm that scanned through hundreds of thousands of public procurement contracts to identify potential risks of corruption.
The FUNES project generated numerous leads for the reporters to investigate, leading to the discovery that 40 per cent of the contracts awarded by different levels of Peruvian government were deemed to be suspicious, with nearly all of these contracts being awarded to suppliers in non-competitive processes.
The FUNES data is available to be searched in the group's awesome interactive website that allows users to look up the risk rankings of particular companies and corporate entities and should continue to serve as a watchdog tool as more public contract data gets processed through the algorithm.
Prior to the development of such an algorithm, it would have been impractical for relatively small newsrooms to launch and sustain such investigations. But ventures like Ojo Público and Texty.org.ua are demonstrating that machine learning and AI-powered data tools are giving small news operations more ability to uncover massive stories than ever before.
You can watch all the presentations and recordings from the inaugural Journalism AI festival here.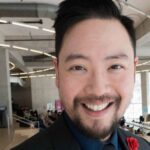 Adrian Ma is an award-winning journalist and an assistant professor at the Ryerson School of Journalism in Toronto. He has spent most of his journalism career as a reporter and digital producer and specializes in teaching multimedia storytelling and personal branding.