How Queen's Park Today bloomed in an era of shrinking press galleries
This story was funded by the J-Source Patreon campaign
In the late summer of 2017, after months of contraction and dozens of layoffs in the Canadian media industry, Allison Smith's digital newsletter service was growing.
Smith, the founder and publisher of the Ontario legislative chronicle Queen's Park Today, saw her chance to launch a sister outlet in British Columbia, where a provincial election had resulted in a dramatic power shift: An NDP-Green coalition had taken office after 16 years of Liberal rule. Smith issued a call for reporters, and B.C. journalist Shannon Waters answered it, coming on board just in time to cover the throne speech on Sept. 8, 2017.
Since then, Smith has hired five additional staff members – a salesperson, a copy editor, a part-time news editor and two more reporters – and launched a third legislative newsletter in Alberta. Her revenues have doubled in the past year as she has transitioned from a one-woman, Ontario-based operation to a fully fledged, cross-country news service.
It is an unlikely success story in a Canadian media landscape plagued by contraction, with ad revenues in free-fall and press gallery membership on the decline. The vacuum left by mainstream media's withdrawal from many aspects of local news coverage, however, has created an opportunity for small-scale, niche services to jump in.
"Maybe it's too hard in this world to operate massive media companies that make millions and millions of dollars every year. I think we're seeing that that isn't viable, so what I think there is space for … is small, almost family-business-sized outlets," Smith said, noting that the scope and consistency of her coverage has enabled Queen's Park Today's growth.
"When it's something niche, and you can really focus in and do the digging and really illuminate a certain world, I think the people in that world will be excited about that."
Humble beginnings
Smith had just turned 26 when she published the first issue of Queen's Park Today in February 2012. A former reporter and editor for Parliament Now, an Ottawa-based subscription service chronicling daily developments on the Hill, Smith relocated to Toronto in hopes of launching a similar product focused on the Ontario legislature.
"It's funny to look back to 2012, because now we're all so used to email newsletters, but they were barely a thing then," Smith recalled. "I remember everyone thinking it was crazy and people not understanding what I was trying to tell them my job was going to be."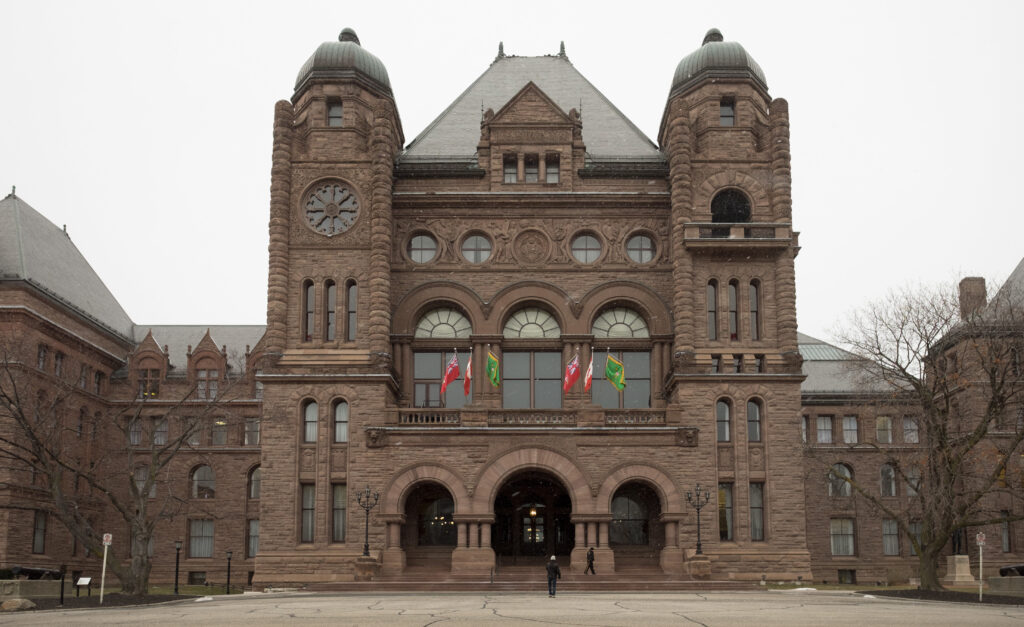 In its early days, her newsletter was composed of a dry summary of upcoming events, debates and committee meetings – "very stick-to-the-facts" – along the same lines as Parliament Now, she explained. Smith also developed a pricing scheme similar to Parliament Now, and swiftly began a campaign of targeted advertising. Anytime someone was mentioned or quoted in her newsletter, she would send them a copy, offer a free trial and hope it led to a subscription sale.
She attracted her first subscribers within a month. To make ends meet as the momentum slowly grew, she worked a side job bussing tables at a restaurant on Ossington Avenue.
Inside the legislature, however, Queen's Park Today was not initially accepted as a legitimate journalistic outlet. The press gallery denied Smith accreditation for four years – even as her newsletter continued to build an audience, hitting a milestone of 100 subscribers in May 2015 – until a Canadaland episode highlighted her case in 2016.
"It was bad for my confidence, for sure," Smith said of the initial rejection. "It was hard to feel like the publication was established (and) harder to get responses to stuff from government staff … I also felt like I was being sidelined by the journalistic community."
Gaining accreditation allowed Smith to feel "acknowledged as a journalist," she said. "Even better, I now had access to the politicians and briefings I needed to take my reporting to the next level."
Critical time
The state of journalism in Canada today has reached a critical point. Over the past decade, newspaper advertising revenues have dropped by more than half, to $1.8 billion in 2017 from $3.9 billion in 2008, according to News Media Canada. Announcements of job cuts have become commonplace as industry giants, from Torstar to Postmedia, have watched their revenues plummet.
Data from the latest Statistics Canada survey reveals the broader scale of the decline: As both advertising and circulation sales have fallen, the newspaper publishing industry reported $3.2 billion in operating revenues in 2016, down 20 per cent from 2014.
Local news coverage has been hit especially hard.
"It's a huge problem, the scaling back of news media in its traditional watchdog role," said April Lindgren, a Ryerson University professor who has been documenting the loss of local news outlets for years. "The general broader public is finding it more and more difficult to have access to timely, verified, independently produced news that they can trust."
Lindgren's work for the Local News Research project reveals that since 2008, more than 260 outlets have shut down, affecting 190 communities.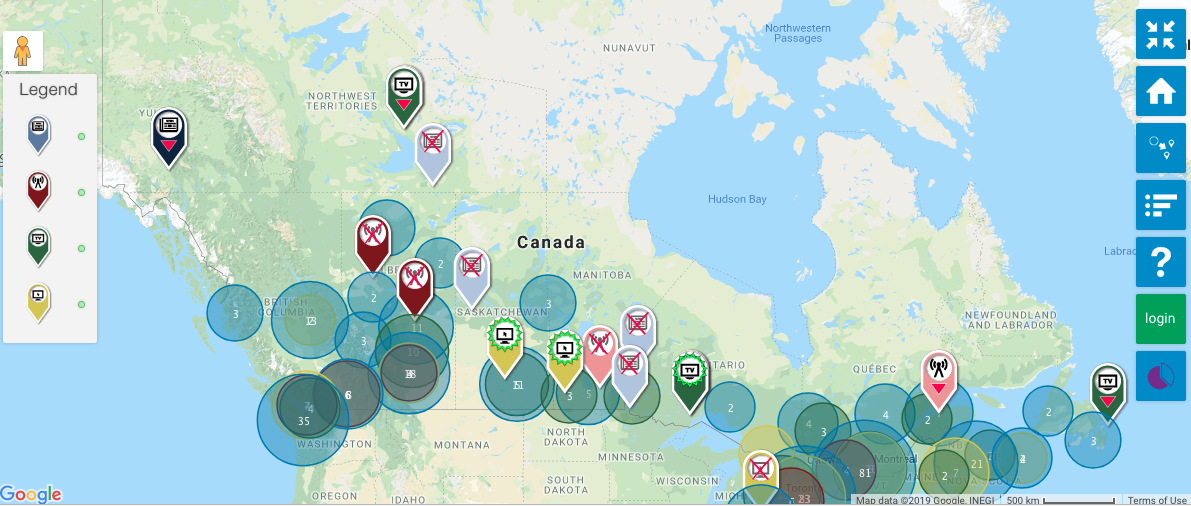 At the same time, the Globe and Mail has tracked Canada's shrinking press galleries, finding in late 2017 that in most capital cities, "the numbers are quite low and, according to press-gallery presidents, on the decline."
A report from the Public Policy Forum released last year, which studied 20 small and mid-sized Canadian communities, found that the number and depth of newspaper articles about civic affairs dropped sharply between 2008 and 2017, "leaving citizens less informed about their democratic institutions." Articles covering city hall declined by 38 percent in that period.
The situation has become so dire that last November, the federal government announced that it was stepping in with a controversial bailout, earmarking $595 million over five years to bolster the struggling sector. In its fall economic statement, the government acknowledged the challenges facing Canada's media industry, noting that rapid technological changes "have made it difficult for many news outlets to find and maintain financially sustainable business models. At a time when people increasingly get their news online, and share news and other content through social media, many communities have also been left without local news outlets to tell their stories." Further features of the subsidy package, which have been widely criticized for favouring legacy publications over digital news startups, were outlined in the Liberals' federal budget released March 19.
Room to expand
Although Smith has managed to defy these trends, it has been a journey.
It was more than five years before she was in a position to hire her first reporter, Waters, who became the driving force behind BC Today. Smith had considered launching a service outside of Ontario, either in Alberta or B.C., for some time – but the bizarre twists and turns of the 2017 B.C. provincial election prompted her to accelerate those plans. It was just six months before BC Today began turning a profit.
Over the past year and a half,  Smith has hired five other staff members: Sabrina Nanji now handles all the reporting at Queen's Park, leaving Smith free to focus on the business side. Ryan O'Neill manages subscription sales; award-winning poet Laura Clarke is the team's copy editor; and Catherine Griwkowsky has taken the lead in Alberta as the legislative reporter for Smith's newest product, AB Today. Just last month, journalist Sean Craig joined the team as a part-time news editor.
Smith still vets and edits the content in all three newsletters, working late into the evenings to ensure each edition is on point. She won't share detailed subscription numbers, but says the three products together have "hundreds of subscribers (and) thousands of readers." She places the occasional ad, but her revenue model is based primarily on subscriptions, which start at $650 for an individual and increase for institutions with multiple readers.
"Once it's working, you can sell as many as you want, and the (production cost) is always basically stable," Smith noted.
Institutional subscriptions are an important slice of the pie, as employers can afford the higher costs to stay abreast of the fine-grained workings of Queen's Park.
Cheryl Fullerton, the head of government relations for the Ontario English Catholic Teachers' Association, said her organization has received Queen's Park Today every morning for years.
"It allows me to adjust my plans for the day, or redeploy the attention of members of our government relations and communications team to be prepared for emerging events and announcements," Fullerton said.
On the west coast, Kevin Brown, a communications consultant and former journalist, said he subscribes to BC Today because "it really does a very good job at opening the door to what's going on in British Columbia … and it takes less than 10 minutes over a cup of coffee first thing in the morning."
Queen's Park Today is not for the average reader, Smith acknowledges, but rather for people in "the business of government," such as unions, lawyers, consultants or private firms with government relations teams. The newsletter does not count any MPPs among its subscribers; although some government bureaucrats subscribed in the past, Smith said, they had to cancel last summer as part of cost-saving measures introduced by Ontario Premier Doug Ford.
But the newsletter may again expand its reach within the halls of Queen's Park, as the legislative library last month opted to purchase a license that would allow all MPPs and their offices to access it, Smith said. A similar deal is in place in Alberta.
Information rich and poor
Out in BC, Waters, a former news director at a Prince George radio station, has grown accustomed to following provincial legislation more closely than many mainstream media reporters. When news is not breaking, she digs into pending legislation or talks with stakeholder groups about potential policy shifts, such as her recent deep dive into how a proportional representation system could affect women.
"It depends on what's going on. Some days are still very manageable; others it feels like getting buried under a torrent of announcements," Waters said.
The service's recent expansion into Alberta has been exciting, she said, noting that "there definitely seems to be a demand for this kind of focused reporting … It's nice to see that there is still the possibility for expansion, for new ways of reporting."
Jeffrey Dvorkin, director of the journalism program at the University of Toronto Scarborough campus, said the appeal of newsletters lies in their authenticity.
"It's a kind of getting back to basics … There are no bells and whistles; people can get a sense that they're getting their information in a more direct and unadorned way, so there's a certain credibility in that," he said.
Smith believes the newsletter format works because it "commands attention, while paywalled news websites can be easy to ignore. Once a reader has signed up for a free trial or a subscription, we are in their inbox every morning. We are in their face. And they do not have to jump through any hoops to read the content … We hand the content to our readers on a silver platter."
At the same time, the fact that Smith's services remain behind a paywall highlights one of the fundamental challenges facing the media industry and society today, said Marc Edge, a professor and author of The News We Deserve: The Transformation of Canada's Media Landscape. The proliferation of false news on the internet has demonstrated the segmentation of society into two groups: information rich and information poor.
"The information rich are able to afford quality, reliable information. This has been seen since the earliest days of the internet, back in the previous century, when the only newspapers able to sell online subscriptions were business dailies like the Wall Street Journal and the Financial Times," Edge said.
"Their information was of a quality worth paying for and even basing investment decisions on. Political information that is actionable is of similar value, as numerous subscription newsletters have shown … (but) we could end up becoming digital first- and second-class citizens."
Filling a vacuum
Queen's Park Today is a different product now than it was seven years ago. Smith describes it as having "a lot more personality"; instead of merely summarizing events, her team breaks news and develops unique angles. In recent months, Queen's Park Today has broken stories on the removal of electric-vehicle charging stations from GO parking lots; on a forced weekend sitting of the House to pass legislation on the notwithstanding clause; and on Ford breaking a campaign pledge to cancel an unpopular hydroelectric plant in Bala Falls.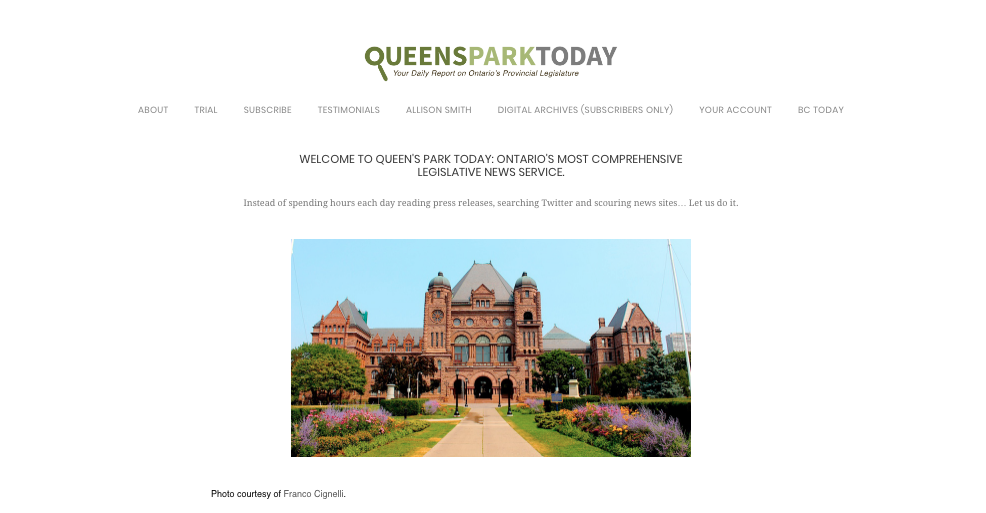 Allison Jones, the current Queen's Park press gallery president, said the Ontario gallery has bucked the trend of declining membership due, in part, to the presence of new and non-traditional outlets, such as Queen's Park Today.
"Queen's Park Today covers some of the more nitty-gritty aspects of the legislature, such as committees, that might not get as much attention," Jones said. "It means more public accountability, because the more journalist eyes on a government, the better."
Smith is not the only one seeing this type of opportunity. In Halifax, the allNovaScotia news service touts a subscriber base of nearly 10,000 after close to two decades of operations. More recently, former Toronto Star reporter San Grewal launched the Pointer, a digital subscription service focused on local news in the Ontario city of Brampton. In the business world, editor David Skok last year unveiled the Logic, a paywalled site tackling Canada's innovation economy.
It is likely that there will be more growth in this area in the years ahead, experts say, as the continuing contraction of mainstream media carves out more space for nimble, adaptable startups.
"I'm sensing that we're seeing a big split in how mainstream media is going to be doing the more in-depth, contextual, investigative journalism, but that leaves very few people doing the kind of contextualization at the local level, or at the institutional level, that the mainstream media organizations once did," Dvorkin said.
"This is a vacuum, an information vacuum, that is now being filled by some very entrepreneurial young people."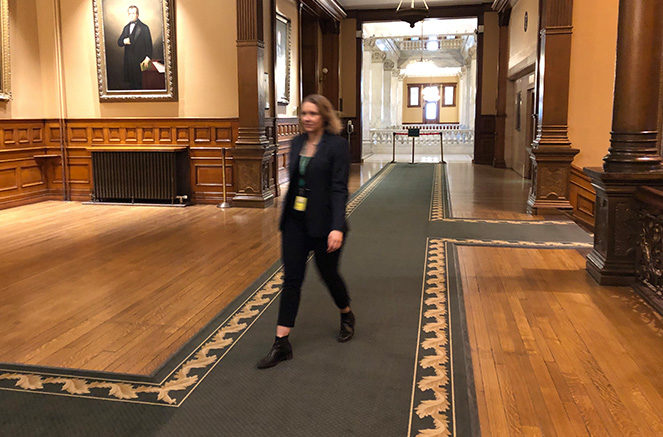 For her part, Smith does not expect to launch any additional newsletter services for the time being, as she has her hands full with the existing three – but she encourages others to take a crack at it.
"I just think there's so much more potential for people to be doing exactly what I'm doing in different sectors," she said, noting there is ample room for enterprising journalists to zone in on under-covered aspects of politics or business, such as the energy industry.
"There's such minimal coverage of that, and that industry is enormous," she said. "If you targeted it to that, I think you'd do great."

Megan O'Toole is a journalist and editor who reports primarily on law, politics, global conflicts and human rights. She has covered stories in more than a dozen countries, including Iraq, Iran, Israel/Palestine, Lebanon and the Syria-Turkey border region.