How students and recent alumni are creating their own journalism projects
In an already precarious job market exacerbated by COVID-19, journalism students and recent graduates say that working on side projects is more necessary now more than ever to stand out and show their initiative to employers. For many, starting their own projects is a way of filling in the gaps of their journalism education or the coverage they see in mainstream media.
With layoffs across Canadian journalism organizations and the cancellation of internship programs from the onset of the pandemic, early-career positions for students and recent graduates are disappearing across many major news companies.
The scarcity of paid internships in the industry, the shortcomings of formal journalism school and the desire to find new ways to deliver stories are some of the motivations behind young journalists' side projects.
For some students, side projects double as a passion project and a way to gain valuable, hands-on journalism skills like editing and video production outside of internships.
Here's how some emerging journalists are creating innovative ways of teaching and delivering journalism, prioritizing underrepresented voices and charting their own paths into the industry.
Before I Die
Aaron Guillen, a 2019 graduate of British Columbia Institute of Technology's broadcast journalism program, was temporarily laid off from his multimedia journalist gig at Goldstream News last spring. While Guillen was rehired by Goldstream News through a workshare agreement, he said the journalism job market can be difficult to navigate as a young journalist.
Guillen, who has since left Goldstream News and started working at Capital Daily as a reporter in February, said he thinks it's "almost necessary" for student journalists to have a side project to stay passionate about journalism and show future employers that they can take initiative.
On the other hand, he said that this can be a "double-edged sword" — that the culture of passion and side hustling can be used to undervalue young journalists' work once they start working at a newsroom or freelancing.
"Even before the pandemic, young journalists are willing to do anything they can to get in the door," said Guillen. "I don't have a problem with trying to get your foot in the door and doing whatever it takes, but you really have to understand that your time is money."
Guillen said that sometimes early career journalists might take low pay or work overtime "for the sake of nothing."
"I was working, God knows, like an hour or two extra after I finished my job for a couple of months, thinking that I needed to prove myself and not knowing my own value as a journalist," said Guillen, referring to his job at Goldstream News.
He said he was not compensated for his overtime between September 2019 and December 2019.
For Guillen, his own project — the Before I Die podcast — was something that renewed his interest in radio and podcasting.
While Guillen was temporarily laid off, he found himself contemplating his work prospects, feeling lost, until he asked himself a question: "What do I want to do before I die?'" And a new podcast was born.
"Throughout that week of realizing that I didn't have a job, I kind of questioned what my value was if I wasn't a journalist," said Guillen.
In Before I Die, first launched in June 2020, Guillen interviews his friends on their experience of crossing off items on their bucket list. Guillen said the podcast gave him the chance to slow down and think about what he was "putting out there in the world" and helped sharpen his radio and podcasting skills.
While Guillen said he really enjoyed working on it and that it takes up a special place in his heart, he said he still had to find a way to make the project marketable to a wider audience. It was another way for him to add to his radio and podcast portfolio, an area of journalism he wants to pursue in the future.
"Potential employers could hear this and say, 'maybe he would do well on CBC radio,'" said Guillen. "It's my way of saying, 'Hey, this is what I can do without any help or assistance from a larger company. So hire me.'"
More podcast projects:
Trick Magazine
Last summer, Ryerson journalism student Natalie Michie managed to land an unpaid internship with a magazine. She said she's happy to get experience writing, receiving edits and being published, despite not being compensated, because it's been difficult finding journalism work during the pandemic.
"I feel like as a journalism student, you can't just be a journalism student," said Michie. "You always have to be freelancing, always be writing for a publication, always working on some side hustle because that's how you get real work, real life experience."

She said that while working on journalistic activities outside of school gives students the opportunity to know what it's like to be a journalist, her work is still valuable even though it is unpaid.
But the culture of having so many side projects, said Michie, promotes an unhealthy standard of productivity among students.
"There's like this overarching feeling of no matter how much you do, you still might not be successful, you might not break into the industry," said Michie. "I don't know what the future holds for me or for student journalists in general. But I feel like it's definitely not as simple as just going to school, doing an internship, and then getting a job."
Michie said that running an intersectional feminist magazine, Trick Magazine, with her friends has helped her practice her editing skills and taught her a lot about managing a publication. Michie has gone on to work as an editorial intern at Chatelaine.
Creating new magazines and online publications can hone journalistic skills while zeroing in on the content and coverage that student journalists feel is lacking in mainstream media.
Michie, Cheyenne Bholla and Raviya Singh founded Trick Magazine in March 2020. The arts magazine covers social, political and issues through an intersectional feminist lens and publishes poetry, art, personal essays and articles.
Michie said she found student publications at her school limited in terms of mostly covering Ryerson-related stories, and wanted to create a space "inclusive of all storytelling."
Michie said one of Trick's objectives was to "talk about things that legacy media won't" by providing radical perspectives and voices in their coverage.
She said she noticed that bigger media corporations approach Indigenous issues or Black Lives Matter through an establishment angle.
"The coverage of the Wet'suwet'en protest, I feel like it's always very centered around the government and the establishment," said Michie. "Same thing with Black Lives Matter. I feel like, a lot of times, we get the police perspective, and we don't hear enough from the people, the protesters and the organizers."
From poems about speaking out against systemic injustices to politics pieces on the forced removal of Indigenous land defenders from Mount Rushmore for a Trump rally, Trick's coverage centers around the stories and experiences of the marginalized.
Trick's Twitter account frequently retweets threads about defunding the police and Indigenous issues and the team hosted a virtual film screening of Black Panther in partnership with Climate Justice Peel in August 2020.
Michie says that Trick is a leftist political publication and looks at politics through a "radical" lens. In response to the series of racial injustices over the summer, the magazine created a politics section to explore current social issues more deeply and posted a call-out in the summer for Black and Indigenous artists to "uplift those voices during that time."
"It's made us think more critically about the work we're putting out," said Michie. "We like to post resources, and we definitely are in support of those movements. I feel like our coverage has definitely shifted towards that, because that's our priority."
The Collective
After three Durham College journalism alumni graduated from the Oshawa, Ont. school, they decided to revive their school radio show, The Collective, into a multiplatform news website.
Shanelle Somers, Meagan Secord and Jackie Graves launched The Collective's website and YouTube channel in June 2020. Somers says that at first, the group envisioned the project as a social talk show, similar to The Social on CTV, but they pivoted towards longform news with a talk show aspect where they could "have (people) tell their stories."
Graves said that they had all been interested in humanitarian-centered stories and wanted to "focus on amplifying marginalized voices."
The team has interviewed Black activists, wrote features on gaps in Canada's mental health services and filmed short documentaries on Indigenous students experiencing intergenerational trauma.
Somers initially thought she would go into entertainment and arts journalism but gravitated towards hard news and longform multimedia stories during journalism school.
"We spent a whole year focussing on Indigenous peoples and how to report and tell their stories properly," said Somers. "So when we started doing more with The Collective, we could quickly realize that, 'Hey, we have a voice.'"
Graves said she feels that big news organizations don't get into "the deeper side" of Indigenous issues and Black Lives Matter whereas The Collective tries to dive into these topics through the perspective of one individual. She said that The Collective is a platform where "people of colour, people of Indigenous backgrounds" can tell their own stories.
"We're giving them the ability to access our audience in a way where we're not interfering too much, which isn't to suggest that regular news institutions do, but you get a more personal feeling from the material that we create," said Graves.
In their advanced reporting class at Durham, Somers and Graves were taught the "community-based model of sourcing out stories" which Somers describes as the practice of prioritizing the experiences and insights of community members during the newsgathering process.
"It was flipping the switch. Instead of being like, 'There's this event that's happening, I'm gonna go cover it and look at it from our lens,' we were looking at an issue from their lens," said Somers. "And I think we've adapted that for The Collective."
This spring, before they picked things up again with The Collective, Graves and Somers were getting ready for the last semester at Durham — the internship placement.
They were both excited to start the internship they had secured; Somers had landed an internship at CBC's Ontario Morning show while Graves was asked to return to Metroland Media's Oshawa branch, where she had previously done seven-week general reporter placement.
Unfortunately, both their placements were deferred or cancelled due to the pandemic. To get a grade for their term, Graves took on a managing editor role for the college paper and Somers, who works a retirement home, wrote a series about her experience working during COVID-19.
Despite losing out on professional opportunities, Graves and Somers think the pandemic also presents an unique opportunity for students to start their own projects and be able to reach more people with their content.
"For us, it was very much like, 'We have the time now, why not do it? We have the platform, why not do it? People are sitting at home, why not do it?'," said Somers.
Graves also said that the network of young journalists starting independent publications is a supportive community. The Collective did an interview with The Pigeon's social media manager and staff writer, Brandon Wright.
"We support each other," said Graves. "I think that as long as we, journalism students, journalism grads, stick together and we continue to hone our skill sets and build each other up, we'll make it through this difficult time."
More online publications:
The 'anti-journalism school' newsletter
Unsatisfied with the lack of diverse faculty and unempathetic approach to teaching journalism at her journalism school, Sarah Krichel decided to find a way to provide mentorship to young BIPOC and LGBTQ writers without having to go to journalism school.
"I think in a very interpersonal way, J-school did not show me that they cared about my success and about my career," said Krichel.
In July 2020, she launched a Patreon campaign, with tiers supporting everything from a twice-monthly newsletter to one-on-one story meetings to pitch email editing.
Krichel said that she felt journalism school taught journalism in a one-size-fits-all approach and didn't consider the individual experiences and situations of its students. She said that journalism school failed her because it wasn't there for students with mental health issues, which she experienced during school.
"Behind the scenes, it's very much about the reporter themselves and what they're personally pouring into a story," said Krichel, adding that she thought J-schools didn't teach journalism humanistically.
She wanted to create a place where she could provide journalism education to young reporters without having to go through the academic and bureaucratic barriers she went through.
Krichel, a former editor-in-chief of Ryerson's campus newspaper The Eyeopener, said she used a case-by-case approach when working with reporters, being cognisant of personal experience, access to resources and privileges.
She said she enjoys mentoring young, racialized writers from her time at The Eyeopener and helping them build their confidence in writing. Her patrons include high school and university students, particularly people who "just really need somebody to say that somebody believes in them."
In her Patreon description, Krichel says she is "anti-journalism school." Her newsletter, with membership costs ranging from $5 to $13 per month, aims to teach her audience that journalism school isn't necessary in order to have a successful career.
"How to teach journalism is to be aware of the way that traditional journalism has failed, not only a lot of communities, but a lot of people who need work," said Krichel. "Labour rights is another huge issue in this industry."
Talk Media
Adam Chen, a recent graduate from Ryerson's masters of journalism program explored different kinds of journalism during his program but it wasn't until he came across live journalism that he found what he wanted to do.
Live journalism, as Chen describes it, are live events where journalistic content is presented on stage and sometimes performed, oftentimes with a mix of multimedia art, live music and other disciplines that enhance the storytelling.
He started his own company, Talk Media after applying for some jobs after he graduated and realizing he would rather work on live journalism instead.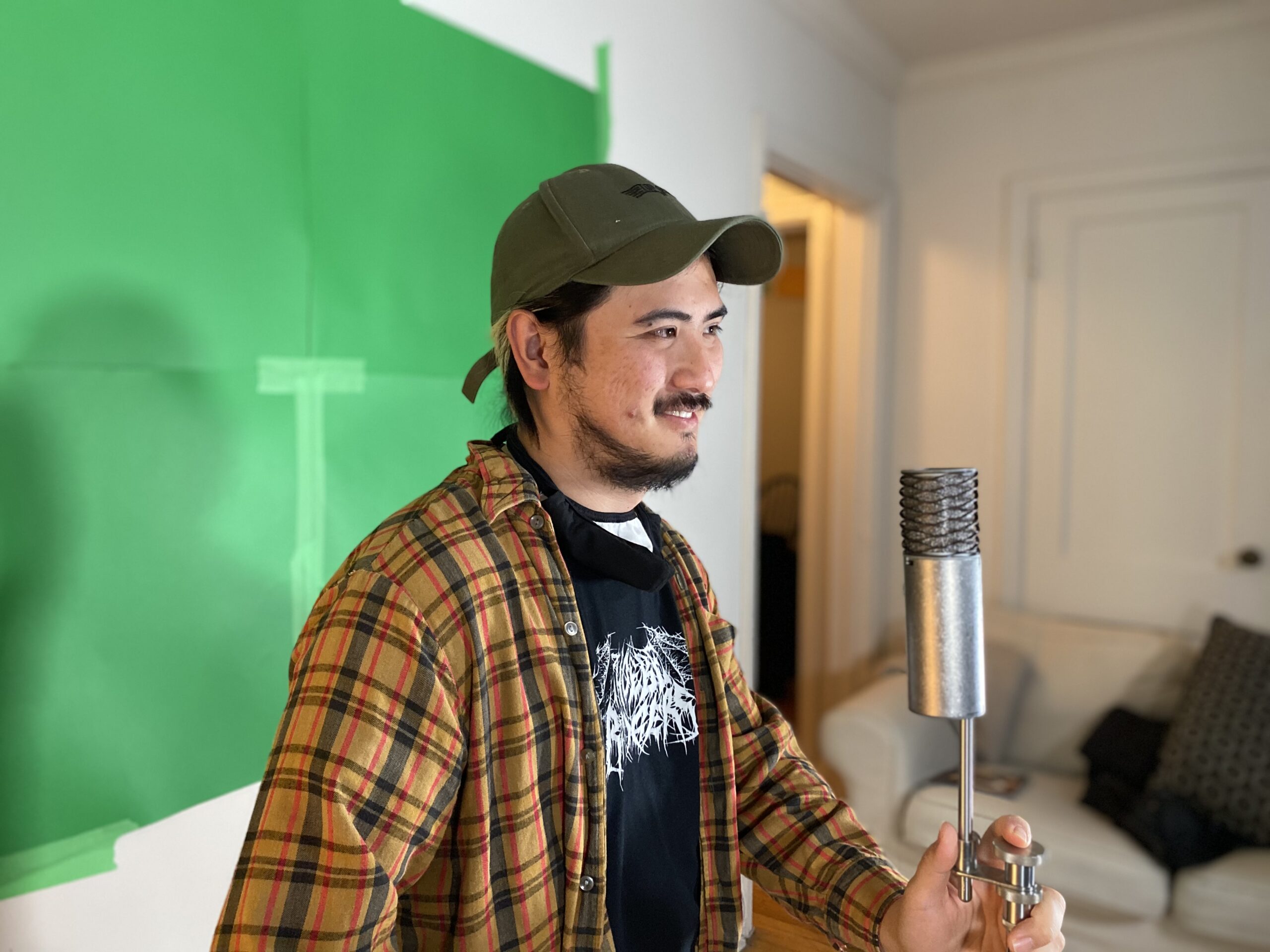 "I feel like this is something that I see looking towards the future and creating opportunities as opposed to clawing after the ones that are disappearing," said Chen.
Talk Media is currently working on two different pilots, with around two to five team members ranging from journalists to artistic directors. Since the pandemic hit, he's been creating live interactive digital projects instead of in-person events.
The company is also a part of two Ryerson startup incubators, the Social Venture Zone and Transmedia Zone. They were also recently accepted into the Google News Initiative bootcamp.
Chen said he gained an understanding of the potential of collaboration outside of journalism through Talk.
"So bringing in people, not just as sources, but as collaborators in storytelling," said Chen. "I think there's a lot that can be learned from people from different backgrounds, different creative or technical background.
Chen said a main trait of his project is being "anti-algorithm", bypassing social media and getting people to consume journalism in person. He said that he spends a lot of money on events and sharing experiences with friends.
"It's kind of like realizing that if I just align high quality storytelling with existing behaviors, I think that's something that has the potential to work," said Chen.
He compared that with news outlets aligning journalism with free Internet reading that gets users used to free online articles, which poses problems as outlets move towards paid articles or subscription models.
While he isn't certain if entrepreneurship or the startup space is the best option for aspiring journalists, he does believe that the future of millennials involves some entrepreneurial qualities.
"Being able to organize your time, understand marketing, understand the business side of things on top of the journalism side of things, is the future of journalism, if there is a future," said Chen.
More experimental projects:
Paper Plane is a biweekly, paid newsletter created and edited by a Carleton journalism masters graduate that publishes original stories from Canadian journalism students. The newsletter costs $8 per month to subscribe to.
Different Minds is an Instagram and YouTube-based media platform covering Montreal news, music, sports, culture and political issues. It was created by two Concordia journalism students.