How The Discourse is reinventing the local newspaper to fight polarization
This post was originally published by The Discourse and appears here with the editor's permission
It's been a year since The Discourse launched a campaign to take our model of community-driven investigative journalism national.
A lot has happened since then. Despite falling short of our funding, we built and launched the beta of our new member-powered news outlet: The Discourse. We wanted a model where individuals, instead of advertisers, contributed to our work so we were directly accountable to the public.
We attracted our first 850+ members. We published national investigations that are having an impact, such as reporter Brielle Morgan's Mom On Trial series where she's spent 22 days in court following the surprising turns of an Indigenous mother's child welfare trial.  Our stories on housing and reconciliation in small towns were recognized by national and international awards. Our data journalism project Tracking Trans Mountain added critical context and evidence to a huge political and environmental story mired with misinformation. We were racing towards our vision of an independent, national investigative news outlet serving Canadians.
And then we hit a major setback.
This post isn't about that setback. But I will share that story in a couple of weeks because it says a lot about startup and media funding in Canada. (If you subscribe to The Discourse weekly newsletter here you will receive that update, a real-life story of raising funding for journalism in Canada, in your inbox.)
For now, here's what you need to know: our funding was cut significantly with little notice. Layoffs were necessary. With fewer resources than expected, we had to ask ourselves some difficult questions: how could we continue growing The Discourse and have a real impact with less bandwidth? The words of Jessica Lessin, founder of The Information, offered guidance: new media outlets flourish when they focus on what they are 10 times better at than others. Yes, we could produce award-winning investigative journalism, but were we 10 times better than the CBC or the Globe and Mail at that? Sacred cows were slaughtered.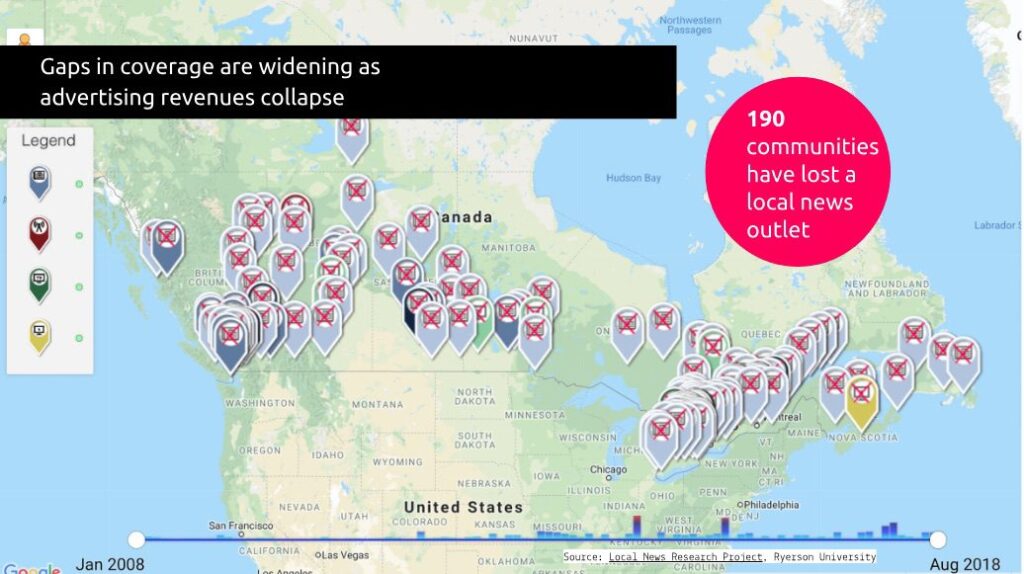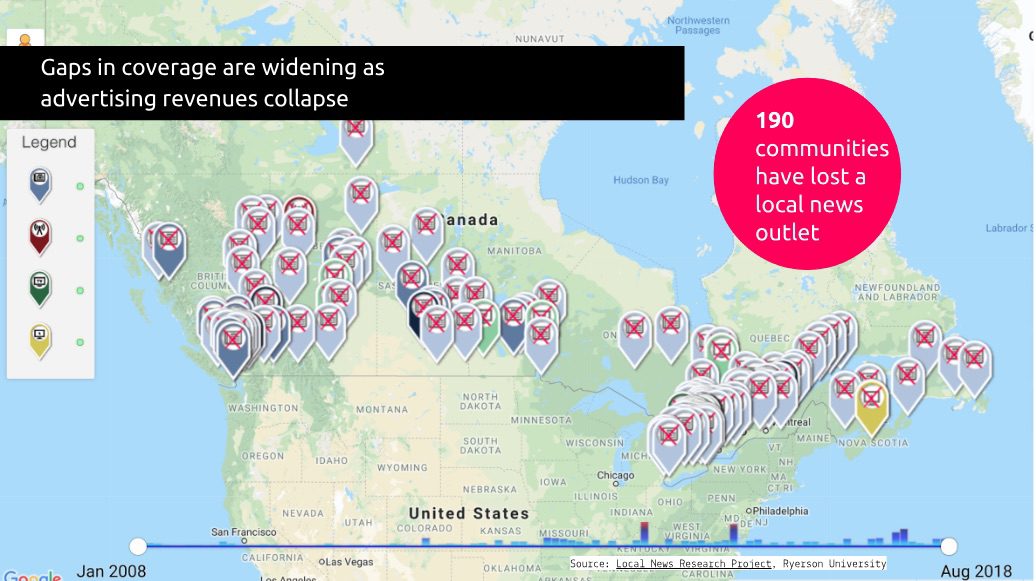 Meantime, a lot was happening outside The Discourse's offices.  Trump no longer seemed like an aberration. The global wave of populism that delivered his presidency seemed closer to home after the Ontario and Quebec elections. Facebook's efforts didn't curb the toxic online environment that supported spreading misinformation, nurturing hate and undermining democracy. People on all sides of the political spectrum weren't feeling listened to. Our communities never seemed more divided.
This is the context in which The Discourse took a hard look at our past work and considered our future. When we analyzed data about our stories that both attracted audience and had a measurable impact, a theme emerged: the best stories were those that were firmly rooted in distinct places, produced by journalists who nurtured real relationships with their community. Our most successful stories were the product of listening deeply to diverse people excluded from media and political dialogue.
Our next step was to turn to those first members of The Discourse. Why did they choose to support us? By analyzing analytics data, surveying our members and interviewing people we wished were our members, a picture emerged — and it surprised us. The Discourse had been organized around beats, deep coverage of a specific topic. So we assumed the majority of our members supported us because they cared about a specific issue we reported on, be it child welfare, sustainable development goals, reconciliation. We were wrong.
Instead, they valued our process and wanted to see it applied to a wide variety of topics. They wanted in-depth, nuanced journalism, the kind of stories produced by slowing down to listen to people other media are not listening to. They valued how we served the public, instead of advertisers or interest groups. But, most importantly, they wanted media that helped them deepen their connection to their community, to get out of their bubbles and experience the diversity of their cities.
And so The Discourse went local. We are focusing on in-depth coverage in three communities: Scarborough, Cowichan Valley on Vancouver Island, and the urban Indigenous community of the Lower Mainland. We chose these places after analyzing which communities were most underserved by media, and finding that places with young, diverse, growing populations often experience news poverty. With 260 local newspaper closures in 190 communities, there is local demand for in-depth coverage (documented most recently by the Public Policy Forum in Mind the Gaps) in many places across Canada. We imagine growing into a network of journalists embedded in communities underserved by media.
Our goal is to develop a sustainable and replicable model for community journalism. To go back to Lessin's question, we believe the key is excelling at community engagement by listening deeply and responding to the public's journalism needs.
Journalism is an important part of the social fabric that unites us as communities. And our hope is that developing a new model of community journalism alongside our members in Scarborough, Cowichan and the Lower Mainland will contribute to the growth of a robust media ecosystem and a more healthy democracy.
If you'd like to get involved with The Discourse or learn more, get in touch.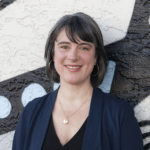 Erin Millar is the founder and CEO of The Discourse and co-founder and CEO of Indiegraf.