Introducing Staying Alive: Preserving Local News in Canada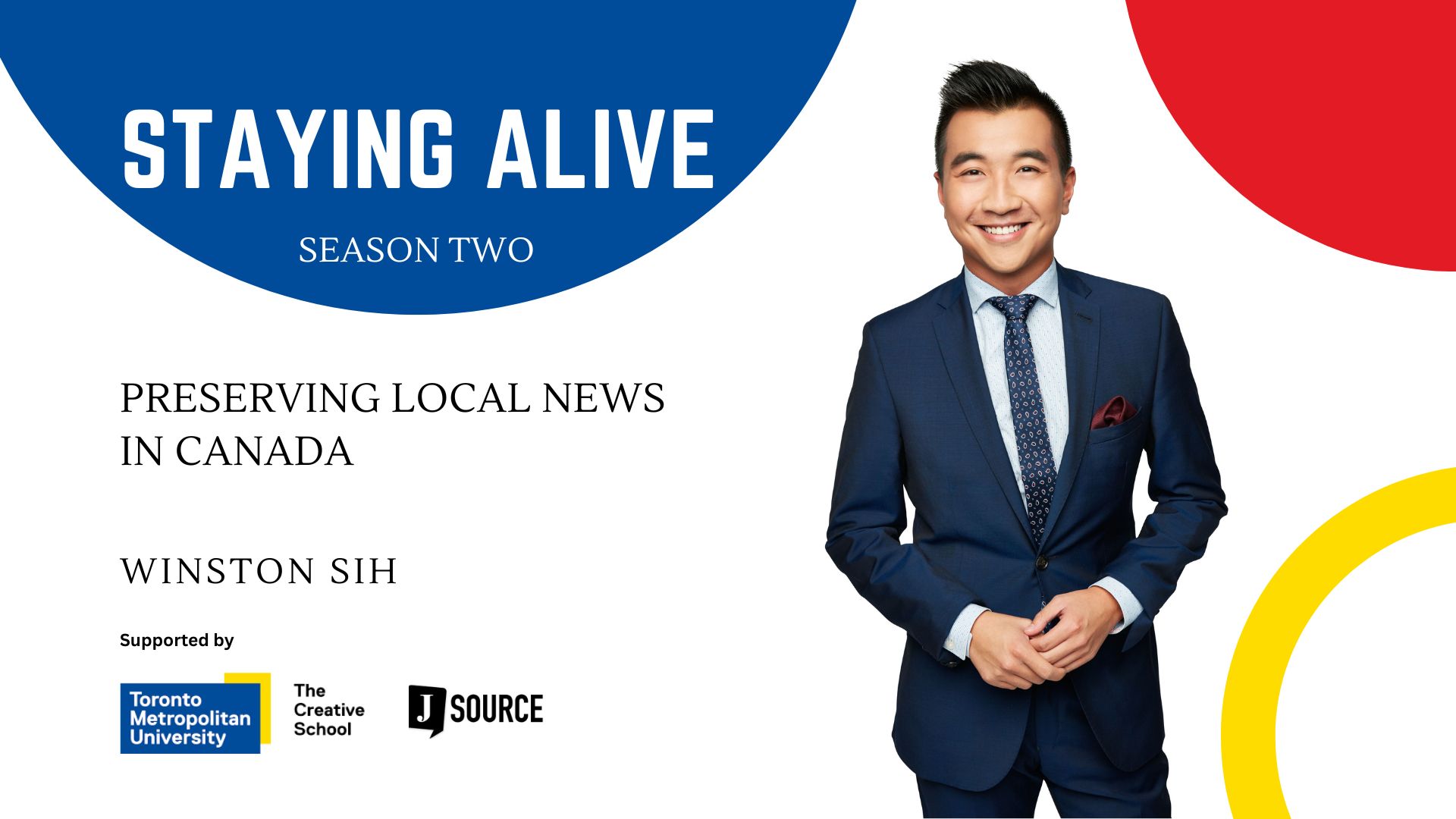 Amid a rapidly evolving landscape three years into a global pandemic, local media continues to show significant shifts towards streaming and on-demand content. Pew Research Center's 2022 survey on news media trends showed that 64 per cent of adults still get some form of news from terrestrial television, while a third will still prefer to watch broadcast news over listening to the radio or reading a newspaper. With attention to legacy platforms like television and radio on the decline, where do journalists, producers and editors strike the balance, while appealing to new digital audiences?
In 2019, after Winston Sih had spent eight years in broadcast at Breakfast Television, CityNews and more, he set out to learn more about what had changed in broadcast news and what was to come. He left City to complete a master of arts in media production at Toronto Metropolitan University. With a research focus in media business and the critical issue of local news sustainability, Sih created Staying Alive, a limited series podcast highlighting important conversations dedicated to tangible solutions and strategies fit for today's economy amid an ongoing pandemic.
The first season, "Keeping Canadian newsrooms alive, vibrant, and diverse," was published as part of Sih's research in 2021.
Season two, "Preserving Local News in Canada," launches this week in partnership with J-Source and Toronto Metropolitan University. Building on his graduate work, Sih is joined in conversation with a panel of experts to explore another set of issues in local journalism, including changes in content distribution, freelance journalism, artificial intelligence, growing trust with the public, regulatory issues, representation and mental health in newsrooms.
Stay tuned for Staying Alive's eight-part season, which will be available wherever you stream your podcasts and on J-Source, complete with episode transcripts.
To get caught up on season one of Staying Alive, visit Sih's website or tune in here:
S01E01
The Issues with April Lindgren
Understanding the issues of local news today: How it started and how it's going. We take a look at the critical issues in the business of journalism and areas of opportunity.
S01E02
The Business with Colette Watson
The evolving business models of local news, successes, challenges, and the importance of considering diversity in public policy.
S01E03
Growing Digital with Jeff Elgie
Strategies to grow a digital-only news publishing business, and how to define local in a globalized, streaming market.
S01E04
The Future with Irene Berkowitz
With social media becoming a major distributor of local news, should they have a role in funding the sustainability of our newsrooms? Reflections from a professor on the future of local media.