What Jessica Johnson has planned for The Walrus
Who is Jessica Johnson?
The new executive editor and creative director of The Walrus wasn't even among those floated as a replacement for Jonathan Kay, the oft-controversial journalist who helmed the magazine from 2014 to 2017. She joined The Walrus in June of last year, when she was brought on as its creative director and senior editor. Before that, she held a host of jobs spanning magazines, television and corporate work. She has a scant 890 Twitter followers at press time, and uses the app mostly to share links to Walrus stories and snippets of her own life.
But now, she has been given an enormous opportunity to help shape Canada's answer to The New Yorker or The Atlantic — one that comes with all the incumbent responsibilities. Here's what she plans to do next.
After Kay
First things first: Johnson is very much not following Kay's model. "I'm sort of a 180," she said.
It's not surprising: Johnson expressed some frustrations in a profile of Kay in the Spring 2017 issue of the Ryerson Review of Journalism. "My efforts to make Jon understand the plight of the disenfranchised have been very — not unsuccessful — but just not worth my time," she told reporter Justin Dallaire.
However, Johnson credits her predecessor for bringing The Walrus into the digital era and making it a publication that a wide audience reads. But what she wants is something quite different. "He had a strategy that's different than mine is — which was like, more eyeballs at any cost," she said. "I was like no, just getting attention isn't the same as getting good attention or meaningful, lasting attention."
When Kay departed from The Walrus in 2017, it was in the aftermath of the appropriation prize controversy.
In an essay penned for the National Post, Kay clarified that he left of his own accord. "I also want to push back at the notion that my resignation is intended as some sort of indictment of The Walrus itself; or that I am trying to present myself as a victim of top-down censorship," he wrote.
Over his tenure, there was good — subscriptions to The Walrus remained steady, and digital traffic went up — and there was bad. Just a year into his new job, Canadaland reported on the "chaotic inner workings" of the magazine, which included allegations of editorial theft and a toxic work environment.
Kay started what could be described as a perpetual hot take machine. Kay would publish a story or write an editorial — he once argued that class was a more pressing schism for Canadians than gender or race, for example — that people would angrily react to, while sharing it. A few days later, a response would appear on The Walrus site, that people would then also share. And so on.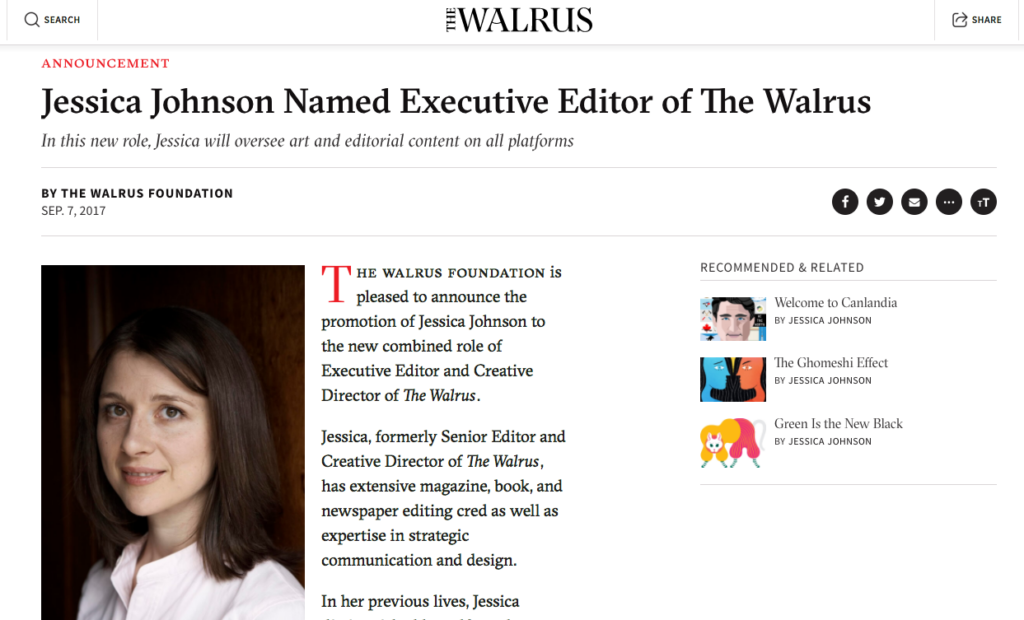 Empowering The Walrus community
If you find Johnson's byline in The Walrus, it's most likely to be attached to a feature reported piece, not an opinion piece. That's by design. She has a very clear sense of what her role at the magazine is.
"The days when a magazine like The Walrus would be branded around one person has changed," she said.
"It's not about being a thought leader right now. It's about empowering the people that belong to this huge community — which is what it has become now, if you look at our editors and writers — and letting them tell the best stories."
Part of Johnson's role as creative director was making the brand of The Walrus more cohesive. She's thought a great deal about how to move the magazine forward.
Part of that is looking to Walrus Talks, an offshoot of The Walrus that hosts talks about issues important to Canadians across the country. Johnson admires the civil space for debate the Walrus Talks create. "That's a really interesting model for how to have a Canadian conversation right now."
Johnson knows that to continue that conversation, she needs a greater diversity of voices in The Walrus. After the appropriation prize controversy and Kay's departure, a Walrus contributor told the Globe and Mail that "reconciliation is a theme the magazine has to explore."
Rather than look at other Canadian media organizations, she's studying cultural institutions like the Banff Centre for Arts and Creativity and the National Film Board, which have successfully instituted programs aimed at supporting creators of diverse backgrounds.
"I have to say I feel a little bit like I am in uncharted waters," she said. "Because when I am in Canada, I don't see some incredible media mentor for me that I can just copy. There is no one to run to — I feel like we're it."
But that comes with benefits as well. The Walrus, Johnson said, is currently in a very good place — a non-profit run magazine with a stable circulation base and a growing digital audience. She doesn't have the economic anxieties other editors have to deal with. "What this means is that The Walrus is the most important independent journalistic voice in Canada right now," she said — which, Johnson also understands, is both a huge opportunity and a huge responsibility.
H.G. Watson is currently writing a story for The Walrus on a freelance basis. She has no professional conflict with anyone mentioned in this piece.
H.G. Watson was J-Source's managing editor from 2015 to 2018. She is a journalist based in Toronto. You can learn more about her at hgwatson.com.