The Journalism Fund Tracker
This initiative is a co-production between J-Source and the Canadian Worlds of Journalism Study research team.
Journalists react to the details – and lack thereof – in Ottawa's news package
By Lisa Taylor
Week of March 25, 2019
A close read of the details of the federal Liberals' plan to boost the Canadian news media industry reveals an approach that favours legacy media and may leave some of the country's scrappiest and most noteworthy startups in worse shape, relative to their old-guard competitors.
Among the most glaring obstacles to entry for those new-media pioneers is the requirement that an eligible news organization have at least two employees who are not also owners of the enterprise.
Tim Bousquet, the investigative journalist who founded the Halifax Examiner in 2014, says his digital news site has succeeded because he is a cautious and prudent business owner—Bousquet says he's never taken on debt and pays his bills on time.
The Trudeau government's tax subsidy for journalism puts the @HfxExaminer in an impossible situation, writes @Tim_Bousquet https://t.co/OrX0hzEIfx pic.twitter.com/2ne6dit5Mw

— J-Source (@jsource) March 27, 2019
Now, Bousquet says, the only way the Examiner can be eligible for support from the feds is if he abandons his conservative approach to business. "[I]f I'm going to chase the subsidy for the Halifax Examiner, the company needs to go into debt, and significantly so, with the hope that the new reporters generate enough new subscriptions to pay for themselves by some point in the future," Bousquet writes. "This goes against every guiding principle under which I've operated the company so far. Going into debt means placing the future of the Halifax Examiner at risk."
Bousquet also notes that startups like his that don't meet the funding criteria will find themselves in a worse position as they go up against government-subsidized behemoths. It's a concern shared by Erin Millar, founder and CEO of the Discourse, who says that Canadian journalism entrepreneurs are on even shakier ground as a result of the Liberals' decision to privilege the interests of legacy newspapers. "We don't need a handout," Millar wrote. "But a policy that actively disincentivizes new media outlets from launching and growing to serve the information needs of Canadians is bad policy."
We're not looking for a handout, writes @thediscourse's @erinmillar. But we didn't expect the government to distort the playing field so dramatically https://t.co/3PxpGuohxT pic.twitter.com/fb1Q99qwkn

— J-Source (@jsource) March 25, 2019
David Skok, founder of the Logic, picks apart one of the biggest head-scratchers in the package: speciality or niche publications won't be eligible for federal support, but general-interest publications can use funds to offset the cost of journalists reporting on specialized beats.
In an editor's letter, Skok accuses the government of "creating a two-tiered system where publications that 'primarily focus' on current events yet also happen to have a sports or arts section will get all of their reporters subsidized—but a publication that does the inverse will get nothing."
https://twitter.com/dskok/status/1109452352250150913
Christopher Waddell, J-Source publisher and program director of Carleton University's Bachelor of Media Production and Design, also takes issue with this requirement, noting that "it is precisely those specialized publications that are persuading audiences to pay for distinctive and high-quality information online that has depth and can't be found elsewhere."
"Where do those audiences get the information they used to get from newspapers? Are they satisfied? What do they miss? We don't know. If nothing, subsidies won't fix that problem," writes @cwaddell27 https://t.co/Bq8PXrCpRm pic.twitter.com/QzbnAW49vr

— J-Source (@jsource) March 22, 2019
Week of March 19, 2019
The March 19 federal budget included details of a long-awaited bailout for the Canadian news industry, but specifics about how those funds will be dispersed — other than to say that "an independent panel" will hold the purse strings — were notable in their absence, said journalism researchers Heather Rollwagen and Ivor Shapiro. "How that panel will be chosen is just one of several obscure or questionable aspects of the government's approach, likely to be at the centre of debate as this election year proceeds," they wrote for the Conversation Canada.
Journalism industry bailout outlined with no details on oversight panel https://t.co/I8HIstFWyo pic.twitter.com/l0zW9yuzsR

— J-Source (@jsource) March 19, 2019
The panel composition wasn't the only aspect of the announcement criticized for its lack of transparency. The Canadian Association of Journalists said the feds fell short on "a number of transparency steps recommended by the CAJ including that the panel defining journalism eligibility have its terms of reference, meeting agendas and minutes be published online."
#Budget2019 includes major changes for #cndmedia. The CAJ welcomes certain details of the government's $595 million for journalism while acknowledging several shortfalls—especially concerning transparency and tax credit. Here's what we have to say: https://t.co/c7sOAOGKco pic.twitter.com/NCKVA1RPhW

— Canadian Association of Journalists (@caj) March 20, 2019
Unifor, Canada's largest media union representing workers at organizations such as the Toronto Star, the Globe and Mail and the Toronto Sun, stressed that the budget "lacks the urgency required to implement needed emergency aid to local news."
"We have lost 250 news media outlets and thousands of journalists in the last ten years. We're going to keep losing them until we find sustainable funding for local news," Jerry Dias, Unifor's national president, said in a statement. "Action is needed now to set up the independent agency we need to make basic rules about who is a professional news journalist and who is not."
#Budget2019 contains some promising measures to aid Cdn newsrooms but action is needed now to set up the independent agency to facilitate much needed aid for local journalism. #SaveLocalNews pic.twitter.com/8nr2esbnt3

— Unifor (@UniforTheUnion) March 19, 2019
The Quebec Community Newspaper Association said that Morneau's budget missed the mark.
"We were confident the government would help strengthen smaller newspapers. Many local papers have closed in recent years, and some are barely hanging on. When a local paper closes the community at large suffers," said Lily Ryan, interim QCNA president, in a press release.
The budget began to lay out eligibility criteria for QCJOs – Qualified Canadian Journalism Organizations – which the QCNA says exclude their members and won't help support the local journalism a program like this should be benefiting.
"Some of our member newspapers do not have the resources to employ more than one journalist and often, the editor also writes news articles," said QCNA executive director Sylvie Goneau. "With today's announcement, small newspapers are at a greater disadvantage as the corporates gain a tax credit, with nothing for the most precarious ones."
Some journalism startup founders seem to agree, noting that the way Ottawa has designated QJCOs rules them out from the get-go.
That criteria makes the Halifax Examiner ineligible.

— Tim Bousquet (@Tim_Bousquet) March 20, 2019
https://twitter.com/dskok/status/1108395499269160960?s=21
Wow. @sprawlcalgary will be ineligible for all of this because we don't employ 2 or more journalists. Meanwhile Postmedia will be eligible. INNOVATION! #cdnmedia https://t.co/hLYWgTZ4fa

— Jeremy Klaszus (@klaszus) March 20, 2019
Also: @JoeyColeman, Hamilton's indie crowdfunded journo and a big inspiration for @sprawlcalgary, is also ineligible. As is @TheDeepMag, another Sprawl inspiration.

— Jeremy Klaszus (@klaszus) March 20, 2019
"The devil will be in the details of the eligibility criteria," wrote Halifax Examiner founder and publisher Tim Bousquet, "but it already seems designed as a big tax giveaway to legacy media."
The Trudeau government's tax subsidy for journalism puts the Halifax Examiner in an impossible situation (Morning File) https://t.co/IZedSumsEU

— Tim Bousquet (@Tim_Bousquet) March 22, 2019
Nor do the budget details appear to confer eligibility to Indigenous news startups. In the 2017 Shattered Mirror report from Public Policy Forum, the think tank offered recommendations for a government package that included establishing an Indigenous journalism initiative to fund training and create supports for APTN to administer national development of Indigenous media. The federal budget doesn't indicate any supports for such programming, noted J-Source.
Editor-in-chief of digital-news magazine the Narwhal questioned the fact that "industry-specific news, sports, recreation, arts, lifestyle or entertainment" publications would not be eligible for funding. "The latter point is troublingly vague and already raising questions for outlets that focus on specific topics," Emma Gilchrist wrote. "(H)ere's hoping the independent panel clarifies that point pronto."
Tax breaks, labour rebates and, at long last, the possibility of charitable support for news. Via @reporteremma https://t.co/e45sLH4Wx0 #Budget2019 #Ottawa #cdnmedia #cdnpoli

— The Narwhal (@thenarwhalca) March 20, 2019
Since the plan was first announced by the finance minister last November, there has been no shortage of criticism that funding for news organizations would be tantamount to putting journalists on the federal government payroll and would effectively kill an independent press. The Toronto Star reported that an unnamed PMO official said that accusations that the federal Liberals were trying to "buy off" the media led the government to slow down the rollout of the relief measures.
20. It will require secrecy and an indifferent public. It will require those things FROM the news media (just look at how little coverage this is getting today). It has already corroded public trust in journalism, which was already at a low-point.

— Jesse Brown (@JesseBrown) March 20, 2019
But that timeline is still a point of contention —while the federal Liberals likely delayed the rollout to avoid the perception that they were buying good coverage in the months leading up to the fall federal election, others say the industry can't wait. While Globe and Mail publisher Phillip Crawley was quoted in the paper he oversees as saying that he would "support any initiative that helps that type of journalism thrive in our industry," he was critical of the feds' timeline. "[I]t is clear nobody will get any instant help from the proposals," Crawley said. "There isn't going to be a sudden infusion of money into the industry any time soon."
I like how carefully this has been written to ensure Postmedia qualifies: pic.twitter.com/D4uk9i2A6w

— Jonathan Goldsbie (@goldsbie) March 19, 2019
At this stage, it appears the plan will benefit the old guard rather than bolster innovative lean startups. "Most signs point toward the package benefiting legacy news corporations, which at present would be more likely to have the management and board structure required by the budget 'to ensure that registered journalism organizations are not used to promote the views or objectives of any particular person or related group of persons,' such as the requirements that they have an arms length board of directors or trustees," J-Source reported.
Who's weighing in on the proposed federal tax package? 
By Ania Bessonov
Feb. 19 update
In February, the Canadian Association of Journalists surveyed its membership to weigh in on the aid package in advance of the 2019 federal budget release. 
The survey asked CAJ members about whether they think that the intervention will "create the perception that journalists are beholden to" the government, and whether the CAJ should propose to government that it appoint and manage the panel that determines eligibility for federal aid.
The CAJ also released its preliminary submission to the government, although that document makes clear that the organization's final set of recommendations may differ, presumably based on member feedback from the survey.
Dan Rowe, J-Source book review editor and the coordinator of  Humber College's bachelor of journalism program, suggests that corporations maybe shouldn't be the beneficiaries of financial support to a dying industry.
Bail out the journalists, not their bosses, writes @pd_rowe https://t.co/K6995ewYjW pic.twitter.com/uzu0NQBrL4

— J-Source (@jsource) February 14, 2019
"No one should trust these people with the government's money or, more importantly, journalism's future," Rowe says.
But Canadian media critic Jesse Brown, host of the Canadaland podcast, argues in a recent series of tweets that some key voices are being left out of the process, following a closed-door meeting of news industry stakeholders.
5. 1st thing I noted was that one major "stakeholder" wasn't represented: the public. Our mission was supposedly to figure out how best to serve the public. Crisis we were ostensibly there to fix was NOT how to bail-out the news biz, but how to get citizens the coverage they need

— Jesse Brown (@JesseBrown) January 31, 2019
While Canadian media watchers wait for the feds to put meat on the bones of the proposed package, a U.K. report into the state of quality journalism was released on Feb. 12. Coverage of the Cairncross Report on the Columbia Journalism Report's website noted the similarities between the U.K. report's recommendations, which call for "publishers and platforms (to) receive subsidies and tax breaks and that they be subject to codes and regulations," and the Canadian government's proposal.
January roundup
No one could accuse the reporters, columnists and op-ed writers covering the federal Liberals' proposed $600 million Canadian news media industry bailout of pack journalism.
Since the funding was announced late last year, journalists and industry experts have offered a range of opinions, with some suggesting the aid package is core to democracy, while others see it as antithetical to democracy's free-press commitment.
Chief among the matters in dispute is whether journalism that is government-funded — OR government-aided, depending on your word choice and world view — is an affront to traditional journalism ethics, in that journalists' traditional independence will give rise to reporting that will be torqued to please federal government. Jesse Brown, best known as the publisher of the Canadaland podcast, wrote for Nieman Lab that the funding would "poison the relationship" between journalists and their audiences and, ultimately, drive those audiences away from made-in-Canada journalism in favour of coverage of Canada produced in the U.S. and U.K.  
Similar concerns were expressed by Terence Corcoran in the National Post, who characterized the funding as a "step backward" for the industry, declaring that "there is no way Ottawa's journalism-bailout scheme can pass any press-freedom test." The Toronto Sun's Lorne Gunter echoed the sentiment, positing that, given news organizations' existential fight, coverage of the governing Liberals will be more favourable than it would be in the absence of government funding.
Critics of the plan are largely silent on the magnitude of the problem, but the numbers can't be ignored. The Local News Map, a crowd-sourced tool that tracks changes to local media, shows a net loss of 169 local news outlets in Canada over the past decade, according to April Lindgren, one of the researchers behind the project.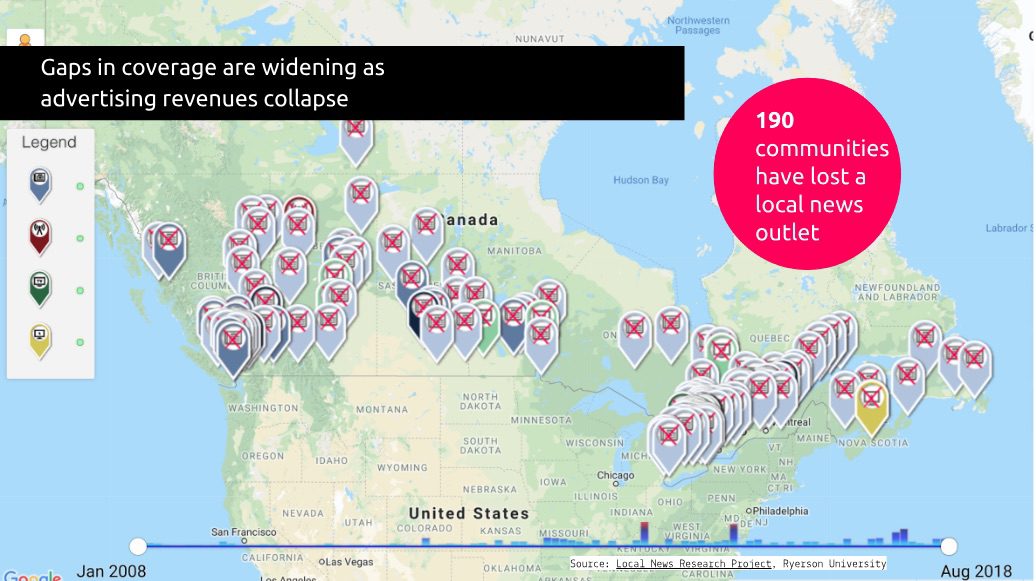 Proponents of the plan, on the other hand, have detailed the ways journalism is already dependent on government or other influences such as advertisers, and argued that those existing relationships of dependence have not undermined a free and independent press. "The notion … that supporting public interest journalism is tantamount to undermining it, is false," columnist Toula Drimonis declares in Ricochet, citing a host of examples from the U.S. and the U.K of award-winning journalism funded by government and private donations. Bernard Descôteaux and Colette Brin, writing in Policy Options (here in English, here in French), also enumerate ways in which journalism is funded or otherwise supported by outside entities without any apparent undue influence on journalistic output.
Veteran journalist Bob Cox who, in addition to publishing the Winnipeg Free Press, is also the chair of News Media Canada, the industry association that led the lobbying efforts that resulted in the federal package, promises National Post readers that the package "is not going to make journalists any less prickly, self-righteous — or more pleasant."
There is concern, however, that the package could lead to softer coverage of the Liberal government. In its coverage of a Question Period session, Blacklock's Reporter quoted Conservative MP John Brassard as predicting, "If reporters write content that agrees with the Liberals, they get funding, but be critical of the Liberals, tough luck." While that concern has been echoed by other commentators, Jay Rosen of NYU argued in an interview with Canadaland's Jesse Brown that it's important governments have an obligation to ensure that information to sustain a democracy is available to citizens. Adding to the uncertainty is the question of what might happen to the fund if the Tories form the next government. The package would present a federal Conservative government with a "familiar choice," wrote Andrew Coyne for the National Post—the Tories would face the choice either to keep on Liberal appointees or "replace them with others of a more right-wing hue."
Other commentators have moved past the debate about whether federal funding will turn fiercely independent journalists into placid lapdogs of the Liberal government to focus on what has to happen to make this plan work. One of the key practical matters is definitional — which organizations will be eligible for funding? What metrics will be used to make that determination? And — perhaps the most provocative question — who defines who is or isn't a journalist? Jen Gerson, currently the journalist-in-residence at the University of Calgary's Faculty of Law, sounds a cautionary note, arguing in the Washington Post that the competition for funding will "lead to a national professional standard or credential that will inevitably centralize control over the media."
But that national standard is not necessarily one that has to be feared, according to Edward Greenspon and Ivor Shapiro. Writing for the Toronto Star, the authors cite the recent example of the establishment of a press shield law — which clearly delineates who is and isn't a journalist — as an example of how an answer to the "who is a journalist?" isn't necessarily fraught. Greenspon, president and CEO of the Public Policy Forum (a think tank that published the Shattered Mirror news media study in 2017) and Shapiro, associate dean at Ryerson University's Faculty of Communication and Design, propose that the funding rely on a functional definition of journalism, arguing that defining journalists "by what they do, rather than who they are, should not offend press freedom."
Closely related to the "who is a journalist?" question is the matter of who will allocate the funds. The government has proposed that an arms-length industry panel make those decisions—a panel that Erin Millar, editor-in-chief of the Discourse, writing for Policy Options, says she hopes "will be diverse, in their background, geography and the type of outlet they represent." This diversity, Millar concludes, "will be critical for … credibility within the new industry," a theme that reverberated in the social media response to the announcement.  Media Indigena, an Indigenous affairs podcast and news site, questioned how many Indigenous news organizations will meet the funding criteria. Business and culture journalist Karen Ho called attention to the historical and ongoing lack of diversity in Canadian newsrooms.
Will have to check list to see how many Indigenous newspapers will qualify… https://t.co/CY9rqFIobl

— MEDIA INDIGENA (@mediaINDIGENA) November 22, 2018
While he doesn't think that government intervention was needed, if it's going to happen, it should include funds to invest in promising journalism startups, wrote David Skok, CEO and editor-in-chief of the Logic. Skok also argues that any funding model should privilege a news organization's commitment to original funding over the size of its newsroom.
Looking further ahead, Descôteaux and Brin point to the fact that it's not enough to dole out cash — that in order to truly be effective, the government or its appointees need to develop tools to measure the degree to which the funding achieves "the objective of supporting a diversity of strong and independent media."
The media fund reading list
A running resource for news, analysis, questions and complaints about the upcoming journalism tax package. Share links and thoughts with us using the hashtag #CdnJournalismFund. This list will be updated regularly.
"The government just made its toxic media bailout plan even worse." Andrew Potter, CBC News. May 24, 2019
"Postmedia hopes it can thread the needle between Kenney and Trudeau." Carl Meyer, National Observer. May 23, 2019
"Press question press bailout." Blacklock's Reporter. May 23, 2019
"Liberals' media bailout puts foxes in charge of the chickens." National Post, Chris Selley. May 22, 2019
"Liberals tap 8 new groups to help with media funding plan." Canadian Press. May 22, 2019
"Feds to list approved media." Blacklock's Reporter. May 15, 2019
"How a meeting of 'press barons' shaped the government's news bailout." Robert Hiltz, Canadaland. April 12, 2019
"New Conservative Party fundraising effort targets media over Liberals' proposed newspaper bailout." Justin Ling, National Post. April 10, 2019
"Letter from the editor: Tilting the playing field." David Skok, The Logic. March 23, 2019
"Ottawa's ill-conceived plan to 'help' the media only makes matters worse." Rob Breakenridge, Global News. March 23, 2019.
"Questions about who qualifies surround journalism supports in federal budget." Terry Pedwell, The Canadian Press. March 22, 2019.
"Liberals' journalism funding makes it harder to launch news startups." Erin Millar, The Discourse. March 22, 2019
"Andrew Coyne on the great threat to journalism." Howard Law, Media Action Plan. March 22, 2019
"Federal government's journalism plan prompts praise from newspapers, criticism from broadcasters." Kerri Breen, Global News. March 21, 2019.
"Government funding for journalism: To what end?" Chris Waddell, The Conversation. March 21, 2019.
"It's when you read details of media bailout that the chill sets in." Andrew Coyne, National Post. March 20, 2019.
"As Ottawa helps the news industry, latest research suggests journalists' loyalties are tough to buy." Heather Rollwagen and Ivor Shapiro, The Conversation. March 20, 2019
"It's when you read details of media bailout that the chill sets in." Andrew Coyne, National Post. March 20, 2019
"'Band-Aid solution': Ottawa sets aside $50 million to support local journalism." Stuart Thomson, National Post. March 19, 2019
"Budget gives go-ahead, and more details, for journalism funding." Public Policy Forum. March 19, 2019
"Budget 2019: Budget reveals details of government's news media fund." Charlie Pinkerton, iPolitics.ca. March 19,2019
"Federal budget 2019: Ottawa outlines criteria for media funding package, introducing tax credits, non-profit status." Sean Silcoff and Bill Curry, Globe and Mail. March 19, 2019
"Federal budget 2019: Ottawa outlines criteria for media funding package, introducing tax credits, non-profit status." Sean Silcoff and Bill Curry, Globe and Mail. March 19, 2019
"Journalism bailout outlined with no details on oversight panel." Steph Wechsler, J-Source. March 19, 2019
"Liberal budget lays out criteria for media assistance." Alex Boutilier, Toronto Star. March 19, 2019
"Liberals unveil tax breaks for media companies — and subscribers." Marie-Danielle Smith, Financial Post. March 19, 2019
"Media bailout after election." Blacklock's Reporter. March 19, 2019
"Statement on Journalism Measures in Budget 2019." Canadian Association of Journalists. March 19, 2019.
"What the federal budget offers Canada's struggling journalism industry." Emma Gilchrist, The Narwhal. March 19, 2019
"Liberal budget to include update to Trudeau's plan to support news industry. Staff, Canadian Press. March 16, 2019
"Media industry anxious for news in budget on federal plan to support journalism." Andy Blatchford, Canadian Press. March 15, 2019
"News, used, not the same." Blacklock's Reporter. March 14, 2019
"How to fix Canada's biggest media problem in one easy step." Marc Edge, J-Source. March 12, 2019
"Bail out the journalists, not their bosses." Dan Rowe, J-Source. Feb. 14, 2019
"Funding for Canadian Media: The who, why and how." Bernard Descôteaux and Colette Brin, Policy Options. Dec. 19, 2018 AND en français
"The dependent press." Jesse Brown, Canadaland. Dec. 10, 2018
"Canada's zombie media." Peter Menzies, Castanet. Dec. 7, 2018
"The whiff of the $600-million promise lingers." Roy Green, Global News. Dec. 2018
"Predictions for journalism 2019: Canada's subsidy for news backfires." Jesse Brown, Nieman Lab. Dec. 2018
"The new media package is great. Partisan hacking at it is not." Toula Drimonis, Ricochet. Nov. 30, 2018
"The inherent problems with government funding media." Lorne Gunter, Toronto Sun. Nov. 30, 2018
"Canada's media bailout will weaken trust in journalism. We should reject it." Jen Gerson, Washington Post. Nov. 30, 2018
"Seven ways to bail out the government's journalism bailout." David Skok, J-Source. Nov. 28, 2018 (originally published by the Logic)
"Public money for struggling media: but not without some concern." Marc Montgomery, Radio Canada International. Nov. 27, 2018
"Government funding won't damage journalists' independence. It hasn't before." Bob Cox, National Post. Nov. 26, 2018
"Federal plan for Canadian media funding not all it's cracked up to be." Wayne MacPhail, rabble.ca. Nov. 23, 2018
"The Liberal government's meddling in media independence has just begun." Terence Corcoran, Financial Post. Nov. 23, 2018
"Liberals' $600M aid package for news media will irrevocably politicize the press." Andrew Coyne, National Post. Nov. 23, 2018
"What does Ottawa's journalism plan mean for news innovation?" Erin Millar, Policy Options. Nov. 23, 2018
"Here's what the journalism industry has to say about Morneau's $600-million bailout." Steph Wechsler, J-Source. Nov. 22, 2018