N.W.T. is the only place in Canada where journalists have priority access to COVID-19 vaccines
Near the beginning of the pandemic, Yellowknife-based photographer Pat Kane began photographing residents through windows. Since then, as more information about safety measures and how to mitigate COVID-19 transmission emerged, he's been able to travel within the territory and photograph people in person – but always with caution.
"I mean, you don't want to be the person to bring anything into a community and impact the elderly or elders, especially within Indigenous populations. So it was always in the back of my mind and I was very cognizant of that, and very careful," he said. "I would ask permission and maintain distance, wear masks, especially in health clinics and things like that."
The Northwest Territories identified front-line media alongside teachers, grocery store clerks and librarians as early priority for the vaccine. The territory opened up vaccination access to front-line workers on March 1 and has since moved on to vaccinating the general population.
It is unique among Canadian jurisdictions in identifying reporters among priority groups.
On March 15, the International Federation of Journalists called on governments around the world to include journalists in priority vaccination groups in the wake of a high number of journalist deaths in South America. The organization said in Peru alone, the virus had killed 108 journalists.
There are no similar statistics in Canada. As vaccine access has lagged while the third wave has taken hold across the country, many journalists and newsrooms have consistently worked remotely, while others, such as photojournalists, continue to balance working in the field with the risk of infection.
The Canadian Association of Journalists has not echoed IFJ's demand.
The organization has been discussing the topic informally, said CAJ president Brent Jolly, but the shortage of vaccine supply and unstable rollout makes it difficult to take a position.
"There is such a lack of clarity around what's going on all the time," he said. "For a national organization, lobbying on this kind of thing is a challenge. You're dealing with 13 different systems. What's going on in Ontario is not what's going on in Newfoundland."
Each province and territory has taken a different approach to vaccine distribution. At the beginning of the pandemic, the federal government included "front-line news reporters" as essential workers during the pandemic.
While this designation exempted reporters from some lockdown and work-from-home restrictions, it hasn't translated to vaccine distribution for most jurisdictions in Canada.
Kane was immunized under a different eligible grouping, but said he has media colleagues working in smaller communities who would be grateful for the opportunity – not necessarily to protect themselves, but to protect subjects and sources.
"I did see when they opened it up to reporters and media and I thought that was good, if they had the means, then why not? I didn't see any blowback or anything like that," he said. "I'm not concerned about me getting hit (with COVID-19) so much as I am giving it away. So getting vaccinated was a good thing."
In phase two of their rollout plans, both Prince Edward Island and Newfoundland and Labrador are offering the vaccine to "front-line essential workers who have direct contact with the public and cannot work from home."
While journalists might technically fall under that broad category, neither province named them in lists of workers. All other provinces and territories have not specifically included reporters in their lists of essential employees.
"How do you determine who's more essential than someone else?" said Jolly, who agreed that few journalists would argue to be prioritized above seniors or those with chronic health conditions on the basis of their professional designation.
"I do think that the people who are on the front lines, such as photojournalists or people who are going out and covering protests or demonstrations, should be able to have access to the medicine to be able to inoculate themselves, because that's part of doing their job," he said. 
"They're just as exposed as cab drivers or manufacturing workers. So why shouldn't there be the same opportunities to access the vaccines that those people have?"
In the United States, the Centers for Disease Control and Prevention has included journalists among essential workers who have a "high risk" of infection and should be prioritized for a vaccine. Similarly, the U.S. National Press Photographers Association also lobbied for priority.
Carleton journalism professor Aneurin Bosley, who has studied the changes in Canadian newsrooms during the COVID-19 pandemic, noted that many journalists in Canada have been able to work almost entirely online through the phone and behind a laptop screen.
"It seems as if journalists have actually adapted to these conditions quite well. So what would be the argument for having a journalist prioritized over somebody else? Here, I think we just have to distinguish between what is essential work and what is work that essentially has to be done in person," he said.
Bosley said he can see a case for prioritizing front-line journalists for the vaccine, such as photojournalists or those covering long-term care homes. But the wide variety of roles in a newsroom – from editors to producers to social media specialists – makes it a complex policy question.
"There may be a few people within a news organization who would really benefit from actually being able to say go and see related facilities for themselves and talk to people in person. But, that's probably a fairly small number," he said.
Moira Wyton started a job as the health reporter for the Tyee just weeks before the pandemic began. She recalls being in a room of 40 people, getting a government update on COVID-19, just days before her employer instructed reporters to work from home.
"When I was at the Edmonton Journal, I was going to things like two, three times a day. I was all over the city, talking to people. It was a big change. It was hard for me to figure out how I could do my job without being there with people," she said.
Trust is harder to build as a faceless voice on the phone and questions are harder to push without a scrum. But Wyton admits she has been able to do her job remotely and doesn't think the vaccine is essential to her reporting.
"I plan to get one as a member of the general population. In my view, I definitely don't think I deserve a vaccine or need a vaccine faster than that," she said.
"There are reporters on my team whose stories are a lot more rooted in place and in communities where in-person meetings or being physically visible to the community is more important."
Cole Burston, a Toronto-based freelance photojournalist who spoke to J-Source as a member of the United Photojournalists of Canada, is one of those people who cannot work from his desk.
Burston's work covering the pandemic as a photojournalist has taken him from empty highways to the COVID-19 ward at the Scarborough Health Network. It has also forced him to make difficult choices to balance his personal safety, the risk of transmission and doing his job, particularly as a freelancer without access to employer-paid sick leave.
"Early on, before we knew just how it's transmitted, I was asking 'Am I am I part of the problem if I go out and like to look for stories?'" he said.
"We see (images) out of America and Italy and it's incredible, the response. And then out of Canada, we're seeing TikToks from nurses, a crappy cellphone picture. I wanted to come in and record this, because when this is over – and it will be over – we're going to want to see what actually happened."
Burston negotiated for nearly ten months to enter a hospital in Scarborough in order to document the front-line of the pandemic. He donned a mask and was instructed on items like face shields, gowns and gloves. In the back of his mind, he worried about the virus.
He notes that many journalists and photographers don't have the same access. Entering long-term care homes, for example, may present too much of a risk. Likewise, families or immunocompromised partners can make the decision to work even trickier.
For those reasons, he said he supports the vaccine being made available to photojournalists in order to protect them as they undertake the important job of documenting the pandemic.
Burston referred to Toronto Sun photographer Veronica Henri, who captured a heart-wrenching photo of a woman in a long-term care home being visited by her daughter at the window.
"That has a direct impact because you can see the hurt that COVID is causing," Burston said. "There's so many people out there, who have a story. Every day we see numbers: this many cases, this many deaths. That's just a number and we put the face to it. We put personality to these stories, we put a face to the issue," he said.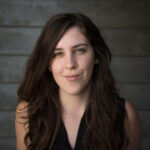 Haley Ritchie has worked as a reporter and photographer for newspapers across the country as a freelancer and staffer, from Ottawa to Whitehorse. In that time she has hung from cliffs, risked camera gear in leaky rowboats and bluffed her way into fancy ballrooms in pursuit of unique stories about people, politics and the outdoors. Follow her on Twitter at @hyritchie.