New tool tracks gender representation in Canadian news sources
Women are quoted one-third as often as men in Canadian news stories, says a resource centre dedicated to closing the gap, as it unveils a new project to monitor the discrepancy. Informed Opinions, a project under Media Action – a non-profit organization that aims to improve the representation of girls and women in the media –…
Women are quoted one-third as often as men in Canadian news stories, says a resource centre dedicated to closing the gap, as it unveils a new project to monitor the discrepancy.
Informed Opinions, a project under Media Action – a non-profit organization that aims to improve the representation of girls and women in the media – has just released a new tool to highlight the persisting disparity and hold newsrooms to account.
The Gender Gap tracker, which launched Monday, has been mining data from a set of online news sources since August.
"What gets measured gets done," Shari Graydon, Informed Opinions' founder and catalyst, told J-Source.
Currently, the tracker is processing data from seven outlets: the Toronto Star, the Globe and Mail, Huffpost, CTV, CBC News, Global News and the National Post.
Informed Opinions, which offers a database of women experts as part of a strategy to support improved gender representation on the "supply side," held a series of roundtables in 2015 with journalists and editors across four cities, including those from the newsrooms currently being analyzed.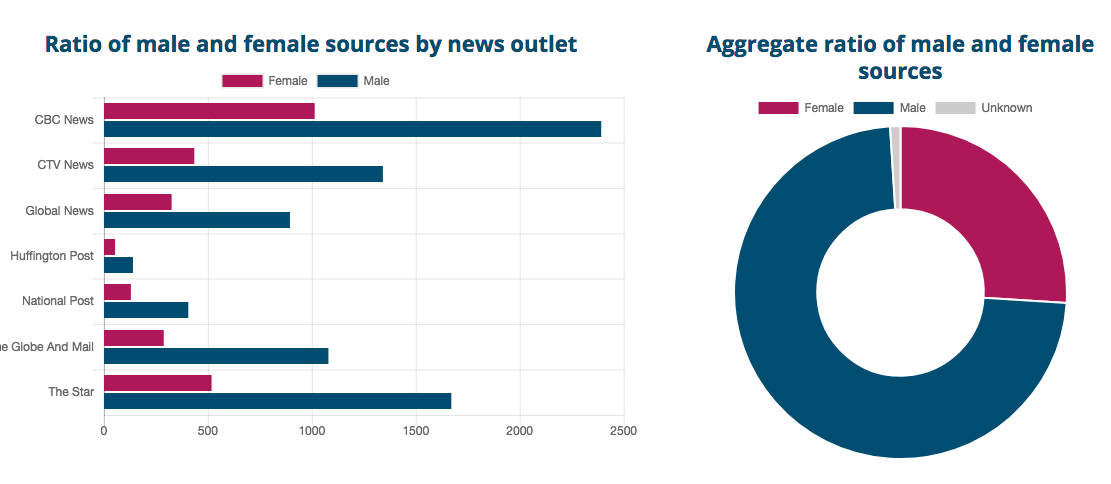 Graydon says what they heard "loud and clear" across the country – though particularly in Toronto newsrooms – was "'you need to stay in our faces. We know we're not doing a good job, and it's hard, but if you don't keep on our case, we've got other priorities and it's not going to happen.
"That's really what this is," said Graydon. "This is a tool that is designed to encourage journalists to pay attention to this particular metric."
In late summer and early fall, Graydon reached out to all seven newsrooms currently having their sources analyzed, offering to discuss the new project with their staff. She had previously engaged with these outlets during the 2015 roundtables.
Only three of the seven responded to her.
The tool, developed by Simon Fraser University's Research Computing Group, is being unveiled Monday at the Rideau Club in Ottawa with Minister for Women and Gender Equality Maryam Monsef in attendance.
There are plans to add French language news organizations in the coming months, Graydon told J-Source, and hopefully others down the road.
In Nov. 2019, the Financial Times implemented a tool to let its reporters know in real time when its journalists were over-quoting men after finding that only 21 per cent of experts sourced were women.
That rate and the one calculated by the tracker puts the Times and the Canadian outlets at about par with the international average. About 24 per cent of sources and story subjects are women, according to a 2015 report from the Global Media Monitoring Project.