Over 250 Canadian news media outlets have closed in the last 10 years
Over the last 10 years, the number of media outlets in Canada has dwindled — and not enough new media outlets have sprung up to replace them.
According to data collected by the Local News Research Project, using their crowdsourced Local News Map, over 250 Canadian news outlets have closed from 2008 to Oct. 1, 2018, either outright or through mergers with other media outlets.
"The goal of the map is to provide some basic data on what is happening to local journalism outlets across the country – information we've never had before," said April Lindgren, lead investigator of the Local News Research Project and professor at Ryerson University's School of Journalism, in an email to J-Source. "And of course the data points to trends. One trend is that local news outlets are shutting down at a much greater pace than new ones are appearing."
Of those closures, a vast majority were community newspapers — 189 of the total. The ownership of the outlets closed was more evenly distributed, with Postmedia narrowly responsible for the most closed outlets.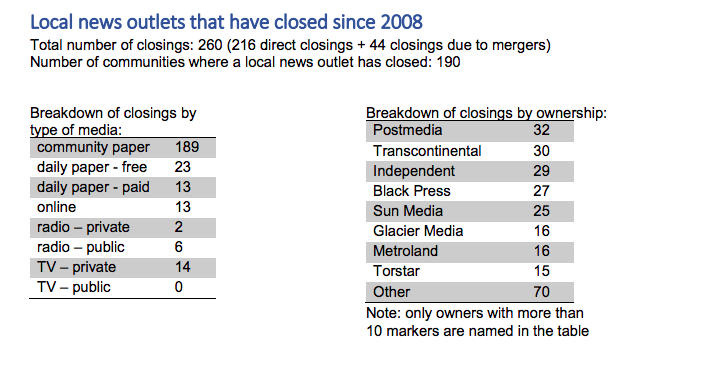 By contrast, only 93 new outlets have opened to fill the gaps left by these closures. A majority of the new outlets were created by independent media owners, not well-known chains, and they opened in 69 different communities, compared to 190 communities that have had closures.
Earlier this year, the Local News Research Group started releasing bi-monthly statistics updated from their crowdsourced map. From Aug. 1 to Oct. 1, the statistics are a little less grim. Only two news media outlets closed during that period, and seven new media outlets were launched.
"I think – hope – we are missing a bunch of new digital sites and that the situation isn't as dismal as it looks," said Lindgren. "But even if there are double or triple that number out there – and I hope people will tell us about them so we can add them to the map – that will still be far short of the 260 news outlets that have been shut down (closed or closed due to a merger) in 190 different Canadian communities."
H.G. Watson was J-Source's managing editor from 2015 to 2018. She is a journalist based in Toronto. You can learn more about her at hgwatson.com.