Stay connected with journalism in Canada at J-Source
Do you read J-Source regularly? If not, you should.
From journalism opportunities to news, research, commentary and resources, J-Source is here to help you stay connected with the rapidly evolving world of journalism in Canada.
J-Source.ca, the Canadian Journalism Project, features content in both English and French produced by a collaboration of post-secondary journalism schools and programs led by Ryerson University and Carleton University.
It is supported by J-Schools Canada/ÉcolesJ, the organization that represents post-secondary journalism programs in Canada, as well as by a group of supporters including the R. Howard Webster Foundation who believe in excellence in journalism and its strong and vital future.
To stay on top of the latest from J-Source, subscribe to our weekly newsletter and visit us on Twitter and Facebook.
All of our coverage is available for free online to make sure everyone from established reporters to students and educators have access to the tools they need to stay informed about the practice of journalism in Canada.

Thank you for your support,
J-Source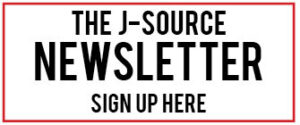 Do you have a news tip or a journalism event coming up? Do you want to see an explainer on an under-covered element of journalistic practice? Get in touch at info@j-source.ca