Tech trends that could change news media in 2020
In this monthly column, Ryerson University School of Journalism professor Adrian Ma explores emerging trends, technological developments and compelling work in the burgeoning field of immersive storytelling, including 360 video and virtual, augmented and mixed reality content.

As someone who is extremely passionate about digital journalism and immersive storytelling, I'm keenly interested in emerging tech developments – and anticipating the ways they could push digital news media further. As we kick off the new year (and a new column!), I want to highlight three tech trends I'm predicting will lead to some intriguing new possibilities for reporting and digital storytelling.
1) 5G will change the game
I try to keep in touch with digital producers and developers to get a sense of what innovations they're excited about. Without a doubt, the widespread rollout of 5G wireless networks is the one development that has everyone paying close attention across the board. In Canada, Rogers has become the first telecom provider to deploy 5G networks in select cities, including Toronto, Montreal and Vancouver, although no 5G capable smartphones are available here yet. Several dozen cities in the United States are up and running with 5G, as well as many parts of China, South Korea and Europe.
While there are reports of challenges, including inconsistent downloading speeds and a lack of infrastructure, the promise of 5G is tantalizing for both audiences and digital content producers. It's not just about being able to download entire movies onto your phone in a matter of seconds. By dramatically increasing bandwidth while decreasing latency (the lag time that happens when data is sent from one point of the network to another), 5G is expected to usher in a new era of connectivity and seamless integration of smart devices.
The implications for digital news are vast. On a basic level, there will be much more reliable and higher quality live streaming. This will be well utilized by newsrooms and companies that have been experimenting with 360/VR live streaming and live streaming in 8K resolution (and beyond).
But 5G technology will likely lead to major improvements in augmented reality and mixed reality news content. Over the past few years, we've seen several news organizations pursue AR/MR projects, including the New York Times and Quartz. A major hurdle in this realm was the download speeds needed to smoothly run these apps. But with 5G, I'm expecting a fresh wave of interest in AR content, as producers can create more realistic or elaborate 3D models with the confidence that users won't experience any lag time.
Of course, the real excitement with 5G is that we have no idea what potential technologies or services could emerge. I also imagine the incredible leap in personal data collection and tracking information we're about to make will lead to all sorts of intriguing potential innovations (and nightmares over privacy).
2) Smart glasses are finally poised to take off
The impending arrival of 5G will be a big boost for wearable devices of all kinds, but it looks like tech companies are betting big that people will finally be ready to embrace smart glasses. It's been a few years since Google Glass came and (largely) went, but recent developments in smart assistants like Alexa and improved camera tech have ushered in a slew of new connected eyeglass products. Chinese start-up Nreal has introduced a pair of lightweight mixed reality glasses that are pegged at the (relatively) consumer-friendly price tag of US$499. By many accounts, these glasses offer some incredible AR experience with quality superimposed graphics and ultra-clear 1080p resolution.
Canadian company North has also indicated it will introduce an upgraded version of its Focals smart glasses in 2020, promising a sharper display and more lightweight design. As 5G opens up more app development and social media functionality for smart glasses (and smart contact lens!), 2020 could prove to be a major consumer turning point for this tech. Breaking news video alerts that pop up in my eyeballs? Live stream from your first-person perspective while witnessing a major news event? The possibilities are pretty mind-boggling.
3) The future of video is real-time 3D
Video has become a major pillar of digital content strategies, but where we're seeing some astonishing advances is in the particular realm of volumetric video. Basically, volumetric video is three-dimensional 360-degree video, allowing viewers to experience the content with six degrees of freedom (the ability to look from any angle and move through the scene).
The concept of three-dimensional "6DoF" experiences has largely been epitomized by virtual reality gaming. It can be incredibly immersive, but it has often proven to be expensive, time consuming and challenging to produce. But breakthroughs in volumetric video cameras and software will give content producers more tools to capture and broadcast real-life, real-time 3D video.
One growing application has been used to give viewers immersive experiences of sporting events, with pro leagues like the NFL and NBA experimenting with volumetric video streaming. Intel has been pioneering a blisteringly fast volumetric video processing product called True View, which allows viewers to use their devices to watch the game from any vantage point or player perspective. In the tweet below, tech expert John Bugailiskis shared a video of Intel demoing its volumetric streaming capabilities at CES 2020 recently.

Besides sports coverage, being able to shoot and stream 3D immersive experiences could have incredible applications for news event coverage or documentary projects, bringing viewers right into the middle of the action and letting them choose which perspective to watch from. Although sales of VR headsets have been growing, it's been oft-discussed how the technology hasn't taken off as quickly as some industry watchers expected.
Perhaps now the combination of cheaper, more powerful headsets and the expected proliferation of volumetric 3D content could finally push VR into the mainstream.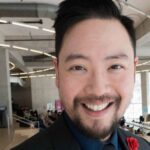 Adrian Ma is an award-winning journalist and an assistant professor at the Ryerson School of Journalism in Toronto. He has spent most of his journalism career as a reporter and digital producer and specializes in teaching multimedia storytelling and personal branding.