Imagine you are hired by a news company to mediate between angry readers and an understaffed newsroom. It is not your job to take sides – you are strictly focused on establishing trust between readers and reporters. At times you will need to define who is right and who is wrong, holding those accountable to their mistakes. This is the job of the public editor.
There are 43 university newspapers in Canada; the Varsity is the only one with a public editor. Published weekly through print and online, the Varsity circulates 18,000 copies across all University of Toronto campuses, serving 50,000 undergraduate and 17,000 graduate students.
Morag McGreevey, the Varsity's public editor from October 2018 until May 2019, accepted the challenge with confidence. Working as a freelance business journalist before her time as public editor, McGreevey's journalism experience helped her appreciate the importance of defending a publication's integrity.
McGreevey says that in order for university newspapers to be taken seriously, editorial staff need to actively listen to readers' concerns. "Oftentimes the campus newspaper is the only source of news about what's happening on campus," McGreevey says.
While most public editors interact with the newsroom after a complaint is received, McGreevey met with the Varsity staff on a weekly basis. Knowing about each story before publication helped her gain an early idea of which stories readers might criticize.
Meeting often helped her establish open discussions between the paper and its readers. "I would present reader concerns and explain why I thought they were legitimate," McGreevey says. "Sometimes the editorial board would agree with me right off the bat, and other times it would be a more challenging conversation."
Public editors act as watchdogs, and open dialogue between readers and journalists. In an age where readers' trust in the media is on the decline, only a few newsrooms in Canada operate with a public editor: the Toronto Star, the Globe and Mail, and CBC/Radio-Canada.
In 2017, the Varsity became the first university paper in Canada to operate with a public editor.
Origin story
Alex McKeen, the Varsity's editor-in-chief from 2016 to 2017, led her reporters through a storm of reader hostility. The criticism began during coverage of Jordan Peterson's controversial declarations about sexual identity.
In 2017, Peterson released a two-hour conversation with Camille Paglia, a feminist academic, social critic, and author of the New York Times bestseller Sex, Art and American Culture. During their discussion, which was posted on YouTube, Peterson expressed concern with the way men and women approach confrontation with each other.
The Varsity received heavy criticism from its audience after headlining a story Jordan Peterson: "I don't think that men can control ­­crazy women." The secondary headline, too, was controversial: U of T psychology prof says he's defenceless­­ against female insanity. Readers flooded the comment section with frustration.
McKeen said, "It became really apparent to me that it would be helpful to have someone other than myself look at the complaints coming in with an objective eye."
Unsure as to how the Varsity would operate with a public editor, McKeen asked Kathy English, then public editor at the Toronto Star, for advice. English recommended that the public editor establish a strong relationship with both the newsroom and readers.
English says, "when Alex was the editor, we met over lunch and she told me she was thinking of starting this public editor role. I just applauded her. I thought it was just amazing."
Now in 24 countries
In 1967, the Louisville Courier-Journal and the Louisville Times were the first newspapers in the United States to appoint a public editor. The Toronto Star would follow, becoming the first Canadian paper to hire a public editor, in 1972. The concept was in place much earlier in Japan. The Asahi Shimbun in Tokyo in 1922 established a committee to receive and investigate reader complaints.
Today, public editors are employed in 24 countries spanning five continents. The standards and practices of these public editors is overseen by the Organization of News Ombudsmen (ONO). Founded in 1980, ONO is an international non-profit organization designed to promote accurate and fair reporting. While names differ depending on the newsroom, titles such as "readers' representative," "ombudsman," and "public editor" maintain the same role, taking the public's concerns to the newsroom and then reporting back.
In 2017 the New York Times ended the public editor position. In a memo to readers, Times publisher Arthur Sulzberger, Jr. explained that the role of public editor outgrew the position. "When our audience has questions or concerns, whether about current events or our coverage decisions, we must answer them ourselves," he said.
Jeffrey Dvorkin, a former CBC News journalist and executive, who was the ombudsperson of National Public Radio in the U.S. and is now a University of Toronto lecturer, follows changes to public editor positions carefully. A former president of ONO, Dvorkin says publishers are making a mistake if they assume social media will replace the duty of the public editor.
Since 2013, the Washington Post and Wall Street Journal have also terminated the public editor position. The Columbia Journalism Review (CJR) is not letting those newsrooms off the hook. In June 2019, Kyle Pope, editor in chief of the CJR, announced the company will hire four journalists to serve as third party public editors, overseeing stories reported by the Times, MSNBC, CNN and the Post. In an interview with National Public Radio, Pope said readers are hungry for the truth. Audiences want news organizations to answer tough questions about the decisions they make.
The Digital News Report, conducted by the Reuters Institute for the Study of Journalism at Oxford University, in 2019 found readers' trust in media is declining worldwide. According to the study, only 52 per cent of Canadians have trust in Canadian news.
"We live in a world where we have a lot of skepticism about institutions, and the media is absolutely one of those institutions that generates a lot of mistrust," says Jack Nagler, English Services ombudsperson at CBC/Radio-Canada. Nagler says news organizations must be able to convince people that the news it shares is better than the competition's.
As a CBC ombudsperson, Nagler represents a voice for the people. He starts each day in his Toronto office going through complaints received through social media, email and by phone. The complaints of greatest concern are his top priority. His next step is research. Reading, listening and watching coverage of key stories on CBC's platforms allows Nagler the opportunity to gain a better understanding of the public's criticism.
In a 2019 review, he examined coverage of Quebec's Bill 21, where the National featured three citizens all critical of the bill. Bill 21 bans teachers, police officers, judges and many other public workers from wearing hijabs, turbans, crucifixes and other religious symbols in the course of their duties. Nagler concluded that while the National failed to provide balanced coverage on March 28, 2019, CBC opinion articles, podcasts and previous news stories considered both sides of the argument.
"You can't do this job," Nagler says, "without a very thick skin."
Journalism transparency is not as easy to achieve as some might think. Without open and unbiased discussions with readers, viewers and listeners, newsrooms risk losing audiences that feel ignored.
Since a public editor was introduced at the Varsity in 2017, former staff have gone on to establish their own careers, moving forward with lessons learned during their time as student journalists.
Looking back, McGreevey is happy to have played a role, guiding the Varsity staff to address issues readers wanted answered. "Oftentimes, when you are a reader of news, you are reacting personally; you are reacting immediately," she says.
"Since we are so busy, it's not always a thoughtful response. I felt very privileged to have the opportunity to take that time and thoughtfully engage with all the parties involved, working through issues to solve the problem."
A version of this story was first published on University of King's College news site The Signal and is republished here with the author's permission.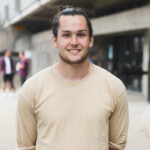 Travis Devonport is a Master of Journalism student at the University of King's College in Halifax.